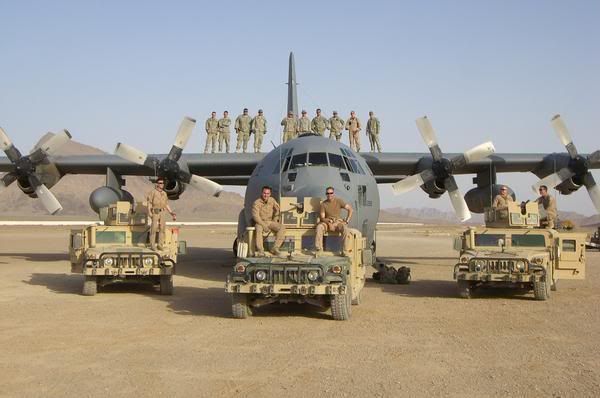 Every once in a while Chad will post new pictures for me to see and I steal (borrow with intent to keep) them from his site. In the top picture he is the one on the far right up on the wing of the plane. I find that when I miss him so much, I'll just sit and look at pictures of him. It's helps a little bit. Not quite like having the real boy here, but it's something. He's been busy in Afghanistan. Here is a little piece of what he wrote to me...
" I am good...i am now certified on the 20,000 lb. skytrak :) which is a military version of a huge forklift that downloads planes:) and prt.farahs newest loadmaster !!! i scored the highest they've ever had on the hands on test with the skytrak :) i like it allot and i now can operate forklifts in the civilian world when i get home and not have to get licensed for 3 more years :)
well i love and miss you all and i really am at the begging point for some home cooked meals!!!:) the food here is gettin old to the point where i have to force myself to eat it :) lol cant wait to be back in the arizona sun !!! :)
love chad :)"
Chad...if you read this, just know I love and miss you so much!
We've been on the go none stop for days and I don't see an end in sight. Yesterday we had a pretty neat experience and we took the young men and young women to a facility that takes care of handicapped people. All of them are over the age and 40 and have been there most of their lives. Each Sunday different ward youth groups and their leaders are assigned to go serve there. In reality, each ward only gets to do it once every 4 years because there are so many, but since we moved from Mesa and since our new ward split, this was Kyle's 3rd time and Mark and Cody's second time, so we feel fortunate to have been able to participate more than normal. We were all given instructions before we started then were assigned to pick up the people from their cottages and bring them to the main hall for their church service. Most all of them are in wheelchairs. There are a few who walk. Because of their wide variety of disabilities, the service was mainly just singing to them. They all enjoy it so much and it really is the highlight of their week. The sweet lady I had was named Diane. She couldn't talk, but loved to be sang to. Mark had a man named Vincent that really liked the girls. Kyle has a woman named Mary who slept a lot but he still visited with her, sang to her and made her feel loved. Cody and Cole were in charge of fast Larry. He has that name for a reason. He IS fast. It took the both of them to keep tabs on him the whole time. A lot of them love to hug, so we did just that. Some of them don't know their own strength, so I was head butted by Larry, Had my hair messed up and pulled hard by Charlie and poked by Pilar and another woman who was good on her feet. Even will all of that it was a great experience. I was so impressed by the youth of our ward who showed these sweet spirits such genuine love and companionship. I know they were all a little bit nervous at first, because it can be a scary thing to them, but they did a wonderful job. I could see their testimonies grow as they got to know the ones their were taking care of and they all know there is a special place in heaven for these people. For privacy reasons we could not take pictures there, but I know they will never forget this experience. There is nothing better than service from your heart.
Today's plans are to attempt to clean my messy house, help Mark with an errand and go buy Cole his birthday presents. Speaking of birthday's, today is my friend Amy Mowbray's birthday, so stop by her blog and wish her the best! :o)