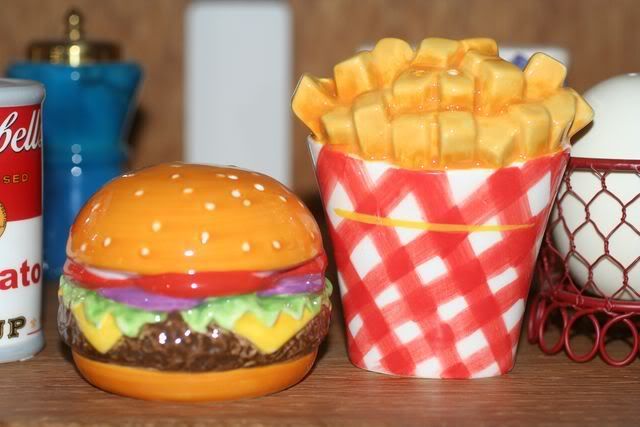 How cute are these?!

Ya'll

know I love salt and pepper shakers, so when I saw these I had to have them. At least collecting salt and pepper shakers is relatively cheap. Plusalso they make me HAPPY! :o)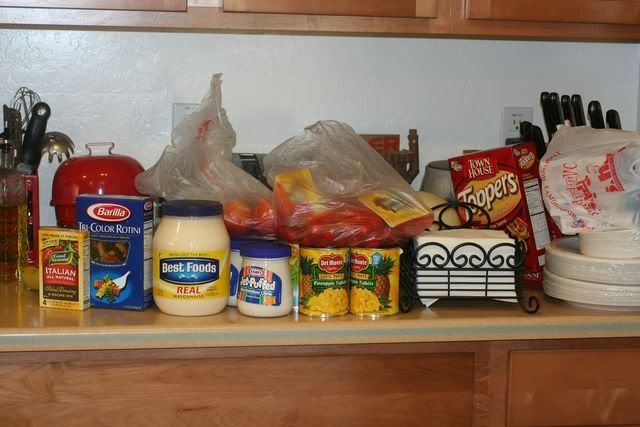 This is part of what I'm working on for the next few days. I did the grocery shopping this morning for the luncheon I'm catering for our friends missionary farewell. Most of the food is in the fridge. They are ordering 6 foot subs so I have to make the rest. Potato salad, 2 kinds of pasta salad, veggie tray with dip, fruit tray with dip, cheese and cracker tray, pink fluff, and salsa. I was suppose to make dessert too, but they called and the grandma wants to buy a big cake, so now I don't have to do that. I would have gladly made dessert, but don't mind having one less thing to make. First things first is to clean my kitchen. I can't start a big job like this without having it REALLY clean. Nobody is getting sick from food made in my kitchen, no siree. Mark just called and has apparently volunteered me to make salsa for a BBQ on Saturday, so I'll have to run back to the store to get more stuff to double the batch...sigh. It's HOT out there!
Sunday night we have a meeting to split the
wards
here in

Maricopa

since the new church building has finally been completed and the wards are bursting at the seams. It's exciting and scary at the same time not knowing where the ward boundaries will be divided...which friends will I still have in my ward and which ones will I lose to a new ward. I guess we'll see come Sunday night.
(if you click on the ward link, you'll need to click on additional information if you are looking for a

description

of what a ward is)
I hope you all have a wonderful weekend.