This morning I got a call from my favorite scrapbook store,
Scrapbooks Etc
. This is how the conversation went
Her...Hi this is____ from scrapbooks Etc.
Me...Hi, what can I do for you?
Her...I have great news for you.
Me...really? Is my Christmas paper in?
Her...No, but you did win the quickutz prize!
Me...Are you honest?
Her....yes, you really did win.
Me...oh my gosh! I love you!
Her...LOL! I love you too. Come in anytime to pick it up.
Me...thank you so much!
Her...you're very welcome.
After I hung up I gave out a squeal and couldn't stop giggling. I am convinced that I won because I said yes to my new calling. :o) My fabulous, cutely packaged prize consisted of
The QK Revolution table die cutting system
The pink squeeze hand tool
Magnolia grand cookie cutter complete alphabet set
Moxie skinny mini alphabet set
Cookie cutter dies-nesting hearts
Cookie cutter dies-basic phrases
Cookie cutter dies-basic shapes
In all, it's a value of over $500!!! I am completely blown away and tremendously grateful.
Can you believe it? I surely can't! I still giggle when I look at it. I love
Quickutz
! I watched Susan demonstrate the revolution at the CK convention. I wanted it, but couldn't afford it. She was also kind enough to demonstrate the Silhouette, so I plan to try cutting some things when I have a few spare minutes at one time...probably Thursday night.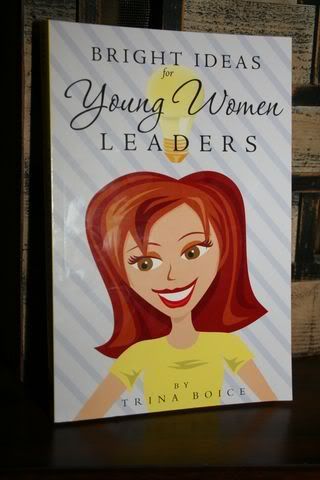 I picked up this wonderful book today at the
LDS bookstore
. It is packed full of ideas and such great online resources. I have a presidency planning meeting tomorrow because we need to have Wednesday nights activity planned out as well as several other things.
Last night was the 4th night in a row with little sleep. This time it was because of all the thoughts of my young women's responsibilities were dancing in my head. My stomach hurts. It's overwhelming to me. I think it's because all the callings I've been given over the past 21 1/2 years were in my comfort zone. I've done nursery, primary, cub scouts, achievement days, ward activities, and 14 years of Enrichment. All of those things I could do with confidence. In my mind Young Women's is the one truly scary calling that I never wanted, because it's totally out of my comfort zone. That my friends is where the blessings lie. I know in my heart that as I serve in this calling I will have my own personal growth. I know it won't be easy, but nothing worth while is ever easy.