My hopes for today are that if you have a flag, you are displaying in in honor of all the victims who died on 9/11 and for their families who are left behind. It's just a small way to show that we remember and we always will. I can't help but think of Chad and all the other soldiers who are so far from home selflessly fighting on foreign soil to protect all of us. Keep all of them in your prayers. I missed a call from Chad this morning. I did't even hear the phone ring. So sad. I saved his message so I could listen to his voice whenever I need to.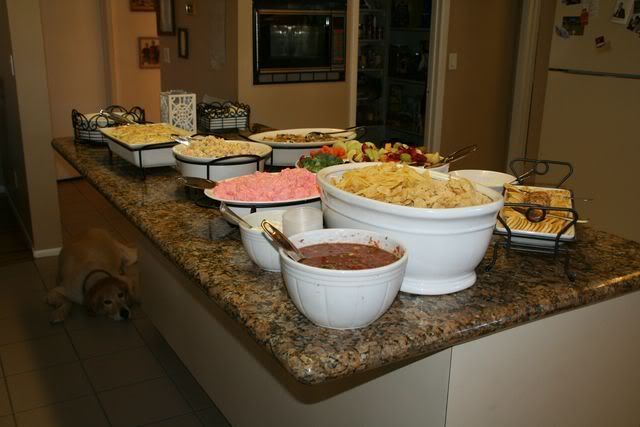 Here are all the things I made for the luncheon. The empty spot on the counter was for the subs. We got over to their house before church to set up, then went to hear their talks (which were wonderful, by the way), rushed back to set out all the cold stuff just before they all came in. I only had a minute to take a couple of pictures to share.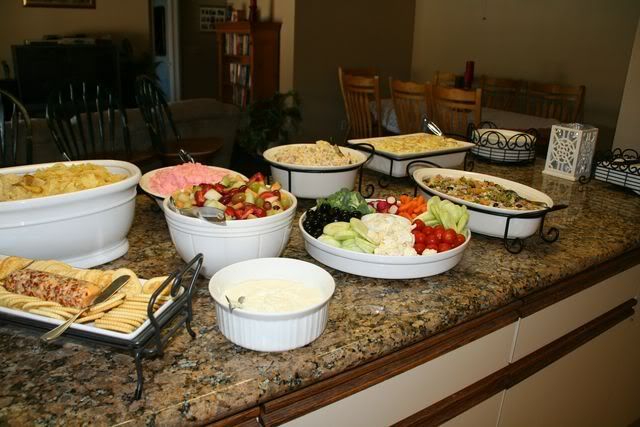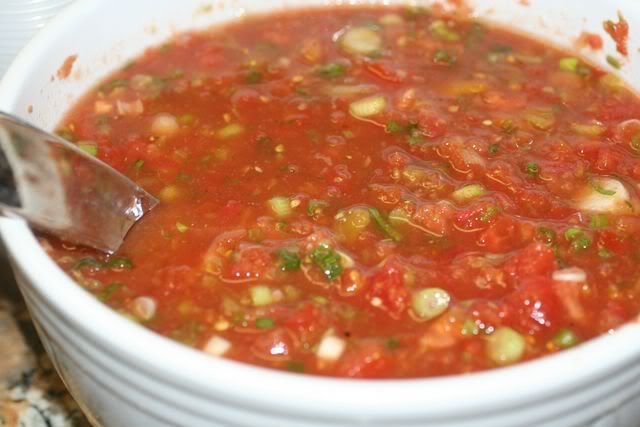 My salsa is always a hit. Several people tried to take the bowl home with them. I've heard several times that it is the best salsa they've ever had.
Salsa
4-5 tomatoes on the vine
2 bunches of green onions
2 - 10 oz cans of

rotel

milder tomatoes with green chilies
1 - 15 oz can tomato sauce
1 - 4 oz can diced green chilies
1/2 to 1 cup water
salt, lemon pepper, garlic powder, onion powder, Lawry's seasoning salt to taste
Dice tomatoes and onions small. I use most of the onions. I cut off the roots and the ends plus remove one layer if necessary. mix everything in a bowl and season to taste. Remove half and put in a blender or food processor and pulse a little bit. Add back to the rest and stir. That really helps to get it to the right consistency of smooth and chunky.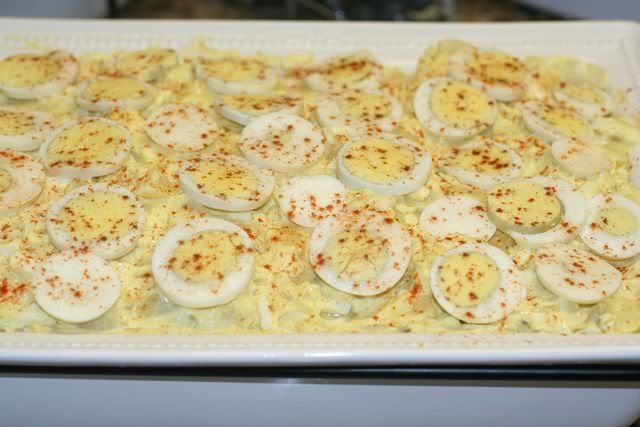 Potato salad is always a favorite too. For those of you are who sticklers for measurements will not like my recipes because I don't measure...especially mayo based recipes.
Potatoes -How ever many you need depending on how many you need to feed. I think I used 8-10 big ones
1-2 dozen hard boiled eggs, diced
1 jar of dill pickle relish
best foods mayonnaise
miracle whip
(I use 1/3 miracle to 2/3 mayo) I just scoop on and mix till it looks right. I add more if needed
yellow mustard...just squirt in.
salt, pepper, onion powder, paprika
Boil potatoes whole with skins on until tender. Boil eggs, peel and dice save a few to slice up on top. Peel cooked and slightly cooled potatoes. Dice into small bite sized pieced. In large bowl add diced potatoes, eggs, relish, scoop mayo and miracle whip on top, add mustard (maybe 1/4 cup...who knows) season the mayo before mixing together because it helps to get the seasoning mixed throughout. Slice eggs and lay on top. Sprinkle with paprika.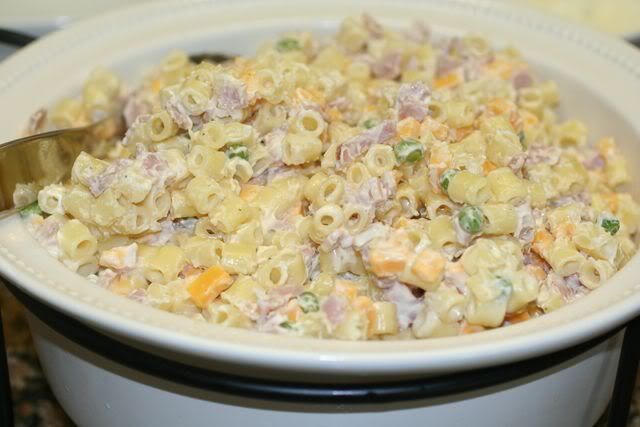 Pasta salad
1/2 lb. sharp cheddar cheese
1/2 bag frozen peas
ham or spam
mayo
miracle whip
salt, pepper, onion powder, accent
Cook noodles, drain, rinse with cold water
Dice up cheese teeny, dice up ham or spam teeny too. mix everything together just like the potato salad with the mayo and miracle whip being a 1/3 to 2/3 ratio. Season to taste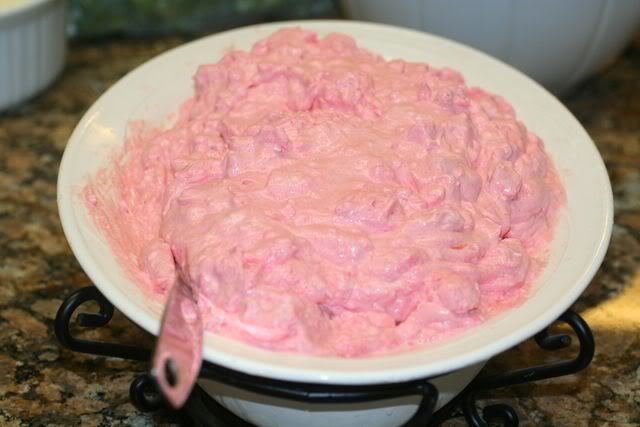 What is pink fluff you ask....this is it. Mormons are known for their jello concoctions. I got this one from my sister in law Mary Ann. I don't know what it's called. I call it pink fluff.
2- 1lb containers of cottage cheese
1 large 6 oz box of cherry jello
1-2 cans of pineapple tidbits drained
1 large cool whip
Mix cottage cheese and jello until dissolved, add drained pineapple (I use 2 cans because I like them), fold in cool whip and refrigerate.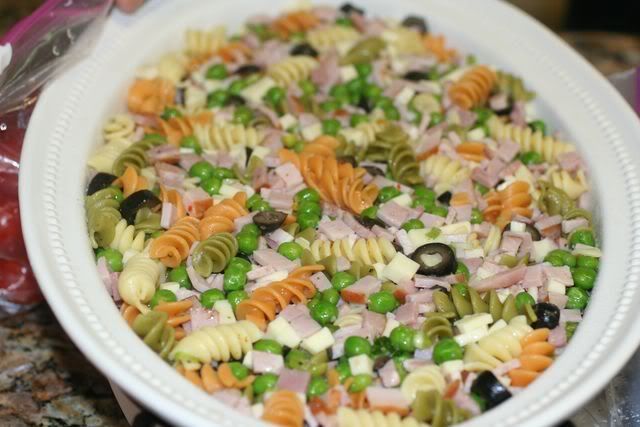 Last recipe for today. This is Mark's favorite. I got this recipe from my good friend Paula. I know she calls it halves salad because all the ingredients are in half cup measurements, but I don't measure. Plus I don't use everything she does. I know she uses artichoke hearts in there, but I don't. You can if you want them.
Pasta Salad
1 box of colored twirly pasta
1/2 bag frozen peas
1/2 lb of diced mozzarella cheese
1/2 cup diced olives, drained
1/2 cup diced ham
1/2 cup sliced green onions I don't use that many. Probable half that
dressing
1 envelope good seasons Italian dressing
1/4 cup red wine vinegar
3 tbsp. water
1/2 cup olive oil
Mix together and pour over pasta salad. Mix well and refrigerate.
Thank you all so much for your sweet comments on my last post. That made me feel better. I know a lot of you don't understand the boundaries thing, but that is how our church is run. It really does make sense because we do so many things together and it's set up that way so that we can look out for each other and know who goes to each ward. That way hopefully no one gets lost. Each ward really is like a big family. There are almost 13 million members world wide, so it's important that there is consistency throughout the church. Mark came home last night and we talked about the new changes. He assured me that all would be fine. He had a peaceful feeling about it all day. I know these things are inspired and good things will come. There are always blessings to be found in trials.
Have a great day!