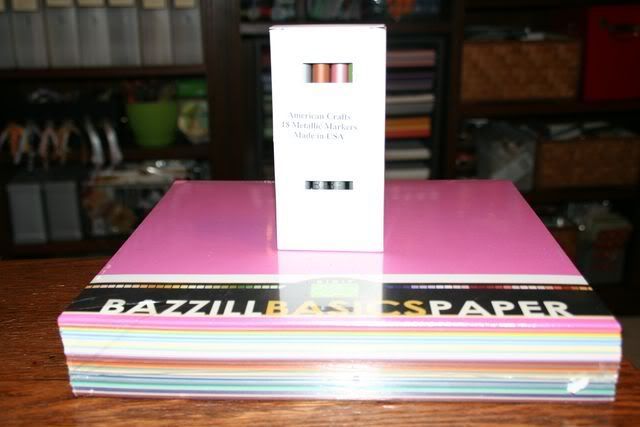 During the 24 hours of scrapbooking/crafts on QVC I showed serious restraint and didn't purchase anything...until close to the end and I caved. I was impressed with the metallic markers that write on dark and light paper WITHOUT having to shake them or anything. They write great! Then of course, who could pass up on 160 sheets of bazzill cardstock? Not me! It was so cheap and something like 12,000 packs sold out in minutes. It has 4 "seasonal" collections in it. Winter, spring, summer, fall. I don't have much 12X12 paper since I scrapbook in 8 1/2X11 size. I do however plan to do the grand babies albums in 12X12, so I'm excited to have a little assortment of colors.
Did anyone notice my new blog banner/header? As much as I love my old one that Amy's husband Brian made me, I decided it was time for a change. That one had been there for the past 19 months. This new one is not digital. I have NO idea how to do digital, so I resorted to good old paper and scrapbook supplies. I have no idea how to talk someone though putting up a banner. I made this one, scanned it, reduced it's size, saved it to photobucket so I could copy it's HTML code. I have the old template on my blog, so I went in and found where my old banners code was, deleted it and pasted the new one in it's place. I previewed before I published to make sure I did it right. I know the new version is suppose to be way easier. I think it has a browse button and you just put in your saved image. I don't really know. So what do you think of the new banner?
I finally made it to the grocery store today. We were out of so much stuff and down to 1/2 roll of toilet paper, plus the family thought they needed to eat or something. Went in with one cart...came out with two...nearly $260 dollars later and I didn't get everything I needed...crazy!