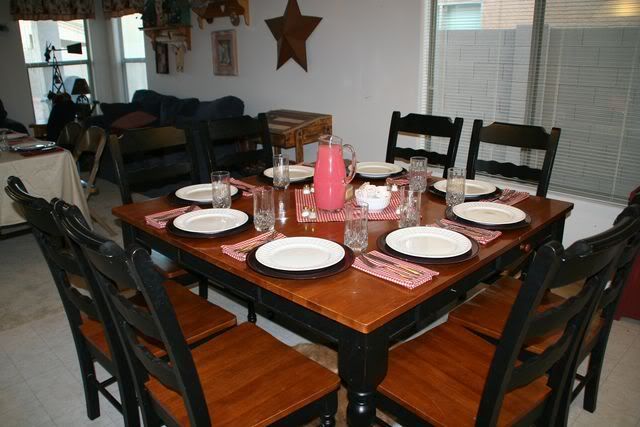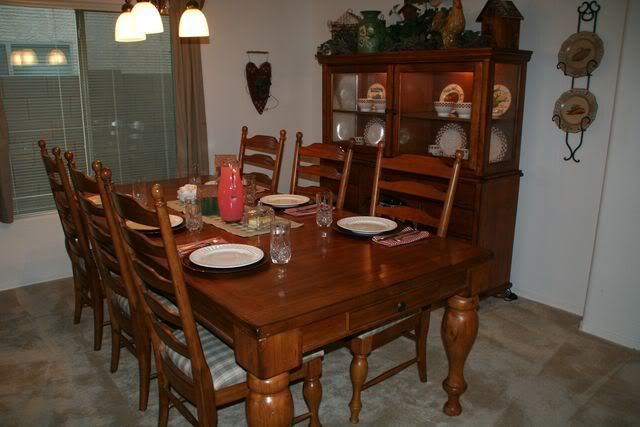 The progressive dinner was tons of work, but a huge success. I had set up two tables then got a call an hour before dinner saying that a few more couples had signed up, so while I continued to cook, I asked Mark to drag out my 6 foot table that I use when I have people over to scrap. We set it up in the family room to make room for the extra people. The table cloth didn't get ironed but I didn't care. I had barely enough dishes to serve everyone. Nothing like a little added stress thrown in there at the end. :o)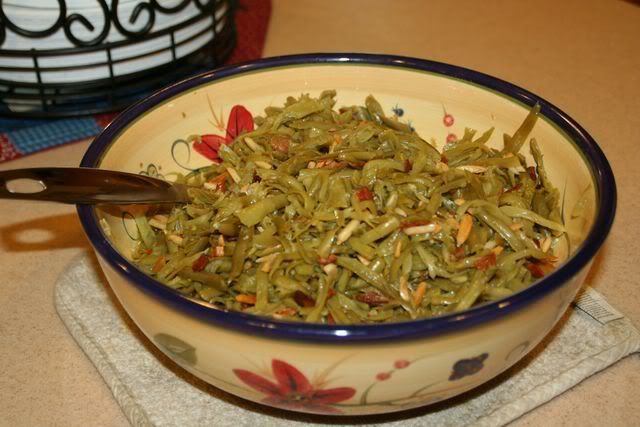 I did end up making stuffed pork chops, garlic mashed potatoes, green beans with bacon and toasted almonds. I had Mark go buy rolls from Golden Corral. I only have one oven here so I couldn't make rolls. The pork chops looks kind of gross, but they were really good. I had the butcher cut pockets in them. I browned and seasoned them, stuffed them with stuffing and mounded some on top. Then poured over a mixture of cream of mushroom and cream of celery. They were large, so a few of us cut them in half to share with out hubbies, so there was plenty to go around. I have a weakness for really good mashed potatoes. I think they should be their own food group. :o) Everything tasted great and we had fun visiting with our guests. I do wish I could have visited with everyone, but you really can't with a large group.
On Sunday I was so tired that I slept dang near all day and totally missed church. I felt terrible about that. Mark took the boys. I woke up an hour before they got home. I really haven't been sleeping well at night so it all just caught up with me. I'm thinking I'm going to have to start taking Valerian root again. That stuff smells like stinky rotten feet, but it works and you don't feel groggy the next day. I can't continue to function on little to no sleep.
Brittany took John to the doctor today for a check up. He's doing great and that boy has gained some serious weight. He's already up to 8 pounds 13 ounces. I haven't seen them since last week, so I really need to go over. I miss them all.
Tomorrow (Tuesday) I'm having a guest visitor that I haven't met before. One of my blogging buddies. Tune in to see which one. :o)
I hate to end on a sad note, but one of our long time family friends passed away Friday night when a blood clot broke loose. Derral Hineman was our home teacher for many years when I was a young girl. (about 1st grade and up) He was not your ordinary home teacher that came to visit the family once a month. He came to see us all the time. Whenever he greeted any of us girls he's say "hello darlin'...how about a bear hug". Then he'd pick us of the ground in a big, gentle bear hug. (he was a big man) He always remembered birthday's and holiday's. He was just a special man. Our families had great times together. His grandson played baseball with one of my boys so I sat next to him at many games. He has been one of my parents dearest friends throughout all these years even though we moved often, we always stayed in touch. That sweet man will be dearly miss by all who love him.