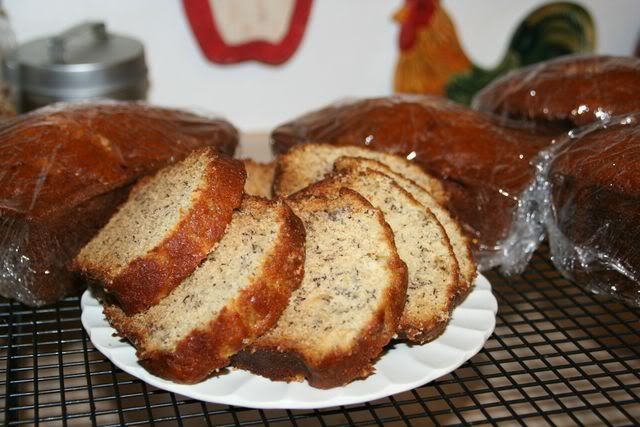 I made 8 little loaves of banana bread yesterday. I had a big bunch of bananas that nobody ate because of the crazy week we had. I secretly love it when that happens because I love to make banana bread and banana cake with cream cheese frosting. Last time I made the cake so I opted for the bread this time around. Here are the recipes if you have over ripe bananas laying around. If you don't then buy some and hide them from the kids so you can make some. :o)
Banana Bread
2 cups sugar
1/2 cup softened butter
2 eggs
3 cups flour
1 1/2 tsp. baking soda
1/2 milk + 1/4 tsp. vinegar to sour milk
4 ripe mashed bananas
Add vinegar to milk and set aside. Mix sugar, butter, and eggs. Add baking soda to flour; Blend sugar and flour mixtures together. Add soured milk and blend well. Mix in mashed bananas and pour into 2 greased bread pans or 4 small bread pans. Bake at 325 degrees for 1 hour.
Moist Banana cake with cream cheese frosting
3/4 cup softened butter
2 1/8 cups sugar
3 large eggs
2 tsp. vanilla
3 cups flour
1 1/2 tsp. baking soda
1/4 tsp. salt
1 1/2 cups buttermilk
2 tsp. lemon juice
1 1/2 cups riped mashed bananas
frosting
1/2 cup softened butter
1 8oz cream cheese, softened
1 tsp. vanilla
3 1/2 cups powdered sugar
Preheat oven to 275 degrees. Grease and flour a 9X13 pan. In a small bowl mix mashed bananas and lemon juice; set aside. In medium bowl mix flour, baking soda and salt: set aside In large bowl cream 3/4 cup butter and 2 1/8 cup sugar until light and fluffy. Stir in eggs one at a time add 2 tsp. vanilla. Beat in the flour mixture alternating with buttermilk. Stir in banana mixture. Pour into prepared pan. Bake for 1 hour or until tooth pick comes out clean. Some ovens take longer. Remove from oven and place directly in the freezer for 45 minutes. This will make it very moist. For the frosting, cream butter and cream cheese until smooth, add vanilla and powdered sugar. Mix until smooth. Spread on cooled cake. I think this cake taste best cold the next day. You can add nuts to either of these recipes. I like nuts...just not in my baked goods.
Thank you all so much for your advise. I took Brek and Brittany some food which included a couple of loaves of this bread. I played with baby Mark and cleaned up the apartment a bit. The ladies from church brought them in dinner Monday night and tonight. I feel so bad for Brittany. She is so sad and cries a lot. It's hard for her because she can't pick up Mark for a while, which makes her feel like she's neglecting him and she just doesn't feel good physically. It's so much harder than they ever imagined. I pray that she will recover and adjust to all the new changes quickly. I'll be there for whatever she needs along the way.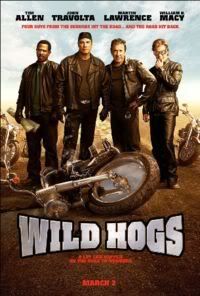 I picked this up today while grocery shopping. Getting ready to go watch it with Mark. I'm sure you can guess that Mark loved this movie. It's so funny! It reminds me of Chad because I saw it in North Carolina when I went to visit him.