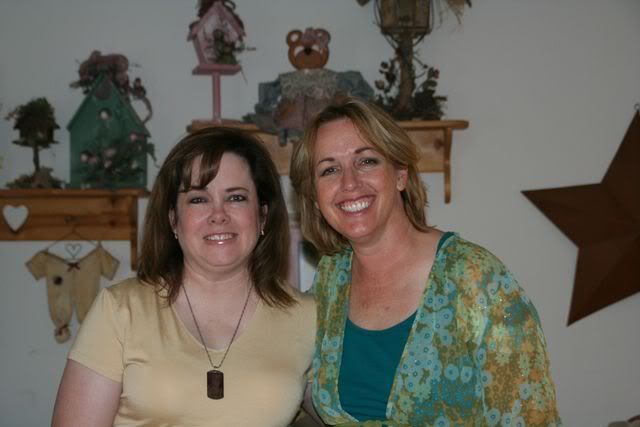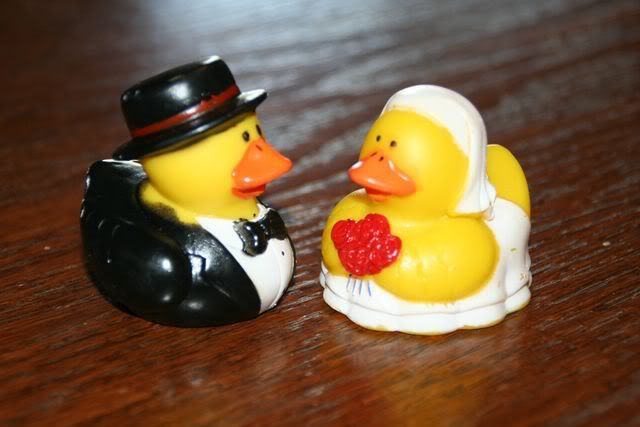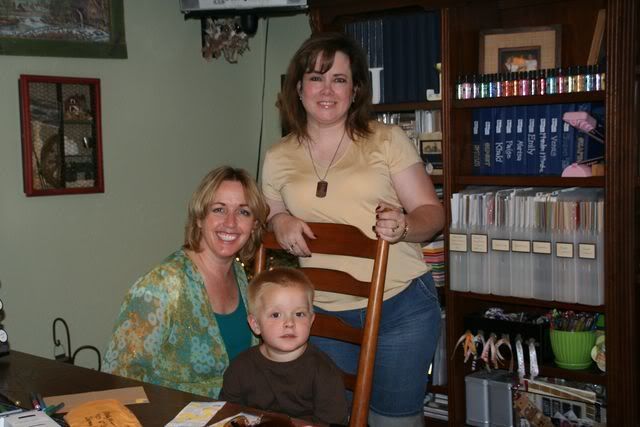 I'd like you all to meet Wendy. She's on my blog list as
Wendster
. She lives in California and her husband is here on business, so her and her son Tristan drove down to Maricopa to see me. I'm so glad that they did. We went to lunch and came back to my house to hang out and visit for a little while. Wendy brought the little bride and groom ducks to send to Chad and she made him a very cute little ducky card while she was here. After she left Cole said, "WOW! She made that...I could never make that." He was very impressed. I forgot to take a picture of it before I put it in the box. Tristan made friends with Cody and Cole and was sad that his new friends were not coming with him when he left. If any of you visit Wendy's blog, go check out her archives. She is a very talented painter and has shared lots of her work. It was so great to get to know her better. She is a sweetheart and I really like her a lot.
Thank you Wendy for wanting to come spend time with me and thank you for the ducks for Chad. I appreciate it.
TAG
I was tagged a while back by
Velvet Brick
AKA Carol and I have yet to get around to doing it...probably because, what more could I possible tell you that you don't already know. I made a list on the back on an envelope, but I lost it, so here's a try from memory....which I try not to rely on often. To be honest I don't remember 1 thing on that list...how sad! If I repeat some that you've already heard before, just ignore and move on or be open to a new reminder. :o)
10 unknown facts about me.
Fact 1...I got bells palsy several years ago and the right side of my face was paralyzed for many months. I couldn't blink, I drooled, I slurred my speech, eating and drinking was difficult, a smile was not possible. I looked freakishly ugly. I've got almost all of my mobility back. I still can't raise my eyebrow, and my eyes and smile are a bit off, but it sure beats the mess that I was.

Fact 2...My arms are covered in freckles and age spots, even though I avoid the sun at all costs. I imagine that soon there will be so many that they all touch and I will look really tan.

Fact 3...I toss and turn all night. Not your regular rolling over from side to side. I'm talking side to side then head to toe as well. I hurt while I sleep plus I get hot, so I'm always looking for a cooler spot. I set the AC at 74 at night...still doesn't help.

Fact 4...I suffer from depression. Betcha didn't know that. I do my best to hide it well. I do what I can to fight it and be upbeat most of the time. It really a hard thing to deal with, but I know my family deserves better than dealing with a depressed mom.

Fact 5...I would LOVE to decorate a little girls room or nursery. I never get to play in the realm of girly colors and oh how fun that would be! If I EVER get a grand daughter WATCH OUT!!! (not holding my breath though.)

Fact 6...I really have no desire to visit foreign countries. I'm more interested in seeing what our country has to offer. I'd like to visit some states that have stuff like trees, grass, water...Is that too much to ask?! No offence meant to you readers who live in other countries, It's just that I haven't even seen enough of this one yet.

Fact 7...Three shows I watch every week on TV is Big Brother, Kyle XY and Army Wives. When I just have the TV on, it's usually on the food network, TLC or HGTV.

Fact 8...I'm a girl who has lots of friends but feels like she has none. I like lots of people and I think lots of people like me, yet I have nobody that I go do anything with on a regular basis. It's a lonely feeling.

Fact 9... I was bit by my grandparents german shepard named King when I was little. He was not use to having visitors and protected the cabin at all costs. He pierced my ear. Apparently he didn't get the memo that my parents did not give me permission to have pierced ears.

Fact 10...I can't drive a stick shift...seriously! I tried. We bought a truck that was stick shift when we only had a couple of boys. My sister drove it to my parents neighborhood then let me try. I could not get through their security gates before they would close. I tried LOTS of times. My kids kept smacking their heads on the back window. It was bad. We almost peed from laughing so hard. The truck went back to the dealership the next day.
I'm tagging anyone who wants to play. No pointing fingers here. :o)