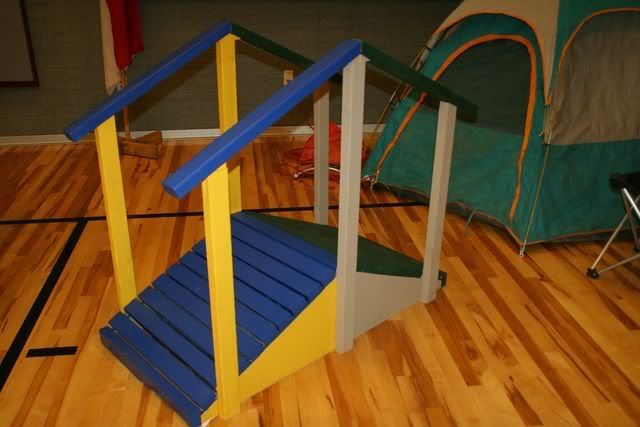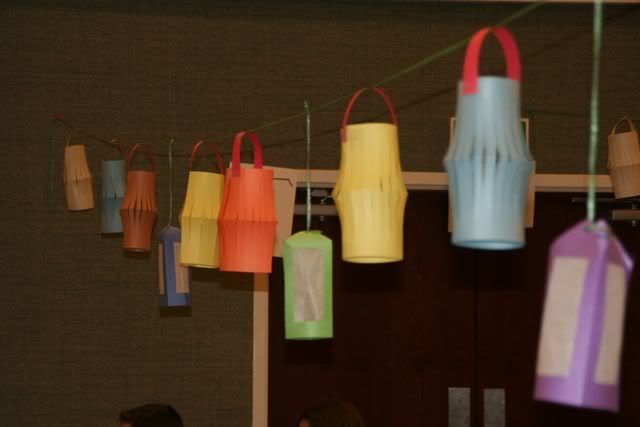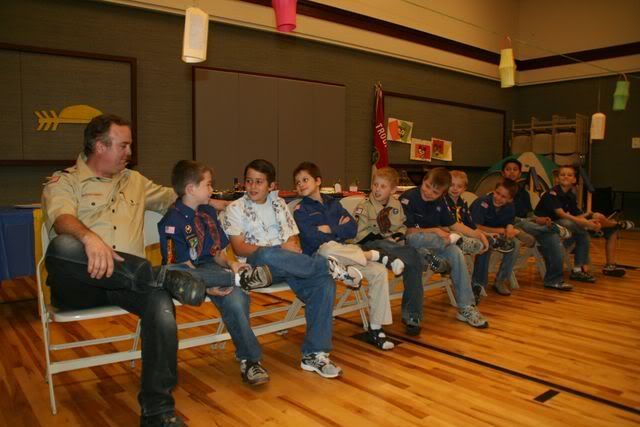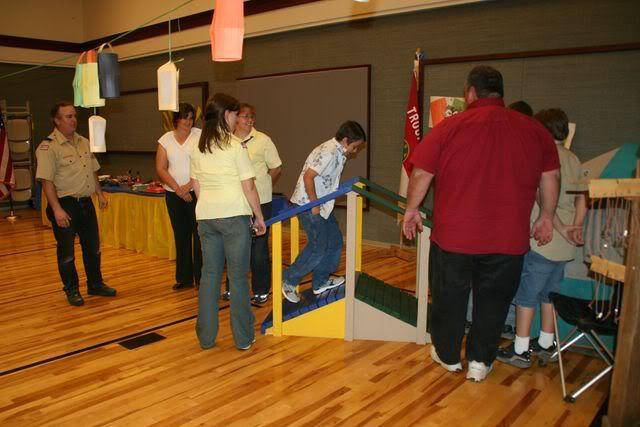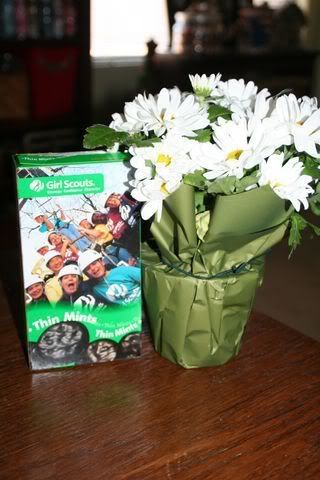 The cub scout blue and gold banquet was last night. I've spent the better part of 4 days working on the crossing over bridge, the arrow of light award, then the food. I honestly didn't think it would take up that much of my time, but it all turned out really well, so it was worth it. I painted half the bridge in cub scout colors and the other half in boy scout colors. The arrow of light award I cut out of pine and rounded the top so that it would resemble the shape of the rays of light. Then I sanded it down and painted the whole thing, sealed it, drilled hole to hang the arrow from and attached a saw tooth hanger on the back. The arrow is not one you just buy all finished. It was a kit I had to make, which turned out to me more involved that I thought, but it looks so much better that a shiny store bought one. The arrowhead was made of flint and it was too thick to fit in the notch, so I had to grind it down till it was thin enough to fit, then lash it on. Each piece on the arrow had to be messed with and put on by hand. Then I painted marks all across the arrow for each award he had earned in cub scouts. He had earned quite a bit so it was pretty full. I'm really happy with how it came out.
The theme was Chinese New year and all the cub scouts made paper lanterns that were strung all over the room. It looked so great! For dinner they decided on Hawaiian haystacks but we changed the name to Chinese haystacks for the sake of the theme. Each scout also made a cake with a Chinese theme for the cake contest that doubled as dessert. I made the rice, the gravy and grilled the chicken. All the scouts were assigned to bring the toppings. I also bought Chinese take out boxes and chop sticks for everyone to eat with. Everyone loved it!
All the boys who earned things this past month were presented with their awards, then at the end they presented the Arrow of light award to Adam and had him thank his old leaders and cross over the bridge from a cub scout to a boy scout and sent him into the tent with some boy scouts. They were "building" a new boy scout. We had power tools, like my miter saw, cordless drill, hammer boards etc in there that they were running while Adam changed into his new boy scout uniform. It was loud. People were laughing. Some little kids looked a little worried....probably because Mark would say stuff like you better not be getting any blood in my tent. LOL! Afterwards he emerged from the tent a new boy scout and his new troop and leader welcomed him in. It was great! Afterwards, he came over and gave me flowers and a hug and thanked me for making his award. That was just so sweet and unexpected. I nearly cried right there on the spot. This is Mark's last pack meeting as cub master. They have called a new one to start next month. Even though this was "his"calling, we have both really enjoyed serving in it and will miss it quite a lot. Now he will move on to serve fully on the high council and I'm down to only serving in the young women's. (which I love) When we got home Mark gave me a box a thin mint girl scout cookies that Brek and Brittany sent home for me. They know they are my favorite.
It's just flowers and cookies...sweet simple gestures of kindness at a time when I really needed them. Just like the very sweet and supportive comments for me on my last post. You all made me feel so loved. You really have no idea how much power posting sincere words of encouragement has. It is appreciated more than you can ever know. Thank you! Yesterday was another a hard day with a couple of breakdowns, but I got through it and the day ended on a good note. I'm so glad the weekend is here. I fully intend to enjoy every bit of it. Being happy is the goal with some much needed and long over due me time! :o)
For right now I have to go wash out my eyes. They are itchy and swelling up as I type. Franky jumped up here a little bit a go and rubbed up against my face, so I got cat hair in my eyes and I'm having a not so pretty reaction to it....ick!
Have an awesome weekend!!!