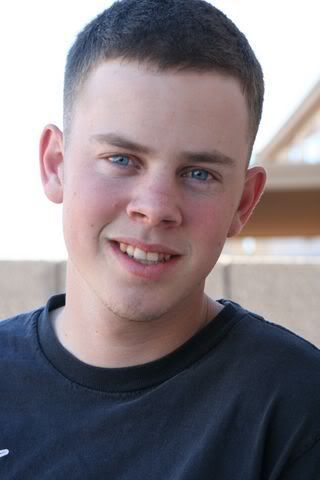 I don't know how this happened, but I have yet another child turn 18. I'm not old enough to have all these BIG kids. Time passes much too quickly. I still think of him as a little boy with the lightest blond curly hair. So sweet! Kyle is such a great boy. He works so hard with Mark, he goes to school, he is active in church, he is preparing to serve a mission, he has lots of friends, he is handsome with amazing blue eyes, he has such a funny sense of humor, he is responsible, he is respectful of others, he is caring, he is generous, and he still hugs his mom...willingly. I love that sweet boy! His birthday was on the 15th, but he wants to take a bunch of his friends bowling on Monday to celebrate.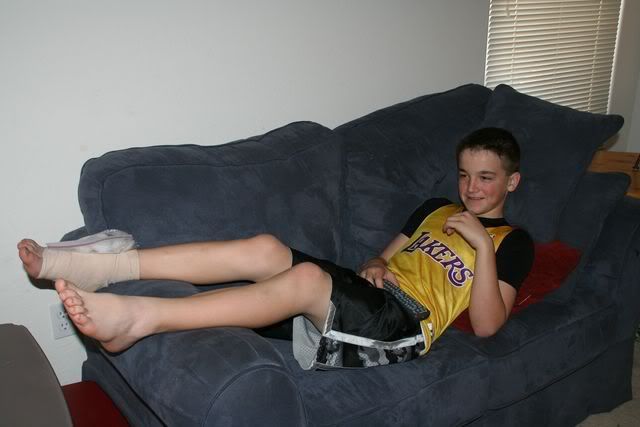 Cole had his last basketball game on Saturday, but he was injured in the first quarter, so we took him home, wrapped his ankle, elevated it and iced it. He's still hobbling around here today. He wasn't happy missing the last game, but he hurt to bad to stay. Poor kid!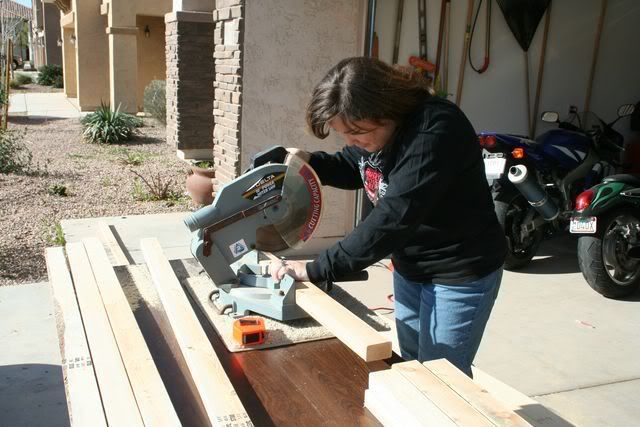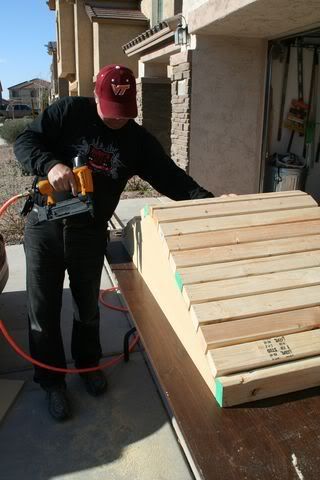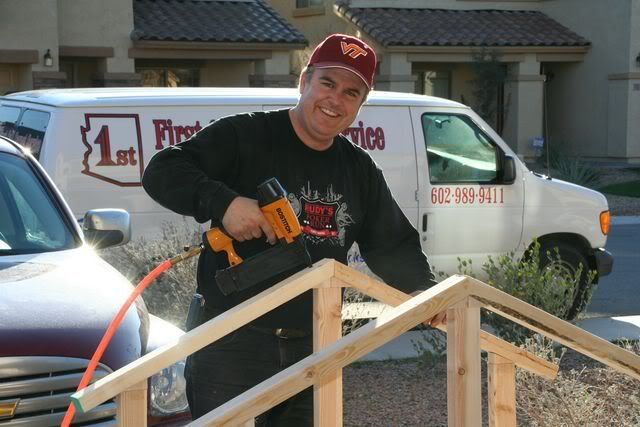 Yesterday Mark and I went to home depot to buy wood. We made a cub scout crossing over bridge for pack meeting this month. One of the boys is crossing over from cub scouts to boy scouts. The bridge didn't have to be big, because it's more of a symbolism. We've never built a bridge before. Mark had a plan in mind, I had my own plan in mind. Guess whose plan won? MINE! :o) I'm the one who loves wood and I love my power tools too, so he was wise to listen. Once we figured out how we were going to do it he took over my power tools and he made me his assistant. I'm going to have him sand it down then I've got to paint it. Half of it in cub scout colors and the other half in boy scout colors. It's a good joint effort. I still need to make the arrow of light award for one of the boys. I'll get that done this week too.
Random stuff...
Went on a motorcycle ride. It was a little cold, but fun! Also had dinner with the star riders 393 group. Such great people!

Valentines night I made dinner for a family in our neighborhood. The mom had a beautiful baby girl. They discovered a heart problem when she was born and had to have surgery. She is 3 weeks old and home now. I got to hold her. So sweet!

Mark is loving his new calling in the High Council and he has been pretty busy with it. He was released as cub master, but we are still helping with the blue and gold banquet this month and pinewood derby next month to give them time to find a replacement. The den mothers were not happy about him being released, because he does such a great job (with a little help from me) They love him and he has really enjoyed doing it.

All the boys got haircuts this weekend. Boy did they need it. Cody is the only one I don't have a picture of because he was at his girlfriends house all day. She is a good girl and has really helped him want to be a better person.

I ripped off all of my acrylic nails. It wasnt easy. Took about an hour and a half and it was very painful....still hurts. I have to do it every so often when they've been on too long, so they can get some air to my real nail bed. For now I'm stuck with really ugly stumps, of dry, cracked, torn up nail beds. It hurts to use my hands and fabric gets hooked up on them all the time. I've filed, sanded, buffed and oiled them. It's just going to take some time to heal. So gross!

I have to teach in young women's next Sunday on "Our purpose in life". I've been reading my lesson and studying. My stomach always hurts the whole week before. I hope it gets easier.

In our prayers we have asked for patience. So far Heavenly Father has given us many things to be patient about. I really wanted us to gain more patience with he things we already have on our plate, not add more. He really does have a sense of humor. Always testing us.

I drove a car full of kids to the youth dance on Wednesday night. I haven't been to one of those since I was a teenager. It was fun to watch my boys dance and intermingle with the youth in our ward as well as several other wards. It was a weird feeling. I felt old at the same time as thinking it sure wasn't that long ago that I was dancing at them. I have great memories of that.

My pillow is missing. Explain to me how it could be there one night and gone the next. I sleep with 2...one for my head and one for my legs. I've searched the house, and it's nowhere. Last night was miserable. Of course nobody around here has seen it. My guess is someone spilled something on it and they hid the evidence. All I know is I MUST find it.

Brittany is doing so good at keeping up her new blog. She has pointed out that I haven't updated mine all week. Sometimes life gets in the way of things. I will do better. Also, thank you all for being her blog buddy. She is really enjoying it.

Chad is still stuck in Bagram. He has no idea when or if they are going to send him back to his base. I don't hear from him much there. I don't like that. He is in good spirits though. He misses his base and his own belongings, but this one has pizza hut and subway, so he's been able to eat something different from the chow line. He will be home in a month and a half. He has already requested his first few meals at home. I will gladly cook him whatever he wants.

I am feeling so UN creative. I haven't scrapbooked in a long time and I really miss it. I need to schedule time for myself and get my creative juices flowing again.

Guess what? Cole just now brought me my missing pillow. It was in the laundry room. My guess is that is was being washed and dried of evidence. Either way, I am happy to have it back. YAY!

Gotta go get ready for church now, then we are having dinner at my inlaws house. My father in law has his 3 sisters in town, so it will be good to catch up with them.

Happy Sunday Everyone! :o)