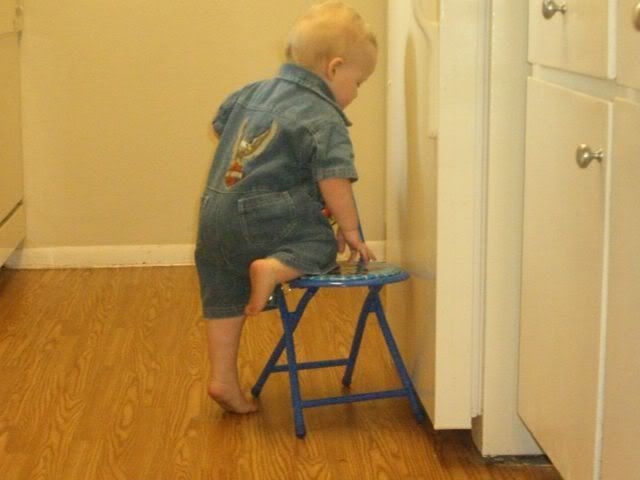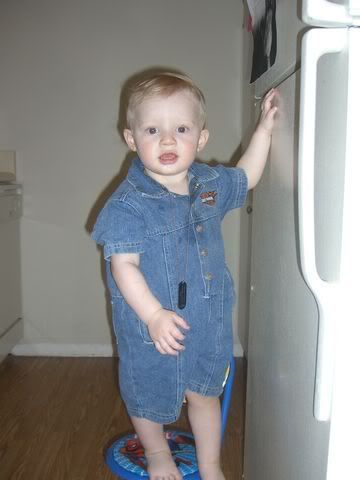 Baby Mark has learned a new skill at the tender age of 17 months. He's discovered that his spider-man chair can get him to all the places that were once out of reach and he couldn't be happier about his new found discovery.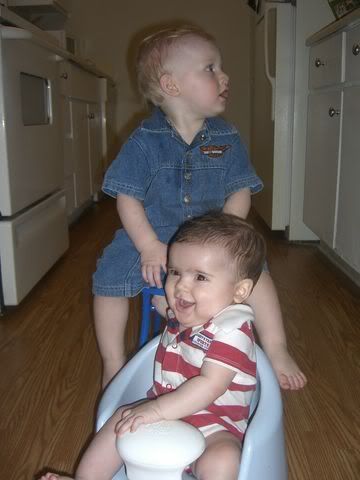 We really have next to no pictures of the boys together because Mark wont sit still long enough to take pictures. Ya gotta be quick. Slide the baby in front of him and snap.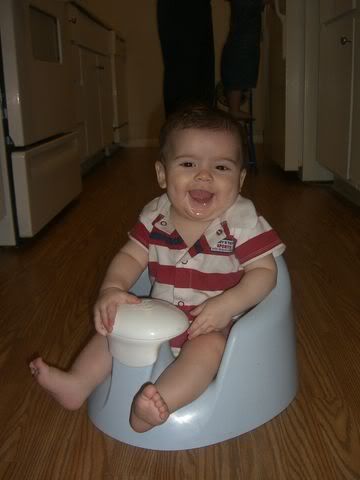 Don't you just love those dimples?!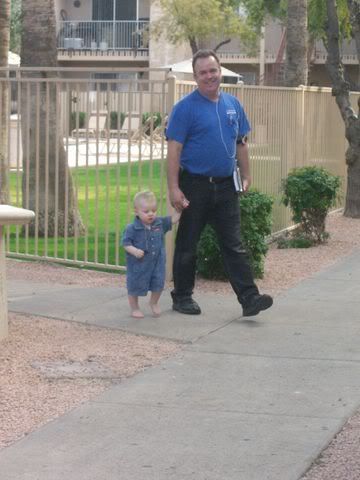 As we were leaving their apartment baby Mark did his quick escape. If the door opens, he runs like the wind. He loves being outside, so before we left Mark took him for a little walk around. He loved it.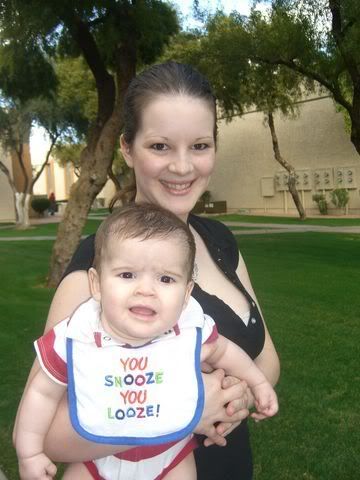 Does John look like Brittany or what...so cute, even with a frowny face.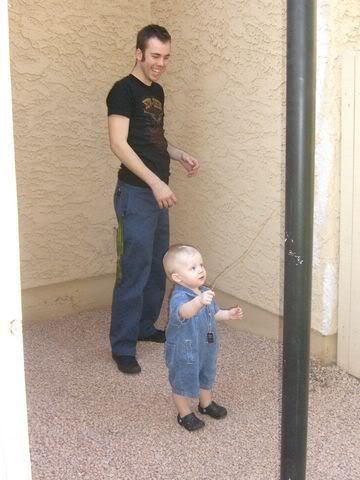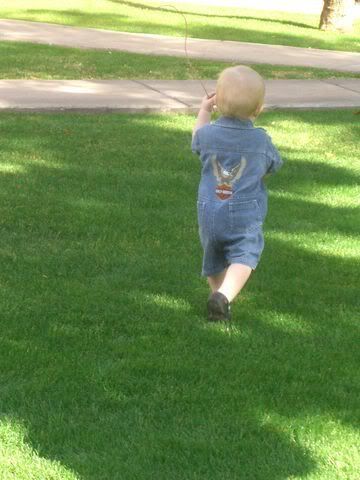 Mark loves being outside more than just about anything. I'm thinking this is a good week for an outing to the zoo. Miss Brittany, if you're reading this, lets pick a day for me to come get you and the boys. Speaking of Brittany...she has joined the blogging world and just barely started her own blog. You can visit her
here
. Stop by and show some love and welcome her to the neighborhood. I dont know anyone who doesn't love comments....which is why you have to come back here and leave me one too. :o)
Thank you all so much for your sweet comments on my last post. You really do build up my self confidence and make me feel like I can do anything, even with being as insecure as I am at times. I see that lots of you want recipes. I try not to disappoint so here you go.
Slush punch
1 (12 oz) can of lemonade concentrate
1 (12 oz) can of orange juice concentrate
4 cups sugar
1 tsp. vanilla extract
1 tsp. almond extract
18 cups of water
4- 1 gallon ziploc bags
2 (2 liters) 7 up
Mix together everything but the 7 up. Double up the ziploc bags. Pour half in each doubled bag. Zip them up, a freeze flat overnight. You may need to flip them over in the morning to freeze evenly. Thaw out 1 hour before serving. I usually beat it with a mallet or hammer to chunk it up before I put it in the punchbowl....which is the reason I double bag it....as well as safe guarding against a leaky bag during the freezing process. Put in punch bowl and pour 1 bottle of 7 up over the top. This recipe makes 2 bowls. Sometimes I get 3 bottles of 7 ups and use 1 1/2 in each. This stuff is awesome!
Lemon Pineapple Sheet Cake
1 box of lemon cake mix prepared as instructed on the box. Bake in a jelly roll pan at 350 for 20-25 minutes. cool, poke small holes all over the cake and dump a can of crushed pineapple on the top and spread evenly. Cover and refrigerate for 4 hours. Mix together a 3.4 oz box of lemon pudding with 2 cups of milk. Chill for 5 minutes until set. Add 8 oz of cool whip and spread on top of cake. Chill for a few more hours. So good...I'm honest!
Lemon Sunshine cookies
3/4 cup softened butter
3/4 cup sugar
1 egg
2 1/2 cups flour
1/4 tsp salt
grated peel of 1/2 of a lemon
1 teaspoon frozen lemonade concentrate, thawed
thin pretzel sticks
gummy fruit slices
licorice strings
yellow food paste color
Beat sugar and butter until fluffy, add egg, beat well. Combine flour salt and lemon peel. Add to butter mixture. Stir in lemonade concentrate. Shape into round disc and refrigerate for 2 hours. Take out of fridge and put on floured surface. Let sit until until it is workable enough to roll out to 1/8 inch thick. Place on grease cookie sheet, brush each cookie with a beaten egg wash. Gently press thin pretzel sticks into cookies to resemble sunshine rays. Bake 10 minutes until lightly browned. Remove to wire racks and cool completely
Lemonade royal icing
3 3/4 cups sifted powdered sugar
3 Tbsp. meringue powder
6 Tbsp. frozen lemonade concentrate, thawed.
Beat all ingredients on high, add yellow food paste color and incorporate well. Put a small amount of icing in a cake decorating bag with a round tip or just cut the end off of a plastic ziploc bag and pipe a circle around the outer edge of each cookie to create a dam. Then thin out the icing with a few Tbsp of warm water at a time to a pourable, but still thick consistency. Spoon icing in the centers of the cookies staying within the outline. You could also use a ziploc bag with a bigger piece cut off the corner. Cute the fruit snacks in slices and put on cookies to look like sunglasses. Cut strips of licorice and bend into a smile shape. It called for black licorice, but Kyle said that's just gross so he got red instead. Let stand one hour until dry.
Now here are a few of my personal tips on these.
1. It says the recipe makes about 3 dozen. It lied! I doubled the recipe and I barely got 3 dozen.
2. Don't' skip sifting the powdered sugar
3. The icing needs way more liquid than it calls for. Add additional warm water in the beginning a little at a time. I didn't the first time and I burnt the motor right up on my electric mixer. My second attempt I used my kitchen aid (because I don't keep a back up hand mixer...who knew I'd need one) It really does have to mix for a long time.
4. Don't forget the egg wash...it's the glue that holds those pretzels on.
5. You can use a good sugar cookie recipe and a regular royal icing if you so choose.
Today was a special day for Mark. He got a new calling at church. He is now a
stake high councilor
and was ordained to the office of a
High Priest
. His dad came to town so that he could be the one to ordain him in his advancement in the priesthood, so that made it extra special and we are so grateful that his parents came today. Our wonderful new stake president, President Lewis set him apart for the calling and gave him a blessing as well. Mark is thrilled about this new calling and is eager to serve to the best of his abilities. I can tell that this is going to be such an amazing growing experience for him. He has a huge respect for our stake presidency and for the rest of the high council. He could feel their strong spirits and that makes him want to be an even better person. There is a lot of responsibility with this and he takes it very seriously. I know he will do an amazing job. I am so grateful to have a husband who is worthy to serve in such a position. Our family will be blessed for his willingness to serve with his whole heart.
Well it's now 1:30 in the morning. Happy Monday everyone! Do something that makes you smile today.