***mom...if you are reading this before your birthday dinner, close your eyes and walk away.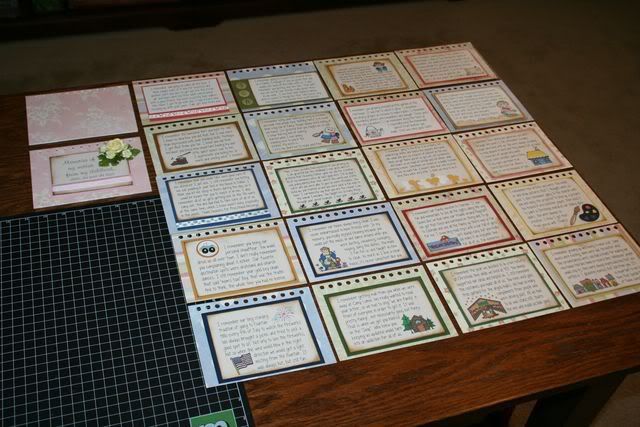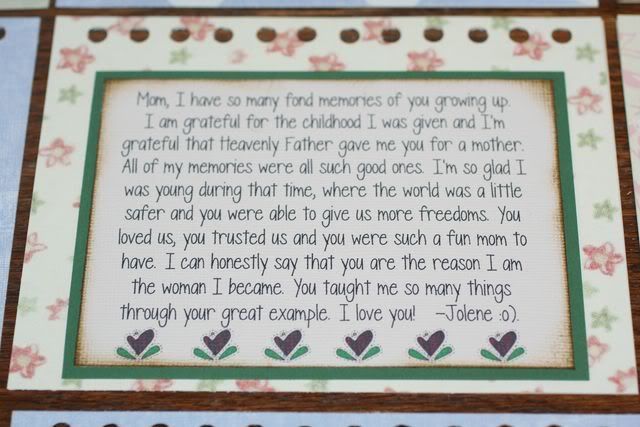 (last page in book)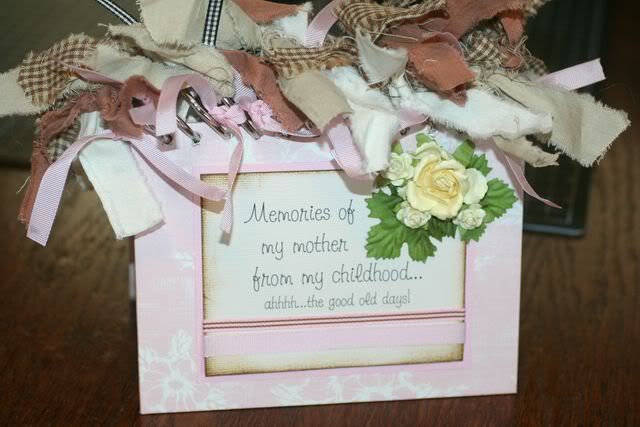 Okay...it's not really a scrapbook. There are no pictures. I just wanted to compile a little book of childhood memories I have of my mother. It's important to me that she knows I DO remember lots of things about her from when I was little. I loved my childhood and while working on this book for the past 2 day, it really sank in just how much I learned from my mom. I sat here writing down my individual memories and I was thinking to myself, "holy cow, I got that from her too!" Making this book was really good for me. It made me realize even more just how grateful I am for my mother. I love her dearly and I owe her a lot. Her birthday dinner is Thursday night. I sure hope she likes it as much as I do.
Little details...It's all very simple, because I know that is what she likes. I covered a small rusty pickle chipboard album with pattern paper from Melissa Frances. I only used that brand of pattern paper through the whole thing, so that it would flow. I knew my mom would like the soft colors and pretty patterns. I used that to cover the 20 sheets of rusty pickle filler pages and punched holes to match up with their holes. All the journaling was on the computer as well as a lot of the clip art from DJ inkers. Some of the art pieces were quickutz or jellies from O Scraps. I inked all the edges with my van dyke brown ink pad and matted them with bazzill cardstock. The flowers and leaves on the front are from prima. It's all held together with clamp rings and tied off with ribbon and torn strips of fabric. I did take pictures of each individual page so that I'd remember them.
With mothers day right around the corner, you can create something like this for your mom too. It's always good to share your memories and let her know she is loved. :o) If your mom has passed, it's a good thing to make for yourself to preserve those memories.
Well, it's 3:00 and I'm still in my pajamas. Gotta get ready to head to the store. I'm in charge of the young women's activity tonight and I'm no where near ready for that.
(hope you're all having a great day!)