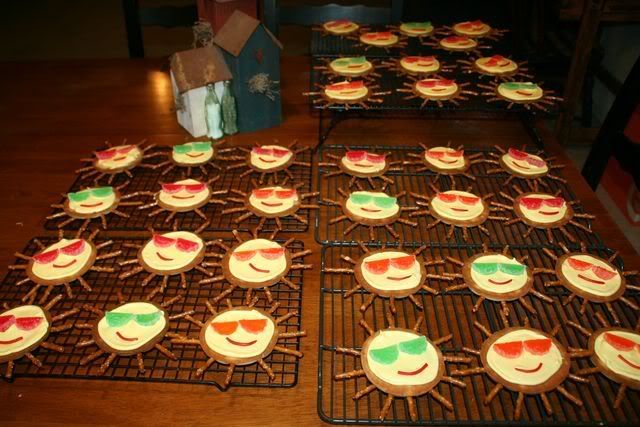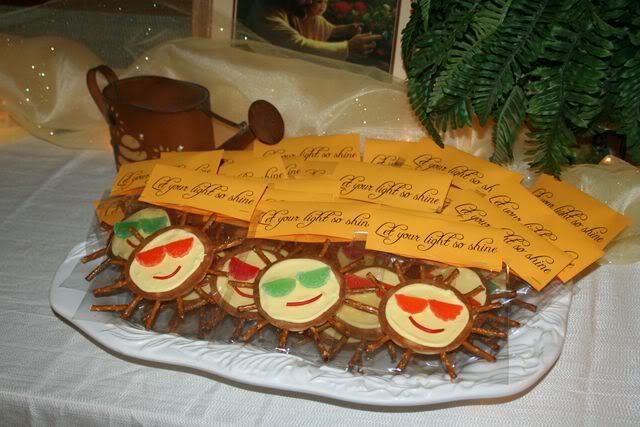 Tuesday was baking day at the George house....and I mean ALL DAY! Wednesday night we had young women's and it was a special night with the theme of "Let your light so shine" I remembered seeing a lemon sunshine cookie in a little cookie bought I bought years ago so I decided to make those. They are far from perfect, but since nobody but me saw the pretty picture in the book of the "perfect" cookies, there was nothing to compare to. How can one not be happy when you look at all those smiling faces? Not only did I make these cute little things, I made 2 lemon pineapple sheet cakes and the yummiest slush punch. I'm weird about having my refreshments fit the theme. It's all in the details, ya know. :o) If anyone is interested in any of the recipies, let me know and I 'll post them when I'm not so tired.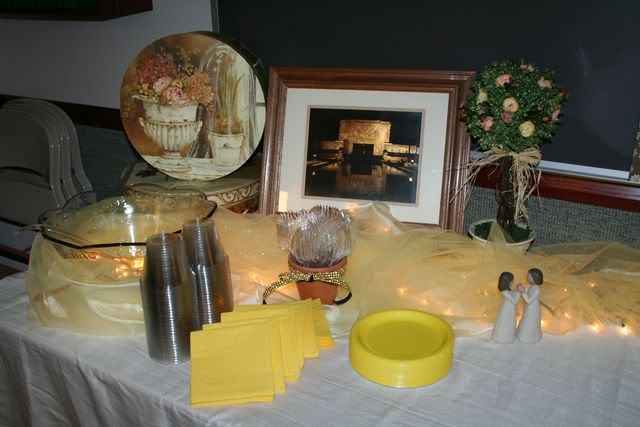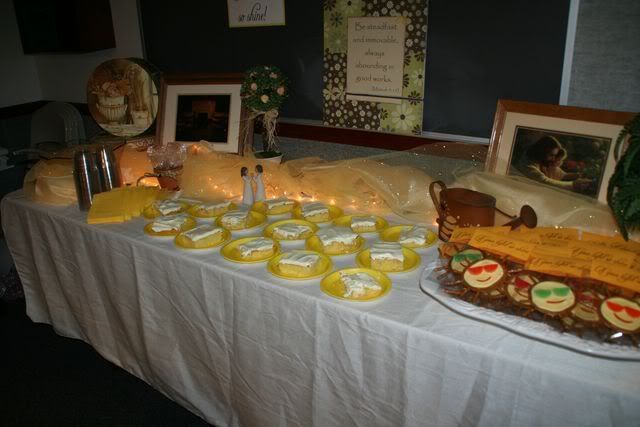 I decorated the table with pretty things gathered from around my house as well as some sparkly yellow tulle and silky yellow sheer fabric with white twinkle lights strung in through. It looked beautiful!

Tara and Brooke decorated the front table. So sorry the picture is blurry. Don't know what happened, but I had to share it anyways because it was so pretty! I had a couple of the young women come over a few weeks ago to make the invitations, while we were at it we made the tags that are hanging from the branches. Tara attached a mini flashlight to each one and we gave them to all the girls at the end of the night. The quote says...
"Our deepest fear is not that we are inadequate, our deepest fear is that we are powerful beyond measure. It is our LIGHT, not our darkness that most frightens us. We ask ourselves, 'Who am I to be brilliant, gorgeous, talented and fabulous?' Actually, who are you not to be?"
-- Marianne Williamson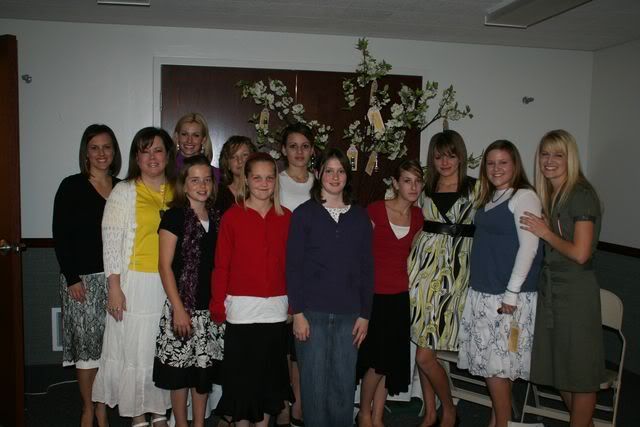 One sweet girl named Jodi planned the whole night as one of her 10 hour projects. She did an amazing job. The program was beautiful. All of the girls had parts. You could feel the spirit so strong as they each shared their knowledge and testimonies of the young women values. There was also a lot of focus on seeking the light of Christ as well as the inner beauty that grows as you live a life of love and service. I do know that each one of these girls are amazing and they truly do have a inner light that shines. It gets brighter and brighter the more I get to know them and the more they desire to choose the right. I love each and every one of them dearly.
(spell check is not working on blogger so excuse any typos...nevermind...ya'll know I have errors all the time, even when it's working. I'm going with "it's part of my charm." hee...hee...)