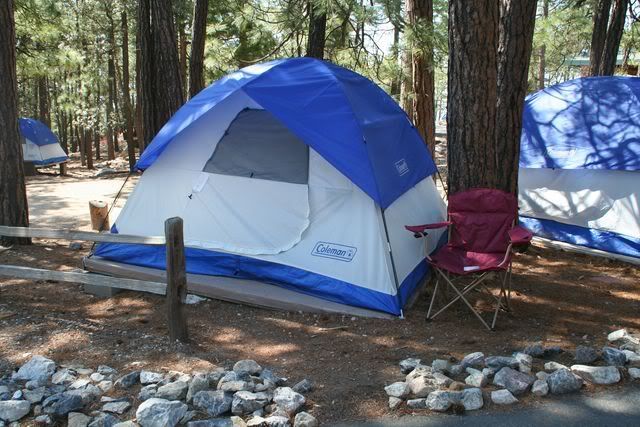 Well I did indeed survive girls camp...barely! Since being home I've had to catch up on a lot of sleep and housework. Being my first time to girls camp in 25 years, I was more than a little nervous. This is the cute little tent where I slept. It was right next to the nurse so that was good in my mind. Sleeping wasn't nearly as bad as I thought with a blow up air mattress. Going potty in the night was the worst part of being in a tent. Each time having to un zip and zip up. It was noisy! I didn't dare leave it open for fear bugs and/or critters would get in. The good part of that was I took a few minutes each time to enjoy the night view. It was gorgeous! My cramps hit me really hard on the way up the mountain and no amount of pain medication made them go away. It was very difficult for me. I did my best to work with the pain and enjoy the beautiful surroundings of Camp Zion.
MONDAY:

Just the stake leaders and the YCL's go to camp to get it all set up for the rest of the girls who arrive on Tuesday morning. Sunday night I was busy getting last minute things together as well as getting a last minute shower. I finally fell asleep around 2:30 then Mark woke me up at 4:30 so we could meet at the church at 5:30. I don't do great on 2 hours sleep even when I feel good. It's a 3 hour drive to Mount Lemmon. As soon as we got there we unloaded all of the cars and trailers and started setting up camp. I got all the crafts set up and organized in the Ramada so that it would be easy when it was time to teach. The YCL's helped set up and decorate the dining hall. The whole camp looked great!
This is the star at the entrance to the amphitheater. On the stage we had shimmery fringe, twinkle icicle lights and stars that hung all around it. I painted two wood boards black and painted at the top "Our stars are shining brightly through service" When we would see girls doing acts of service they would get a glow in the dark star on the boards. By the end of camp, the boards were pretty full. That says a lot about the girls we have in our stake.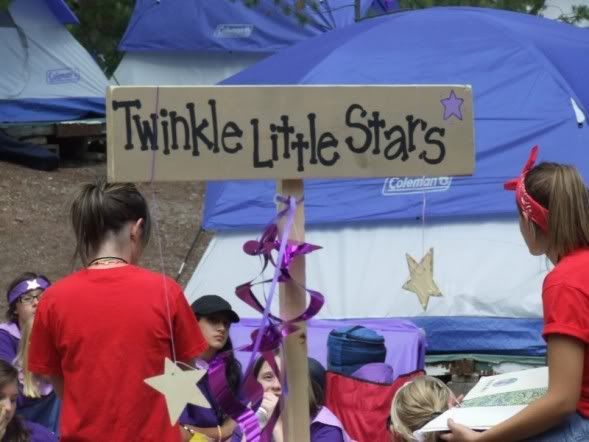 In each camp site I made a sign for each group. Twinkle little stars were the first years. We had shining stars (level 2), shooting stars (level 3), star gazers (level 4), starbursts (YCL's), polar stars (Stake leaders), Big Dippers (Priesthood), Milky Way Mail (mailboxes), Cosmic crafts (craft shack), Galaxy snacks (snack shack) Mark drove up with me to help get everything set up. After he left I got feeling much worse. I was in so much pain, exhausted and was having a difficult time with the altitude. By the time we had dinner I was in tears and had no idea how I could possibly make it all week, so they had the Priesthood give me a blessing. I appreciated that so much. I was able to sleep that night better than expected.
TUESDAY:

In the mornings we wake up to some fun lively music. I loved that! It puts everyone in such a great mood.The 3 girls in blue are our junior staff. They were amazing. Here they are setting up for the girls to arrive. Each level wore a different colored shirt. I honestly think it was inspired to have the girls camp as levels instead of wards. They got to make so many new friends their own ages and when school starts they will already have friends in place who share their same values. What a comfort that will be.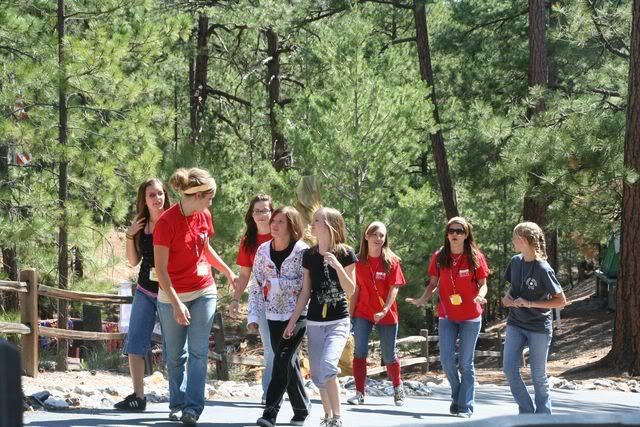 There were 4 YCL's assigned to each level. As the girls stared to arrive the YCL's would take them to the designated campsites and get them settled in. They would also take the girls to all of their classes, go on their hikes with them and eat meals with them. The YCL's really do run the camp. It great to see them work in a leadership position.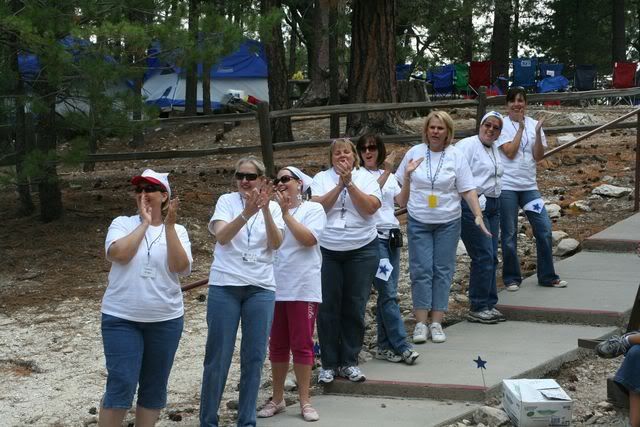 The stake leaders waiting to come onto the stage to do their cheer.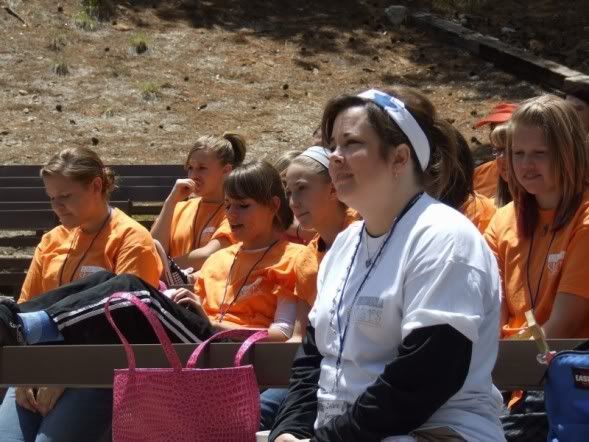 I was sitting on the benches. I was lucky to make it down to the amphitheater. The thought of dancing around on stage was not an option in my condition. I so wish I could have though. Being goofy can be so fun.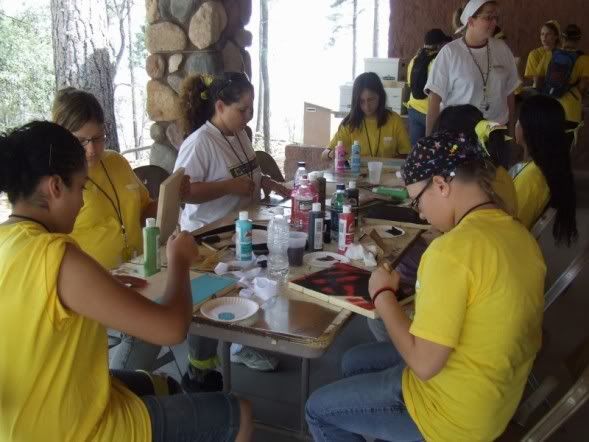 I did get to teach two group of crafts on Tuesday. The girls all loved their magnet boards and not one looked alike. It was fun to see their creativity. They all loved the smaller crafts too. They decorated insulated canvas water bottle holders, patriotic candle boxes, friendship bracelets, camp journals, and made cards. I also brought up tons of fingernail polish so they could paint nails in their free time.
Mark drove back up on Tuesday night so that he could help with hikes on Wednesday morning. Little did he know he'd be turning right around and driving back home. He got up there just as the rain ended. The girl on the right (Julia-aka the sweet 16 birthday girl) fell and hit her head pretty bad and she needed to go home. I was still feeling really cruddy so we took her home right after singing trees that night. That is always such a special thing. There is so much power in music.
We got home about midnight and I was so car sick from the curvy road. It was horrible!
WEDNESDAY:

I stayed in bed all day, still in so much pain, but missing girls camp so much. I laid there crying with my camp schedule keeping track of where the girls were all day. Wednesday is hike day. I don't hike so I'm not sad to have missed that part. My good buddy Shannon taught my classes for me on Wednesday afternoon. I also missed skit night which I heard was hysterical. Each level is given a bag that had 6 different items in it and they have 2 hours to come up with a fun skit to perform for everyone. Really sad to have missed that. Mark called me all day while he was working to check on me and ask me if I wanted to go back to camp. I was still miserable so I never answered. I went to sleep sad and missing my girls.
THURSDAY:

We woke up and Mark called his part time guy to cover his schedule. He told me to get up and get dressed because we were going back to camp! We got up there just as lunch ended, so we missed out on the morning activities like archery, pellet guns, line dancing, volleyball, etc. It was so neat to see the girls faces light up when they saw that I had come back. That made me feel so loved and I love them even more.
When it's time to meet in the amphitheater there is always music and dancing involved. It's so much fun. Thursday is also the day the bishop of each ward comes to camp as well as the stake presidency. Of course we have to get them involved.
Each level does a cheer every time we meet so of course the men had to do a cheer as well. I don't remember the words, but part of it had to do with stinky campers (from our lack of showers) It was pretty funny!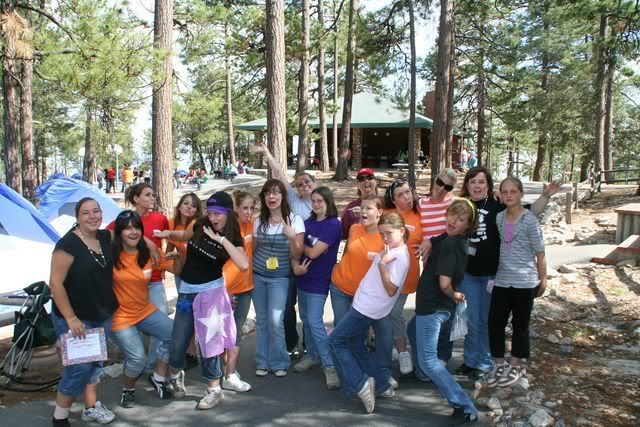 Here is a group shot of girls and leaders who came from our ward.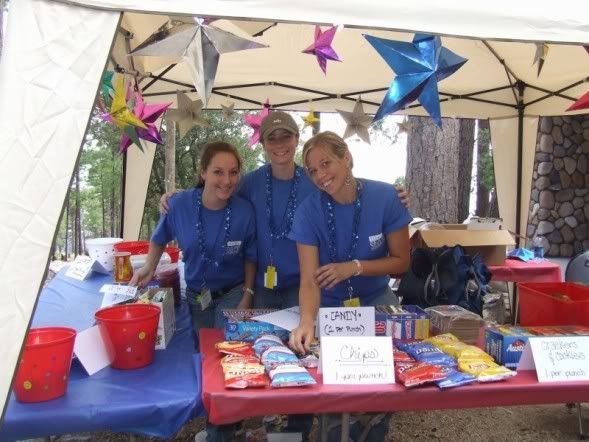 The junior staff running the snack shack. ( a favorite spot of the girls)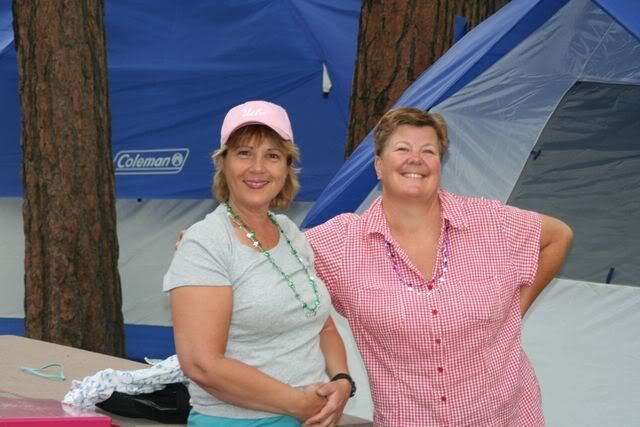 Our camp nurses who did an amazing job taking care of the bumps, bruises, scrapes, sprains, headaches, tummy aches, etc.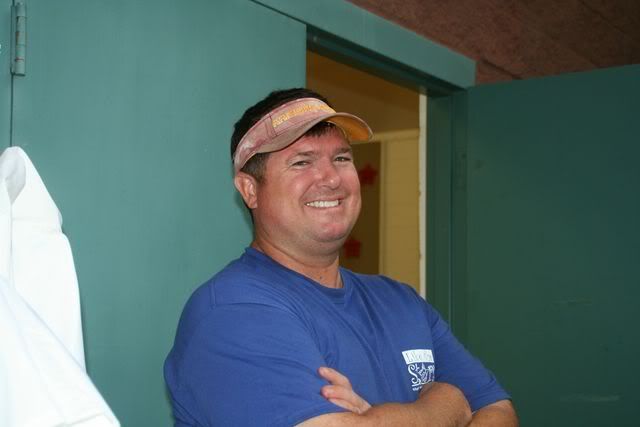 Here is the wonderful Cook Cooper who catered all the meals for us all week. He kept us full and happy with delicious food and we all appreciated his hard work. As it turns out he is the husband of one of my best friends from high school who I shared a locker with. They now own
Coopers BBQ
in Gilbert and run a catering business as well. So cool!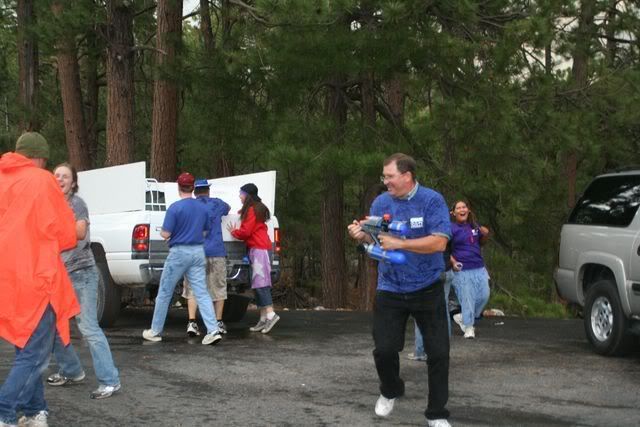 The stake president started a water gun fight running around hosing people down. He totally soaked me while yelling out "what happens in camp stays in camp" LOL! His daughter did manage to soak him down as well.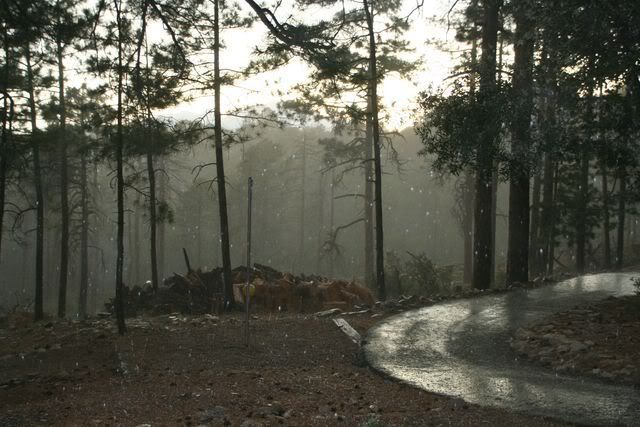 After the water fight we got a big rain storm which turned into a hail storm. Everyone took cover until it passed, but we had to hold our program inside instead of outside where we really wanted it. It turned out beautiful anyways.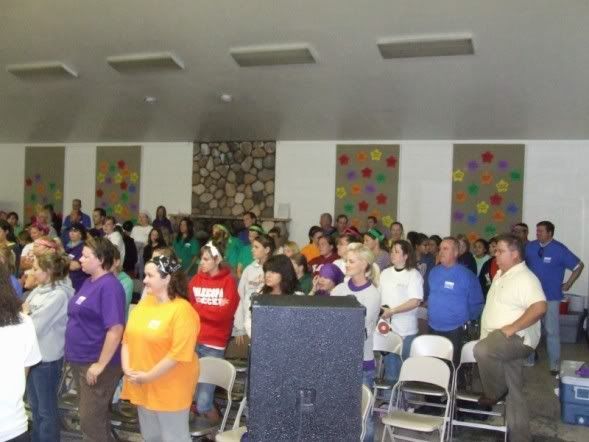 The girls in white are the ones who performed in the program. It was such a spiritual uplifting evening. I cried like a baby through the whole things. I was so glad Mark got to be a part of it so that he could appreciate how wonderful it was. You can hear some of the music
here
. If you have time to listen, I would highly recommend it, then you would fully understand how special it was. After the program the girls shared there testimonies. It was so neat to see how much they grew during their few short days at camp. After that we all split up into wards with our bishops. Our ward sat in a circle under the beautiful starry sky. We each took turns sharing what was the most special part of camp with each other. Of course there was lots of crying. We all grew so strong together and I will never forget my time with these sweet spirits.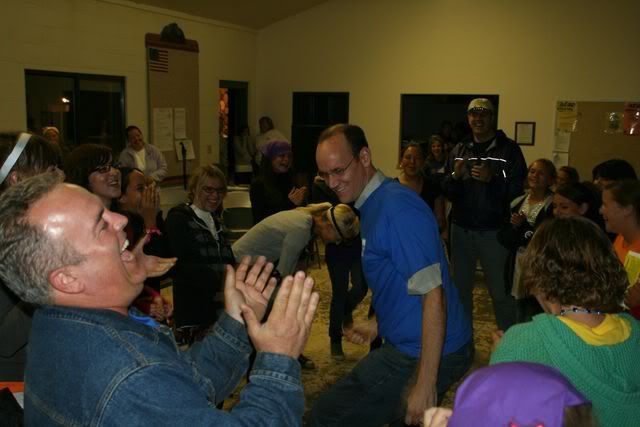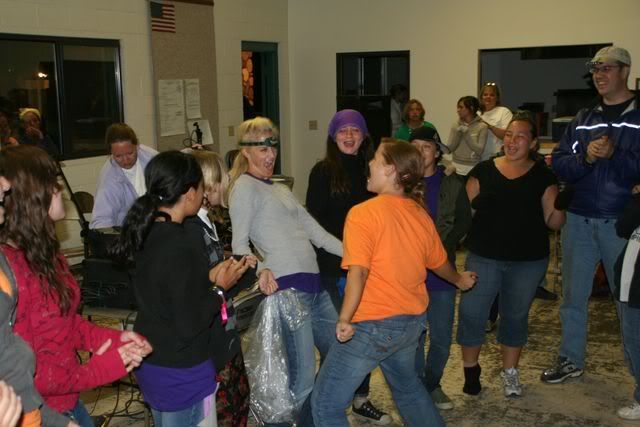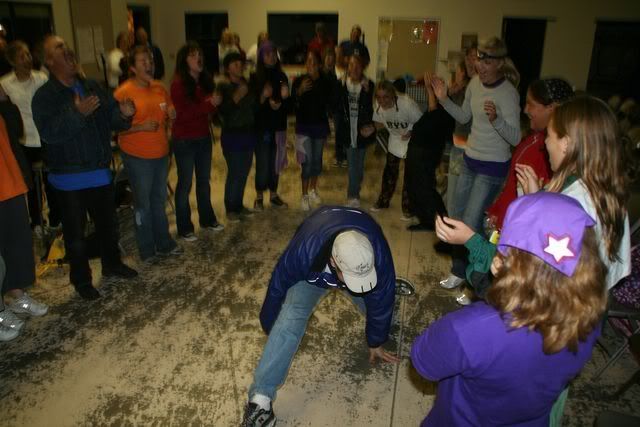 Then we went inside to have desert and the girls started teaching Mark to dance. We laughed so hard because he was willing to do whatever they wanted. It quickly grew into a large group playing a dancing game of
Little Sally Walker
.

We got the other men to participate with us. They pulled out all their cool moves. It makes me laugh just thinking about it. So dang funny! It was a great end to our very late night.


FRIDAY:

we all got up and had our last breakfast. Our ward had the last devotional on Emma Smith. The girls did a wonderful job. After our farewell songs we cleaned up camp and did all our capers. Loaded up our cars and headed home. We listened to the CD of the

program music

all the way home. It was so beautiful and inspiring. Being at camp was fun and spiritually uplifting. Friendships were made and bonds between each other grew stronger as well as personal testimonies. I will never forget my experiences up there. It was wonderful...even with the ick factor. I've been asked to come back next year to teach crafts again. My answer is absolutely YES!!!
On a sad note Sunday I was released from my calling with the young women. I am now the ward librarian and in charge of the Sunday Sacrament programs and the ward newsletter. The girls are all upset. I'm upset. I can't say that I'm dealing with this change very well. The bishopric has been praying about who to put into this position and they kept coming up with my name. As sad as I am to leave these sweet girls, I will serve where I'm called to serve. At least I get to go to camp with them next year. I'm sure there will be some sort of growing experience in this for me. I just need to try to stay positive and keep my heart open.
Holy Crud! This was a long post! So sorry! If you made it this far...THANK YOU and please leave me a comment so I know you were here. Who doesn't love comments?! :o)