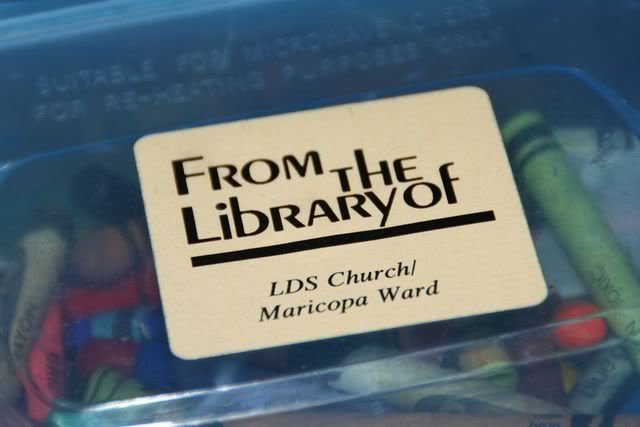 Y'all know I love to organize. I'm pretty good at getting things done to where they look good and make sense....not necessarily maintaining (hence the condition of my messy scraproom this very moment) These are a few things from our church buildings library. It makes me nuts that some things are in baggies, some in containers (some broken), some have nothing at all. Check out that label on the crayons. It says "Maricopa Ward"! You're probably thinking to yourself..."so what". In my organizational freak brain that tells me that the library hasn't been organized for a really really long time since Maricopa now has 7 wards. It shouldn't bug me, but it does. They did ask me to organize it so I took it upon myself to hit the back to school sales at Wal-Mart to get some basic supplies and containers.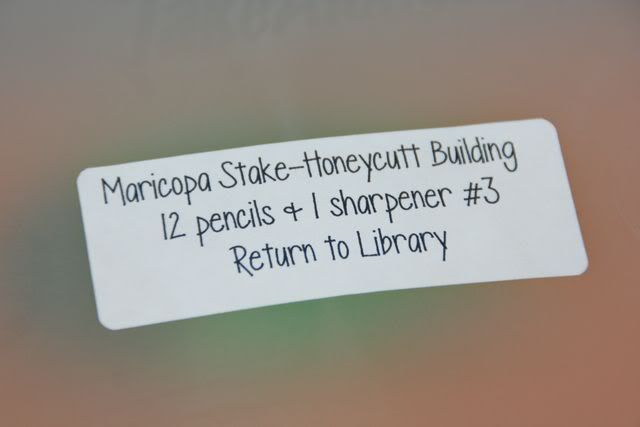 Now everything is separated into containers that match and are properly labeled for teachers to check out things they need for their class that day. Each container not only has the description, but a stock number so when they are checked out they have to write the number on the sheet. It makes it easier to find missing items instead of just saying we are missing 2 things of chalk and erasers. I will know who checked out the missing #3 and #8. That little library needs a lot more organizing. So many things in there from the dark ages or completely non existent. At least I have a good start.
I really wish I could say that I'm happy with my calling, but I'm not. I cried Saturday night and pretty much all day Sunday. It affects my mood every single day. I've been taught to accept whatever callings are given to me and to serve to the best of my ability. That's just who I am, but I've never struggled so much with a new calling. I have yet to get the feeling that this is where I should be. I've been so emotional and grouchy. On Sunday while I was at church when people would ask me how I'm doing. Instead of lying and saying the normal "I'm good", I said..."You know what, I'm not going to sugar coat over my mood. I'm really grumpy and not very happy." How bad is that?! How does one respond to that when they are expecting an "I'm good, how are you?" It got worse as I went throughout my church meetings. Let me explain...I have to arrive early to open the library. I close it just as sacrament starts. Just before sacrament ends I go re-open it and stay in there until about 10 minutes into Sunday school class. Again I leave before class is over to open it and I stay in there until relief society is a good 10 minutes into it, but have to leave before class ends and then stay there until all the items have been returned and by that time most everyone has gone home. To some people that wouldn't be a big deal, but to someone who is a social as I am it's a BIG deal. I don't get to visit with anyone before church, in between classes or after church and I hate it! It's not just the lack of being social with my friends. I just don't feel it's where I should be in general. I don't enjoy anything about it. I seriously cried the rest of the day. If they are going to pull me out of a calling that I love with the young women, then at least put me in one that I'm passionate about and feel like I'm making a difference. This is just so hard. I'm torn between trying to find the blessings of why I've been placed here and meeting with the bishop to discuss other options that don't put me in the depths of depression, because that's where I'm at right now and I just don't think I'm willing or able to continually be miserable.
Vent over...so sorry. Since it's my blog, I just wanted record of my feelings at this point in my life. Not looking for sympathy.


Chad traded in his Ford Mustang and bought himself a Chevy Silverado Z71 4X4 truck. He loves it! It sure is pretty...but as a mother it's kind of weird and scary when your kids start establishing their own credit. I told him we'd go over a budget to keep his finances in order. If he is good with his money he could get and maintain a good credit score. I know from experience how hard it is to overcome not so good credit.

$5.18 for 3 bags of ice from Sonic. Best spent money ever in my mind...and done frequently.

I've decided that I can never live far from a Sonic. I just love their ice too much. I can't go a day without it. It's so bad I even brought up an ice chest full of just ice to girls camp. (along with a case of water) I fill up my big scrapaholic mug 4 times a day with yummy ice water and the occasional Pepsi! I rarely leave home without my cup of water. I have spilled it a time or two in the car. (don't tell Mark) It hasn't stopped me from bringing it with me. I love my ice water. It makes me happy. It's nice to have something so small bring me happiness. What small things make you happy?