***EDITED TO ADD INSTRUCTIONS***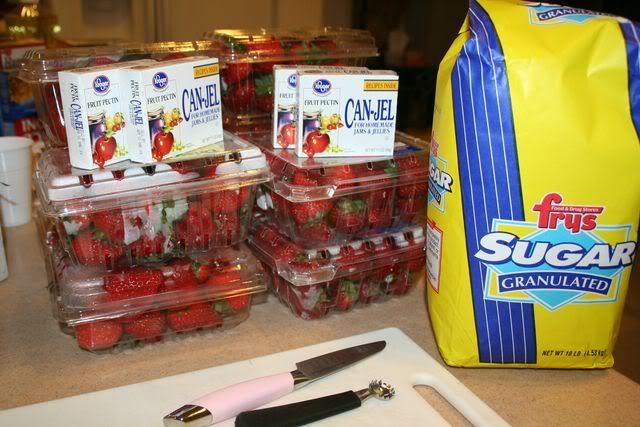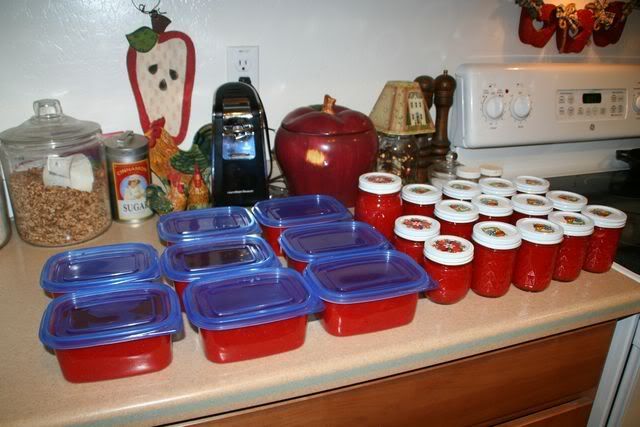 Went to the grocery store today because we needed food. That's usually why I go. Strawberries were on sale 10 for $10. How could I pass that up? Well I couldn't! I've been waiting and waiting for them to go on sale so I could make freezer jam. I did a ginormous batch. We're talking 8 things of strawberries ( I saved 2 for the boys to eat), 32 cups of sugar (crazy huh?!) and 8 boxes of can-jell. I mixed it in my
tupperware thatsa mega bowl
. I love that thing, but do wish mine was in the new color instead of white. It holds 42 cups...which makes no sense since the ingredients were more than that. It must have something to do with the sugar dissolving. Who knows. All I know is it all fit in that bowl...barely. I had Cody helping me stir because there was a lot of stirring involved and my hands don't do well with that. That batch filled 15 jars and 8 plastic containers. Aren't they so pretty? Well I think they're pretty. One of the girls in young women brought me over a loaf of bread that she baked today. Gotta love that sweet girl! Can't wait to eat it with homemade jam on it.
Gotta some icky bananas on the counter. ( I love it when that happens) Going to have to make some banana bread in the morning. Yum! I'm thinking I need to start posting my weekly menu's again. It helps keeps me on track. Plus I need to add some new dinners to the mix. Same old Same old is well...old! What's cooking at your house?
***edited to add instructions***
Wash, scald and dry containers. It's easiest just to throw them in the dishwasher. Can be typical glass canning jars ( I prefer the smaller ones) or plastic containers with a tight fitting lid.
The instructions and measurements are different for different kinds of fruit. This is for strawberries.
Remove the stems/leaves from 1 quart or 2 pints of strawberries and crush. I cut mine up into quarters then pulsed a few berries at a time in my blender. You really should use a food processor, but mine died. You would still just pulse it with that because you still want some chunks of fruit to remain. I have made jam by using one of those food choppers that you smack the top of, but it takes a long time and my hand was killing me after a while.
One container of berries should equal 2 cups of crushed fruit. (all mine did) Put that in a bowl with 4 cups of sugar and mix thoroughly. Let stand for 10 minutes stirring occasionally. In a sauce pan cook over high heat 3/4 cups water and 1 box of can-jell. Stir constantly. When it comes to a boil let it boil for 1 minute (keep stirring) then pour over berry/sugar mixture. Stir and mix together constantly for 3 minutes. Most all the sugar should be dissolved. Pour immediately into containers leaving 1/2 inch at the top Wipe edges clean and put the lids on quickly. Let stand at room temperature, untouched for 24 hours. Store in freezer. Keep an opened container in the fridge.
I did break one of the rules about not doubling. I'm a rebel that way. I'm not patient enough to do one batch at a time. As long as my measurements are right, I've never had a problem.
When you buy a box of sure-jell it has the recipes inside for all types of fruit. They also include the cooked method that you can and keep in your pantry. The freezer method is easier and I like it so that's just what I do.
Let me know if you make jam. Berries usually go on sale around now...but maybe that's just here in Arizona.