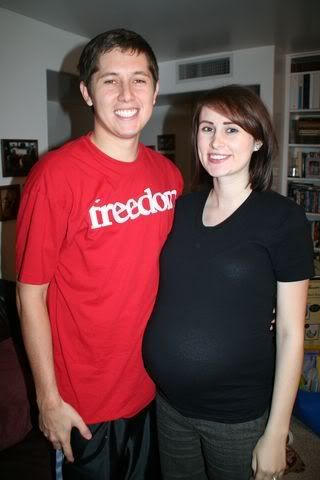 Last night I went to a baby shower for a sweet girl named Cammy (and her husband Josh). She is being induced on Monday to have her little boy they are naming Cash. The CA is for Cammy and the SH is for Josh. We have known these two for 6 plus years. They were teenage friends with my older boys. Josh was pretty nervous about handling a new baby, but he had the opportunity to get broken in with a family in the neighborhood who recently had triplets. They would go over and help with the babies all the time over the past few months. Now they are both very comfortable with all the things babies need. I thought that was such a great idea to get in some practice before hand. They will both be awesome parents. :o)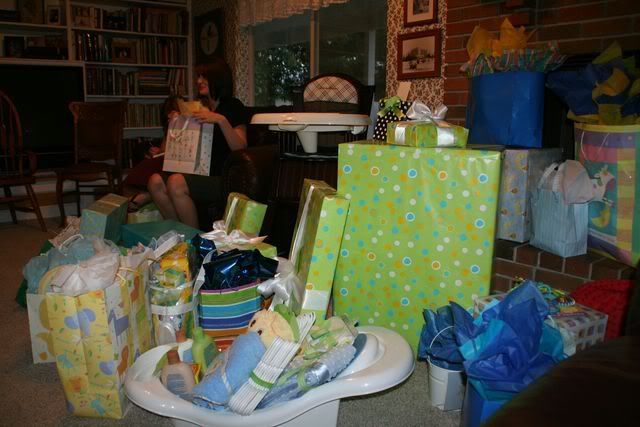 Lots of presents! It's a good thing...babies need lots of things. Along with the salsa for Cammy, I got the baby 2 pairs of shoes. A pair of tennis shoes and sandals in the teeniest size ones. They were adorable! I totally forgot to take pictures of them in all of their cuteness because I was running late and it started to rain. Speaking of the rain, Mesa got hammered last night. It was kind of scary driving home. Maricopa got rain too, but not as much as the valley. Today is hot and sticky. I think I'll stay inside.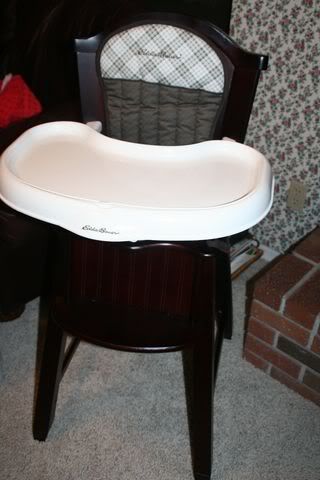 I love love love this high chair. I love that it's beautiful wood combined with a easy wash tray. So dang cute!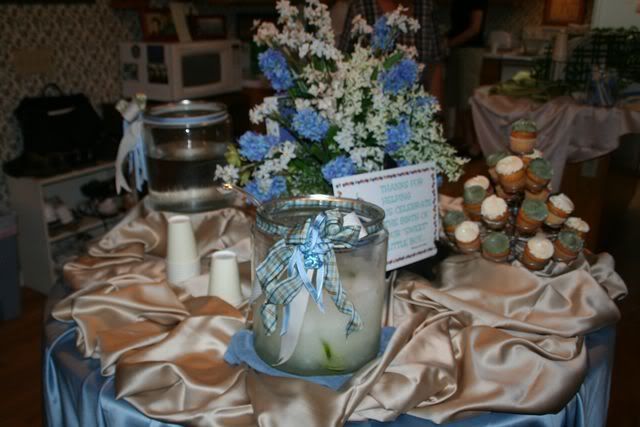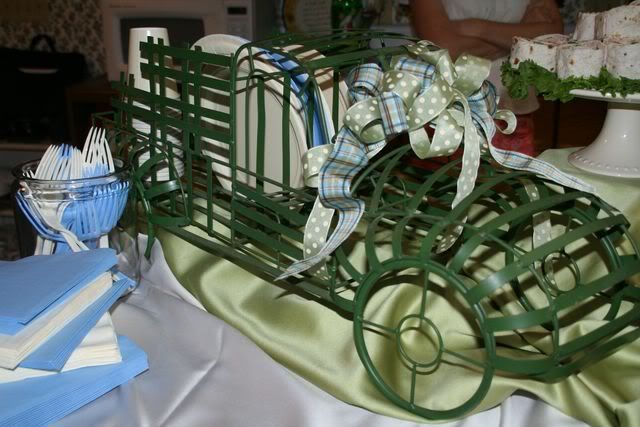 The food buffet was set up so cute so I had to share pictures of it. Just beautiful!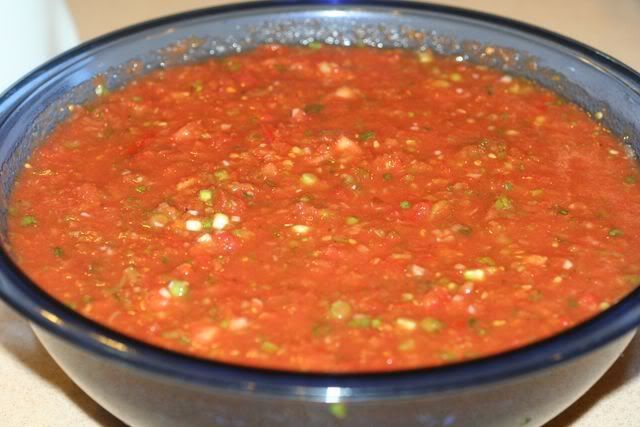 Cammy has been requesting me to make some salsa so I took the opportunity to take pictures of the process starting with the ingredients to the finish. I needed to do this anyways so I could include it in the recipe books I'll be making for the boys for Christmas.
Cody took this picture while I was dicing tomatoes and talking on the phone. I had no idea he took and did not include it on her recipe card. By the way...I've lost 7 pounds so far. It's not much, but it's something. 33 pounds to go.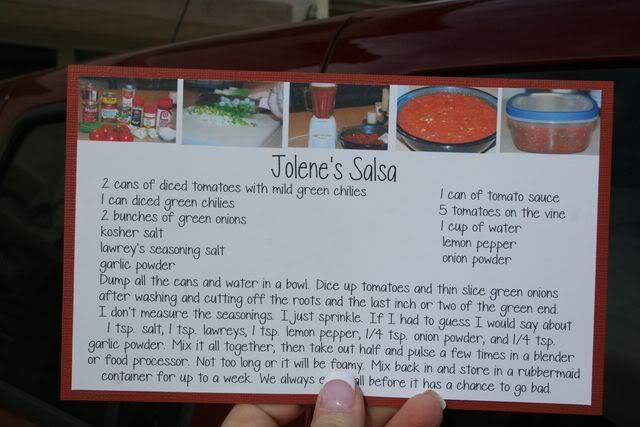 Here is the recipe card I made her. When I first started to cook, pictures were very handy. The ones I do for the recipe book will be full size 8 1/2 X 11 so I can put them in page protectors and in washable albums.
I've had some people wanting the recipe again so here it is.
2 cans of diced tomatoes with mild green chilies
1 can of tomato sauce
1 can diced green chilies
5 tomatoes on the vine
2 bunches of green onions
1 cup of water
kosher salt
lemon pepper
lawrey's seasoning salt
onion powder
garlic powder
Dump all the cans and water in a bowl. Dice up tomatoes and thin slice green onions after washing and cutting off the roots and the last inch or two of the green end. I don't measure the seasonings. I just sprinkle. If I had to guess I would say about 1 tsp. salt, 1 tsp. lawreys, 1 tsp. lemon pepper, 1/4 tsp. onion powder, and 1/4 tsp. garlic powder. Mix it all together, then take out half and pulse a few times in a blender or food processor. Not too long or it will be foamy. Mix back in and store in a rubbermaid container for up to a week. We always eat it all before it has a chance to go bad. Enjoy!
Q&A:
1. The adhesive I used to attach the sheet metal to the wood was loctite power grab. It's in a big pressurized tube. I got the all purpose instant grab.
2. The grand babies are doing great. The just moved into a new apartment and are having fun exploring their new digs. They had a transformer blow up outside their place last night in the storm. Scared them to death. In the next few weeks I plan on picking them and Brittany up to get the boys their first haircuts. I will have my camera handy that day.
3. I ordered the canvas water bottle holders fro oriental trading company. They are insulated and affordable.
4. My librarian duties are to get it organized and figure out what were missing. The library in the church is not like a regular library. It has resource materials for the teachers who teach primary and sunday school etc. I'm there to get them pictures, materials, scriptures, chalk, crayons, etc that they need to go a long with their lessons each week as well as make copies for things they need for the kids in their classes.
On top of that I'm in charge of the weekly sacrament program that people get when they come in the chapel. It has on it who is speaking, saying opening and closing prayers, what songs we'll be singing as well as announcement.
Then there is the ward newsletter that will contain all the buzz about what's going on in the ward. It will all keep me busy. Still really feeling very emotional about this whole thing. I'm sure my attitude will improve once I get into the swing of things.
I think that was all the questions. If there were any more that I forgot, let me know.
Thank for for all the sweet comments on my previous post. Girls camp was truly a wonderful and unforgettable experience.
Off to work on Mount Washmore. I bought laundry soap so I have no more excuses. Sure piles up quick around here.
Happy weekend everyone!