Remember the post about snips and snails and puppy dog tails, that's what little boys are made of? Well apparently I left firecrackers off that list and it really needed to be there.
Boy+lighter+firecrackers=a blown up toilet.
As I was on my way to town on Friday afternoon I got a phone call from Cody. Here is how the conversation went....
Cody: ummm...mom...I blew a hole in the toilet.
Me: Cody, you better be lying because that's not funny.
Cody: Mom, I'm telling you the truth and I should get points for that since I normally lie about everything I do bad.
Me: Oh my freaking gosh Cody! How did that happen?
Cody: When I was at Ezroms house last night I got some firecrackers that he got in Mexico. I lit one and threw it in the toilet and it blew out all the water and I thought that was cool. Then I threw another one in and it blew a big hole in the toilet.
Me: (all said very loud and fast) CODY!!!!!!!!!! What were you thinking? Do you have any idea how dangerous that is? You are in SOOO much trouble! I can't believe you did that. Dad is going to be furious. AHHHH! I'm so mad! How bad is it? Do you have any idea how expensive a new toilet is? You can bet you'll be working the rest of the summer with dad for free so you can pay for it.
Cody: Well I can see the floor through the hole. It's about 4 or 5 inches around.
Me: You call your dad right now and tell him what you did because I want him to hear it from you first.
Cody: Okay.

So of course Mark was so upset and Cody IS indeed working to pay for the new toilet that was installed this afternoon as well as losing privileges for a while.
Sadly this isn't even close to being in the list of top 10 bad things my boys have done. I've got all kinds of stories. Stuff that makes one question why they signed up for this whole parenthood thing. (mostly from the 2 older boys teenage years) Through all those trials (and lots of help from Heavenly Father) I have learned lots patience and have learned which battles to pick and which one to leave alone. I'm a much stronger mom now, but I still break down more often than I'd like. Motherhood is REALLY HARD!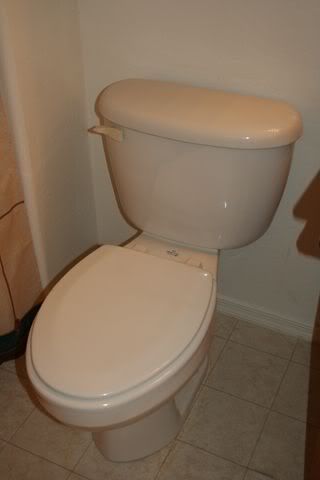 New toilet courtesy of Cody
Chad took his new white truck back to the dealership. Apparently there was some fibbing on the part of the salesman regarding the purchase amount and the interest rate. Things were much different than what Chad agreed to so he went and picked up his mustang last night. Cody was shocked to see Chad pull up in the car and asked him where his new truck was. Chad told him he rolled it in the desert and it was totaled. Oddly enough Cody was happy about that and said "Mom and dad wont be mad at me anymore when they find out you wrecked the truck." Nice to see how concerned he was for his brother even if the accident was fake, huh?! Just so long as the heat was off him. Anyways...Chad went to a different dealership where he bought a different truck that is newer, less miles, cheaper, but doesn't have a back seat. He did get more for the trade too. He just pulled up in it tonight...which is why the picture is dark.
Before I go...check out Cole's leg! He was standing backwards on a diving board and did a bounce preparing to do a back flip and he slipped, leaving him with a nice gouge in his leg that is swollen and infected. His leg is turning a lovely shade of green. He said the diving board was slick and had no traction on it like most boards. He couldn't play in his basketball game because it hurt too much.
Having boys is just so much fun.....and some days.....not so much!