Working on some recipes to put in the boys cookbooks. I'm really behind in doing this, so any of their favorite meals or treats I will be taking pictures of at least part of the process.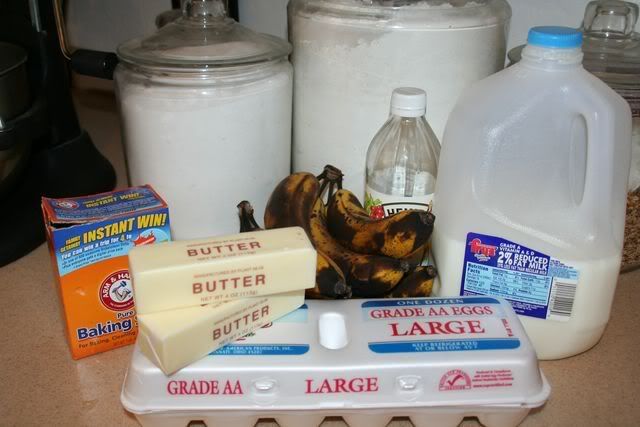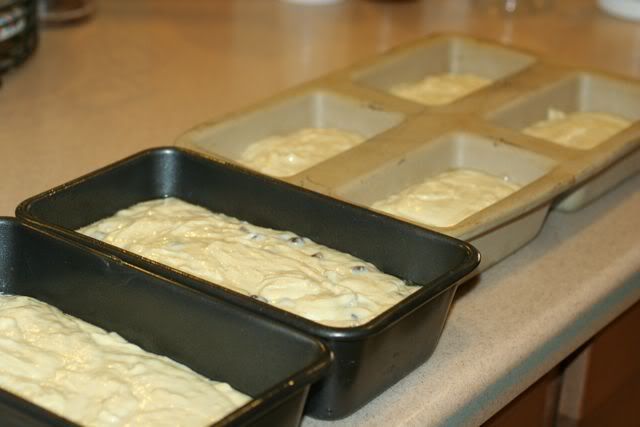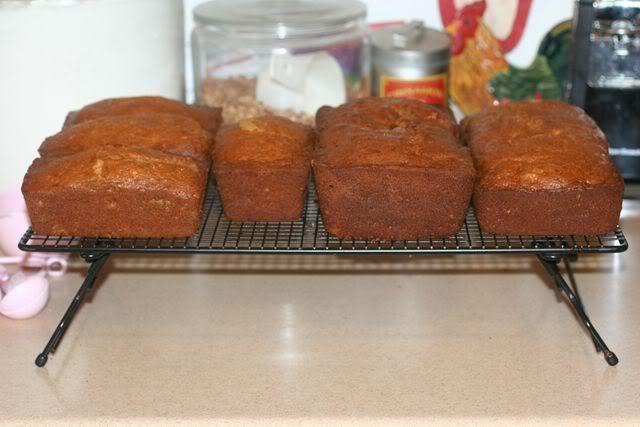 Banana Bread
2 cups sugar
2 eggs
1 1/2 tsp. baking soda
1/2 cups butter
3 cups flour
1/2 cup milk (soured)
1/4 tsp vinegar
4 ripe bananas (icky ones)
Mix together sugar, butter and eggs. Add soda to the flour; blend the sugar and flour mixtures together. To sour the milk add 1/4 tsp. to the milk. Let sit for a few minutes. Add the sour milk and blend well. Mash bananas and add. Fold in and pour into 2 greased bread pans. Bake at 325 degrees for 1 hour.
I doubles the recipe like I do with most things I make. I also mixed in chocolate chips to one of the loaves. So good!
2 envelopes of Lawry's spaghetti seasoning
1 pound of ground beef
2 cans of tomato paste
5 cups of water
1 Tbsp. Italian seasoning
2 Tbsp. Butter
1 Tbsp. sugar
Angel hair pasta
Brown up hamburger in a sauce pan with a Tbsp. of water. Season meat with salt, pepper, Lawry's seasoning salt, onion powder, garlic powder. Drain if has too much grease. A little bit is okay. Add the remaining ingredients. Stir and simmer on medium low for 20-30 minutes. Boil water for pasta. Cook and drain. Pour sauce over noodles and serve.
While sauce is simmering, butter and sprinkle french bread with garlic salt. Wrap in foil and bake at 350 for 15 minutes.
If you can't find the bread pre sliced, the ladies in the bakery will slice it for you.


2 pints heavy cream
2 sticks butter
4 Tbsp. cream cheese
1 1/2 cups (6 oz. good Parmesan cheese
2 tsp. garlic powder
salt and pepper to taste
Noodles of choice. Penne hold sauce really well and it's easier than twirling fettuccine noodles.
Simmer butter, cream cheese and cream. Add Parmesan cheese garlic powder salt and pepper. Whisk together really well. Simmer for 20 minutes. Sauce will thicken as it simmers and the cheese melts. Serve over cooked noodles. I always serve this with sliced grilled chicken. This is the most awesome alfredo recipe. The calories are HUGE so it's not something we eat very often.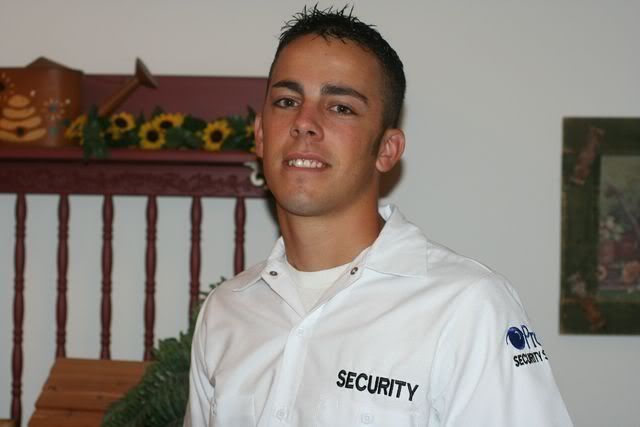 Right after dinner tonight Chad had to leave for work. Doesn't he look so handsome. He got a new job as a security supervisor. He has graveyard shift this week, but will be working days. Hunter and Kyle got hired on with the same company as security. Chad got the supervisor position because of his military experience. They said he was over qualified, but they are thrilled to have him. The other two will start next week when they get their guard cards in.

Q&A
Brek, Brittany and the boys are doing well. They had some struggles with unemployment for a while, but are working on getting back on their feet. They are still very happily married. It's always a good test to see how young couples work through trials. Baby John turns one in a few short weeks. Then baby Mark turns 2 less than a month after that. They sure are getting big. Last time I was there Mark was sleeping so I played with John. He gave me big wet kisses. He was so fun to play with. The time before I got to play with Mark. He loves to sword fight and walk up the wall and flip over (with help of course) I will take pictures next time I go to see them. Brittany hasn't blogged because for now they don't have Internet.

The mat I use to scrap on is from making memories. You can find it here . It's a self healing one that is 17" X 23". I wish it was at least 24 inches, but it still works great.

I didn't make the big star that was used at camp. We borrowed it from our old stake that went to camp 2 weeks before us and had the same theme. It's made of Styrofoam. It was put together like a puzzle and wrapped in gold fabric.

No, I'm not adjusting to my calling yet. I miss the young women and the other leaders. I understand that I'm fully capable of doing my new calling very well. I just don't enjoy it AT ALL. I tried really hard not to cry on Sunday. It wasn't easy. We'll see how it goes.

Yes indeed Sonic does sell ice by the bag. Well most of them do. I've been to a few that don't. Apparently there are some people who have never had it so they don't understand why it's so fabulous. The reason so many people love it and why I'm addicted to it is because it's really teeny soft pellets of ice. It gets even softer as it sits in your drink. It's so dang good!!! I HATE big ice that is clear and hard. Like what McDonald's has...which by the way, Maricopa is getting a McDonald's and a QT. Both are currently under construction. As well as the biggest tutor time I've ever seen in my life. The Wal-Mart is still in parking lot stage. Not moving along quick enough for my liking. I want to see some real building going on.
Well, it's late (11:00=late for me) and I'm tired. My eyes twitch when I'm tired. Not pretty!