So, do you remember WAY back to July 30'th 2007 when I started painting my downstairs bathroom? Well 7 months, 3 weeks and 1 day later it is finally finished. Now that my friends IS the ultimate procrastination. I've had the paint and rollers sitting in the corner of the bathroom so I would see them every time I went in there in hopes that I would feel guilty and take the time to do it. Apparently I didn't feel guilty enough until last night then I just couldn't take it anymore and I dusted off the paint can and got busy. I would be so proud of myself if it hadn't taken a ridiculous amount of time to accomplish such a small task. Never the less, I am thrilled that it's done. I still have to paint the little outhouse on the shelf and add a couple of little things, but overall, it's DONE! Yippee!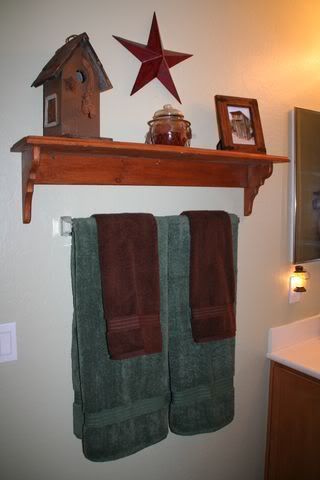 It took serious effort to take pictures in a room with mirrors without getting me in the picture in my purple pajamas. If I was still in my pretty purple Easter dress I might have done it, but the jammies are not so pretty. :o)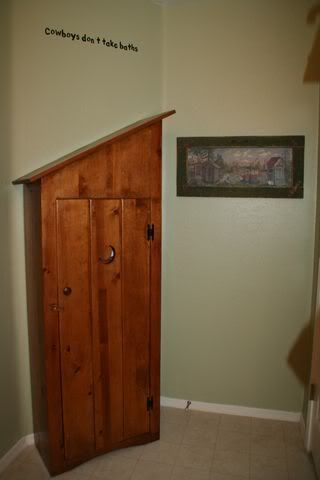 One would think this cute outhouse cubbord would be filled with towels and such, but nope! It's full of photos and scrapbook supplies. :o)
Little vinyl quote I got at the last CK convention.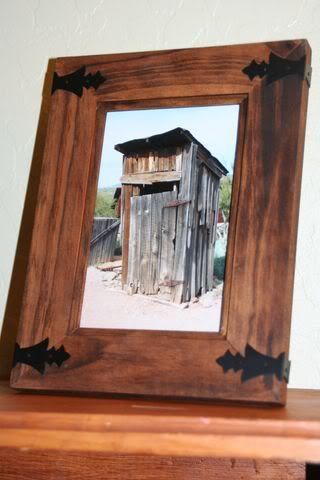 and how cute does my picture look framed? I love it! So, I am fully aware that an outhouse bathroom isn't for everyone, but I think it's adorable!

Enough about the bathroom. One of the young women girls had a birthday this weekend. We give all the girls the same gift for 2008. A fleece throw blanket and a poster card from the YW presidency. I'm responsible for making ones for the girls who are 14 and 15. One of Emma's favorite colors is yellow, so I found this way cute fleece with yellow butterflies on it. I just cut strips all around it to make a fringe. She will love it!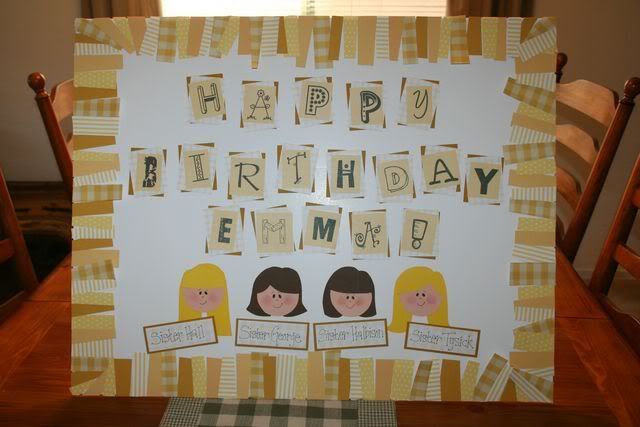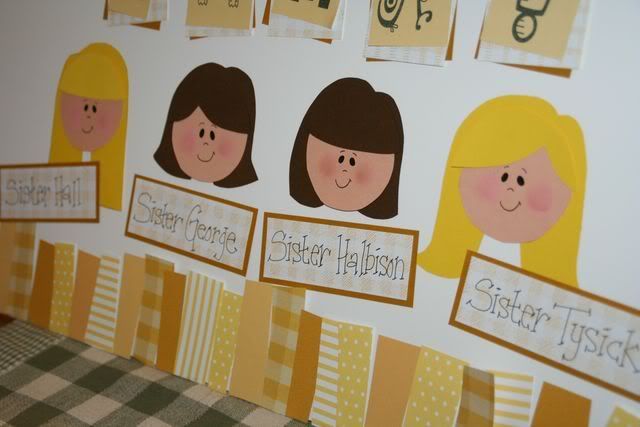 The poster board is done in yellow too. We always choose their favorite color to do it in. I really like how it turned it. Who knew I'd look cute as a paper head. :o)
I hope you all had a wonderful Easter. Ours was great. We went to church, then came home and fed 25 people really yummy food and enjoyed visiting with each other.
Before I go, you have to check out this
video
of my nephew Kayce and his friends who were bored one night. Just teenage boys being goofy. It's pretty funny. Kayce definitely has loads of personality. It's 7 minutes of your life you'll never get back, but it made me laugh, so I thought ya'll could use a laugh too. Laughter is good for you! Check it out then come back and leave me a comment. You know how I LOVE to hear from all of you. YES, I mean YOU! :o)