***Edited to add at 10:04 a.m. on 3/27*** I just heard from Chad. He arrived safely in Kazakhstan. He is really sick. He said his fever finally broke, but he's been coughing like crazy. Ever since he was a little kid, when he'd get a bad cough, it would make him puke. Apparently the same as an adult. Poor guy. He feels miserable and I can't do a thing for him. I hate it!!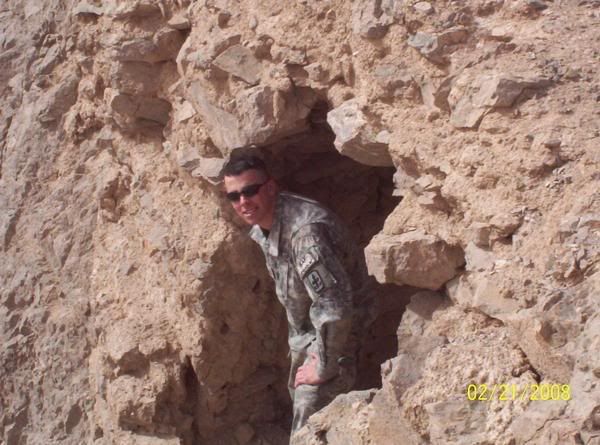 Another birthday without my son. Today Chad turned 20. I love and miss him so much! I borrowed these pictures from his myspace because for obvious reasons I have no current ones of my own. These were taken at the Castle in of Infidel. They had to go search it to make sure bad guys weren't using it. Chad was in the first group to make sure it's clear. (does NOT make me happy) After that they decided to have a little photo shoot. He is a cute boy even though you don't get a good look at his face. Last year on his birthday he was flying to Afghanistan. Today he is flying OUT of Afghanistan. First he is flying to Kazakhstan, then to Scotland, then to Fort Bragg, North Carolina, then sweet home Arizona!!! He is "scheduled" to be home on April 2nd if all things go as planned. I can hardly wait. Even though I know he's on his way home, I have still been filled with worry. I don't know how to over come that. I guess it's the mom in me taking over. I just REALLY want my boy HOME!
I received 2 completely adorable getting to know you cards in the mail. One from Heidi and one from Teresa. This is the front of them. Their personal info is on the back. Total cuteness! Thank you so much girls. I love them and I love that you took the time to make them and send them to me. Totally made me happy! You two are now entered in the drawing to win a prize. If I don't get more cards in soon your odds of winning will greatly increase. :o) To the rest of you, it's not too late. Please send me your 4X6 cards. I would love to get a BUNCH of them. Mail them to P.O. Box 40512 Mesa, Arizona 85274. Thanks in advance!
Happy Tuesday!