My mom and 2 of my sisters took me out for my birthday. We went to lunch at the farmhouse in Gilbert. Such a cute little area. We ate outside because the sun was shining and it was beautiful! We were all commenting on what a nice day it was, THEN we suddenly got massive winds. The wind was blowing so hard, we had to change tables to get a little bit out of it's path. It's hard to try to eat lurch and not eat your own hair as it's blowing into your mouth. :o) Across the path is the brownie connection that have a large variety of yummy brownies...so good! (but very rich) I couldn't eat a whole one. Julie and Coleen, I am NOT posting the pictures we took of ourselves...they were BAD! You'll thank we later.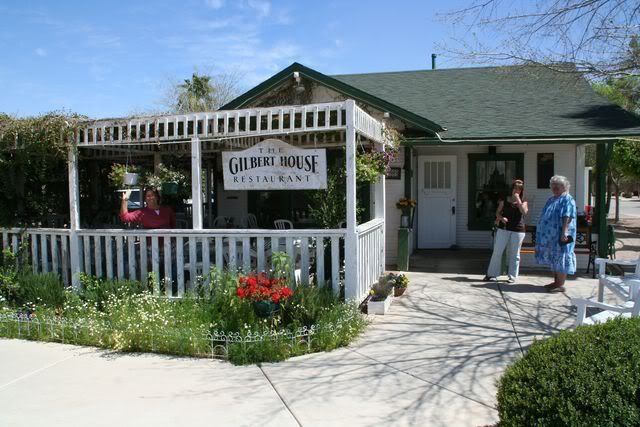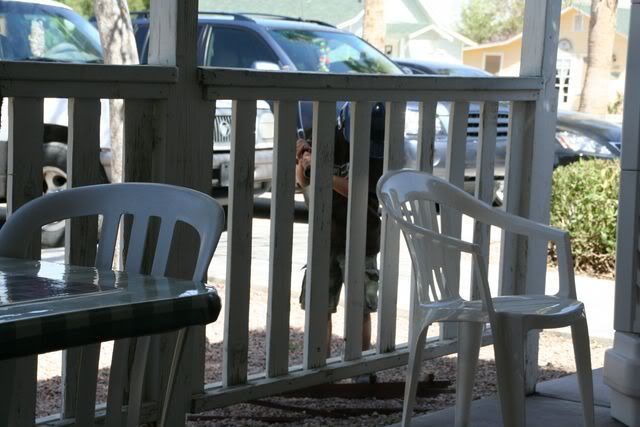 If you look closely you can see a little boy through the railing of the fence. During lunch he beat the heck out of a piece of lattice that had fallen over in the wind with an aluminum bat. I think he's the grandson of the owner. We couldn't believe he was doing it. I had to take a picture for proof of what REALLY happened to it....LOL!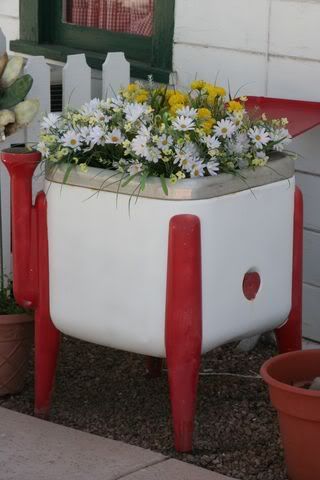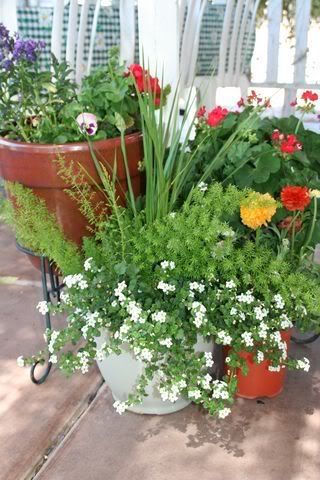 For those of you still covered with snow, I thought some beautiful spring time flowers might help. Hopefully spring will come to you soon.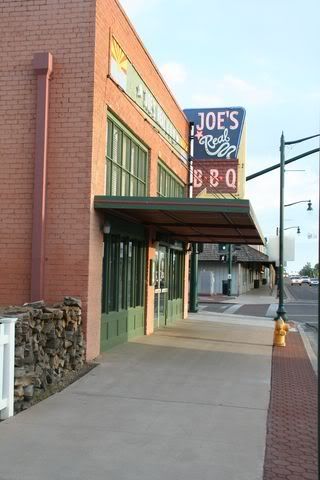 Mark and I ate my birthday dinner at Joe's Real BBQ in Gilbert. I love this place. My favorite thing it the loaded baked potato with pulled pork on top. So good and very filling all by itself.

They have this John Deere Tractor inside. I have always wanted a tractor. Old, new, I don't care. I love them!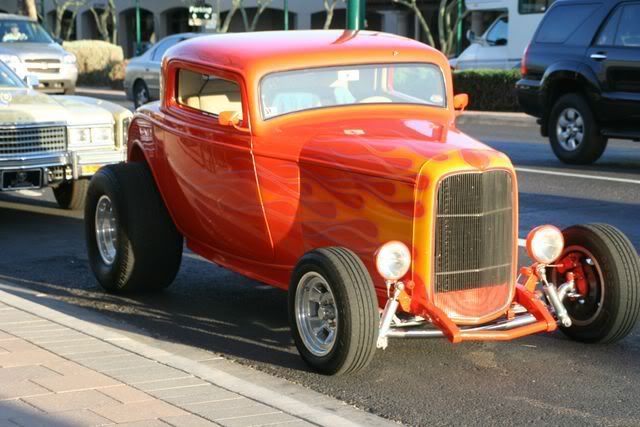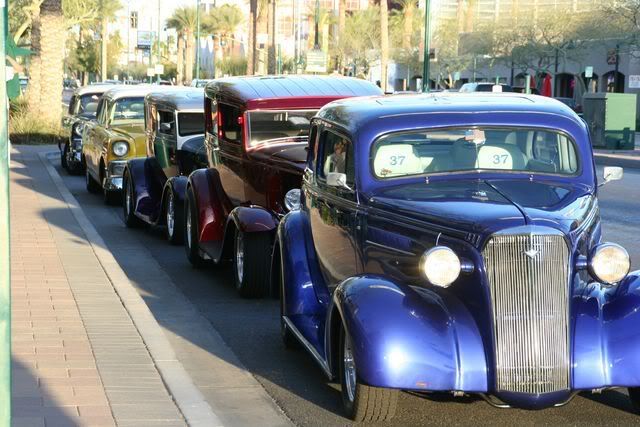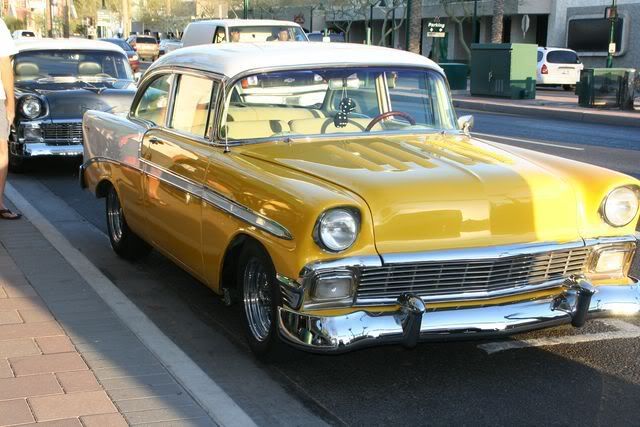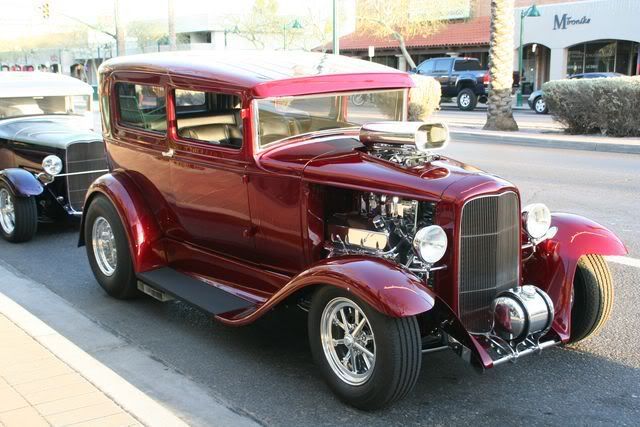 Friday night and Saturday on Main Street in Mesa they had tons of old cars. They were beautiful! Everyone was allowed to "cruise" main street just like the good old days. Stuff like this make me grin from ear to ear. So fun! I wish they did this every weekend, or at least once a month.



This cute Sunday outfit complete with shoes and purse was a gift from my sisters. I love it and can't wait to wear it. Thanks girls!

I got a new set of salt and pepper shakers to add to my collection. They remind me of kindergarten because we did an art project and we had to draw and color grapes. The kids in my class thought my grapes were the best. (weird what things you remember)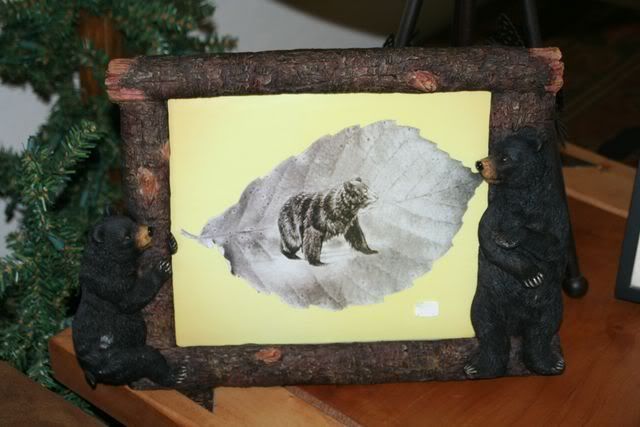 This picture is dark. It's a frame that looks like bark with 2 black bears on the sides. When we re-take family pictures I will put one in there for my front room, but until then I plan to make a sign in it for girls camp. It will say...
"Warning...Grizzly bear sleeping here.
Complimentary ear plugs.
Trust me...you want them.
Sincerely, the Bear"
(thanks for the idea Wendy)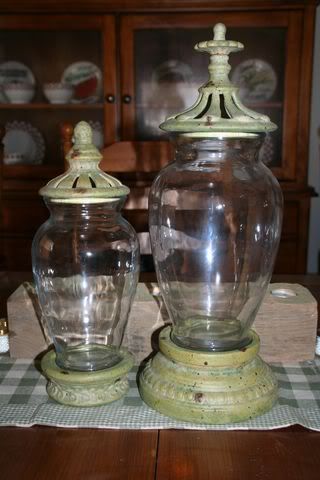 These I got at my favorite store on Main Street, Vintage Charm. Such cute things in there. If I keep them in the front room I will fill them with little pine cones. If I move them to another room I will fill them with lemons, nuts, or something...who knows yet.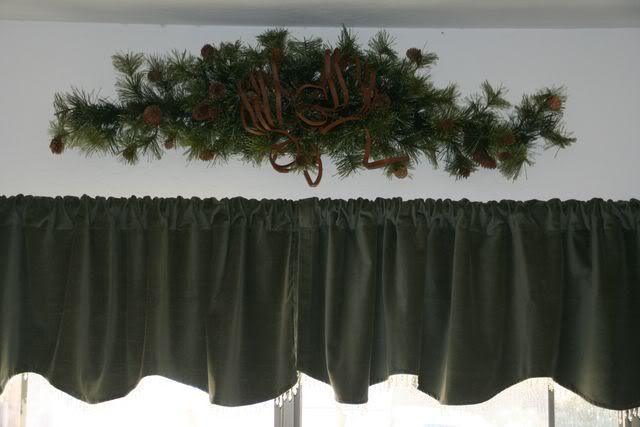 This pine swag I got in Payson. It has little pine cones and a rusty metal bow. It look great above the window in the front room.



Mark also got me a hand mixer. Remember I burnt up the motor on my old one when I was making sunshine cookies. I also got a new electric can opener. Mark threw mine away before we moved here because it rarely worked right.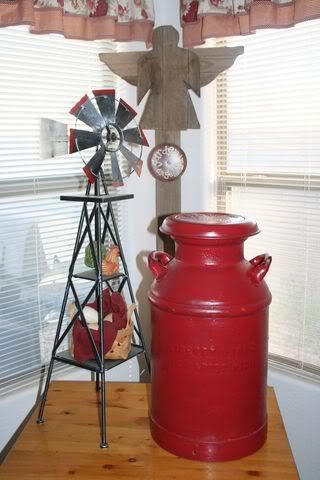 Finally the red milk can. We got this in Payson too at an antique shop. I have forever wanted a milk can, but they were always too expensive. This one was really cheap, so I was thrilled to find it.
See what I mean about a bunch of presents that are not extravagant, but make me smile.
Gotta fly. I have a house that needs my attention. It's feeling and looking neglected.