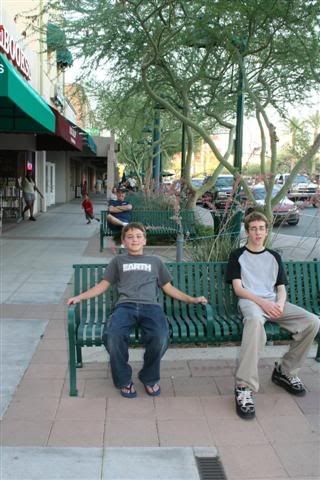 We discovered that old town Main Street in Mesa does Friday night out on the 2nd Friday every month. It's a night when all the stores that normally close at 5:00 p.m. stay open until 9:00 or 10:00 so that they can get business from people who work and never make it down town. It was great to walk the street. There are statues everywhere and lots of the stores had live music, face painting, balloon animals, great sales, art work displayed. We had dinner first at Grandma's kitchen, then walked it off. It was just a lot of fun.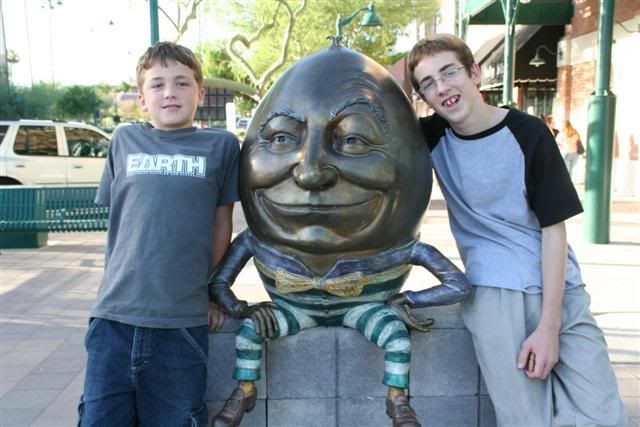 Cole and Cody with Humpty dumpty.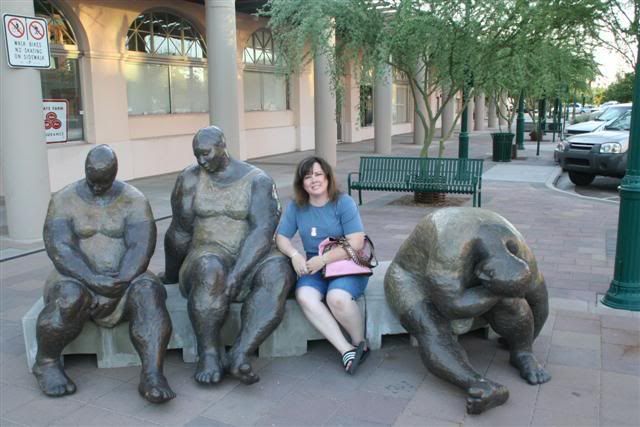 I'm not real fond of this statue, but Mark wanted my picture with them....perhaps skinny by comparison???

They look so cute walking together...but it wasn't long before the boys were in head locks. :o)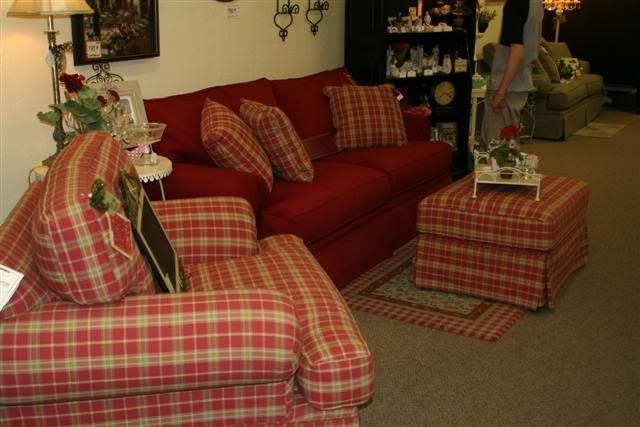 I found this in my new favorite store,

Vintage Charm

. Way back when we were looking for furniture I desperately wanted red furniture for the family room. I ended up with blue furniture with red throw pillows because we never found anything that was remotely affordable or as cute as this set. Oh how I love it...and the 1 1/2 chair is a glider! how cool is that?!


That is one BIG pink chair! The boys even thought it was cool.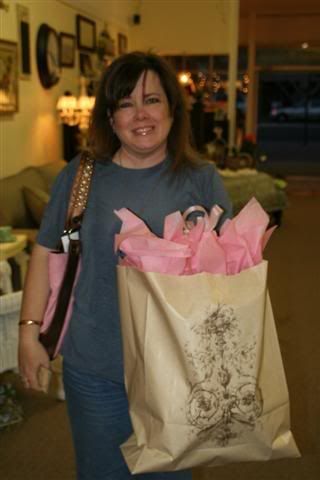 Mark did get me a little something in the Vintage Charm store. As you can tell from the size of the bag, it was NOT the furniture...but I can't show you because I forgot to take a picture of it. Hints, it's cheap, red, has 2 tiers, and is for my kitchen. I'll have to take pictures in the morning. Isn't the packaging too cute? It's all about the details...love it!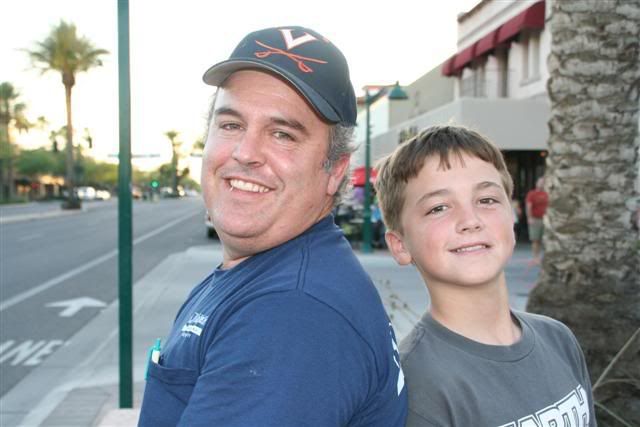 I wish I had taken more pictures of the shops. They are all so stinking cute. We wandered around several antique shops. I don't advise doing that with children because they have the you break it you buy it policy so we were constantly saying "don't touch that" Next month we plan to go again....without any boys. :o)
Do you all know how excited I am that so many of you are wanting to send Chad rubber duckies. I KNOW he's going to LOVE them. I'm loving that it brought out even more lurkers. Welcome and feel free to leave comments anytime. This blog/journal has brought me so many new friends. It's such a great thing. By the way, I did talk to Chad tonight. He was in Bahgrahm (sp?) Afghanistan and getting ready to board his flight to Farah where is base is. I for one wouldn't like that flight. For safety reasons the plane has to fly really high then go into a dive to land so that it's less of a target. There's no seat belts. You just hold onto whatever you can. He said he'll email me when he has arrived safely at the base. Before I sign off I just want to share a quick email I got from Chad. It made me cry. Heck, even the one line I love you mom emails make me cry. Oh how I miss that boy!
I love you so-o much mom !!! you are the greatest mom anyone could ever ask for !!! you and dad have done so much for me my whole life and on this past leave ...i just wish now that i could have spent more of it with you...however i did enjoy the lunches the shopping and especially the bowling !!! and most of all the huggs !!! i love you so much mom !!!