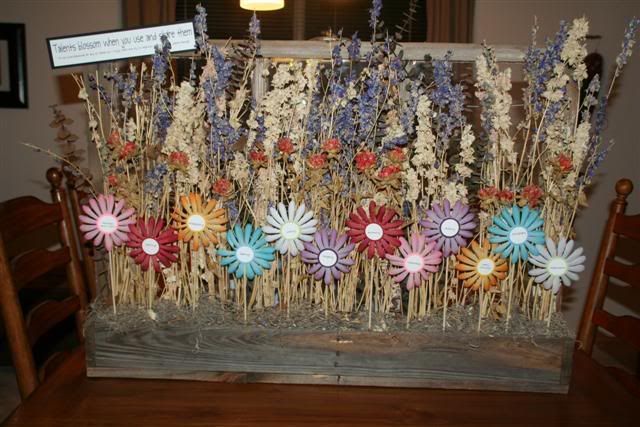 Thursday night is enrichment night at church for the women. Our theme is talents and we are all suppose to share the talents we have. Since I have zero musical talent, I have chosen to do a table display with a variety of things. The centerpiece of my display is this flower box. I used the really big bazzill blossoms and put different "talents" in the center of each flower. Then I taped them to a skewer and poked them in the flower box...whala! CUTE!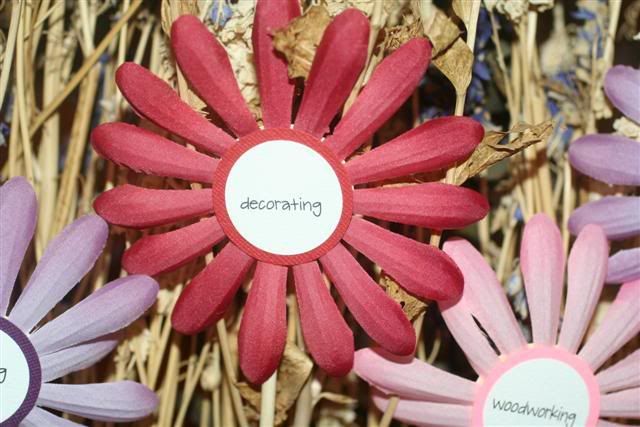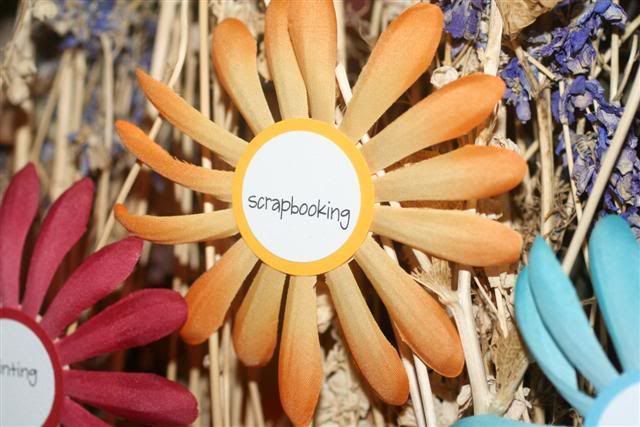 On the top I adhered this little sign with a disclaimer that I am NOT a professional at any of these thing, but I enjoy them and try to improve with practice. I think a lot of people are afraid to share their talents because they think they need to have it mastered, but I disagree. Your talents grow when you use and share them. It's all a work in progress.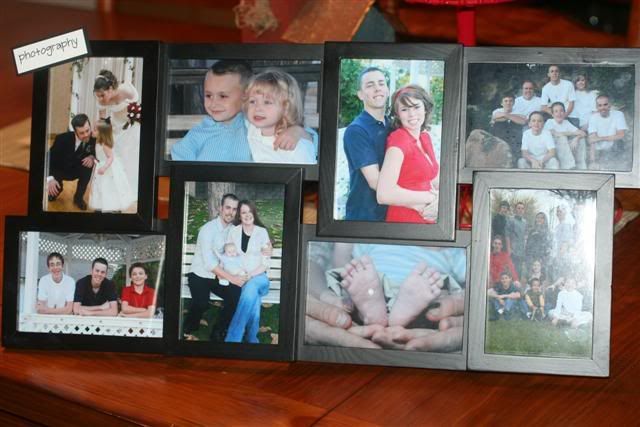 I also decided to print off a few pictures that I like and put them in a frame I already had to use in my display. I plan to have a scrapbook, baked yummy treats to share, organizational ideas, handmade cards, woodworking projects, decorating stuff, etc. I don't know exactly what, but I'm working on it. I think it will be lots of fun to learn more about the women and their talents in my new ward, so I'm looking forward to Thursday night.
Today I went visiting teaching and baked some golden bars for the ladies and put them in these cute little bags from Martha Stewart. Love them!

Shelli was right. The gift Mark got me was a 2 tiered fruit basket. Thursday I plan to fill it with cookies for my display. :o)
I don't know about any of you, but I'm really hating summer. My 2 little boys are fighting NON STOP and my nerves and my mood are completely shot...seriously. I don't know how I've made it through these past few days. How many weeks until school starts? It's late and I'm tired. Now to decide whether to sleep in late to avoid a repeat of today or get up early and enjoy at least a couple of hours of peace before they wake up.
Chad made it safely to his base. The HumV he drives still doesn't have AC....it was 126 degrees there yesterday. He can't roll down the windows for ventilation because it's thick protective glass. There's no air movement. He's going to cook in there. Scares me to death. Please keep him and the others in your prayers.