Well my computer is working....sort of. I can get online now, read email, look at my blog, but I can't sign in to update my blog or to leave comments on blogger blogs. Does anyone have any ideas of how I can log in? I would so appreciate any help. I'm blogging right now from Mark's computer. I uploaded pictures to photobucket on my computer, then retrieved them on this one. Long way about it, but it 's all I've got for now.
Monday morning I cut and sanded a dozen wood flowers for the girls who are going to girls camp. It's for one of their craft projects. I don't have a "shop" set up at this house so I got up early and sat on the ground outside my front door (in my pj's) While I was cutting wood, Cole carried my belt sander over to me. As he was trying to pass me he tilted it dumping a huge pile of very fine powdery saw dust all over my head and shoulder. My red shirt is still a tanish color. I'm not use to sitting on the ground to do woodworking, so it was a bit painful. Plus my fingers were so cramped. I remembered all the things I disliked about woodworking and boutiquing. It's really hard work. I really do love to help, I'm just glad it's done and glad they're aren't more girls in our ward. :o)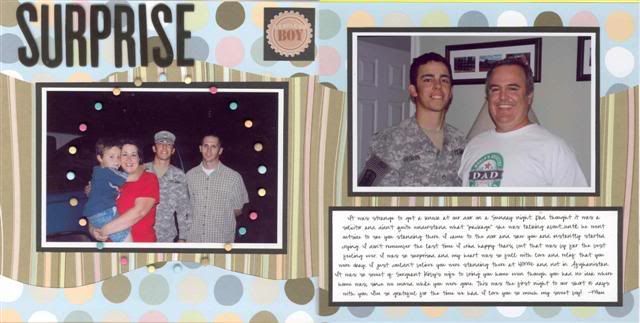 I finished another layout to send to Chad for his album. It's very simple, but simple is good. It's from the night he showed up as a surprise package on our doorstep. Such great memories. Makes me smile and cry to think about that night. I also finished and mailed off the 75 late graduation announcements. Mindy, if you're reading this, I shipped them priority on Monday. Should be there anytime now.
As you all know, my poor suburban died. For the past few weeks we've been debating what to do for transportation. Throwing kids in the back of the work van clearly isn't safe. The suburban isn't drivable and it would cost a lot to repair. It's 10 years old and has had different things go wrong through out the years and I'm sure it will continue to have problems. The AC is terrible, which is not a good thing when you live in Arizona. It only gets 11 miles to the gallon and costs over $100 to fill it. With only having 3 boys left at home we didn't need a gas guzzler anymore. Weighing all those things we decided to buy a new car. We got the Chevy HHR in a lovely shade of red. It was a really hard decision for us because we knew we NEEDED a car, but REALLY didn't want payments again. So now the plan is to keep to a strict budget so that we don't regret this decision. You can see my beloved old blue behind the new car. We have to clean it out and take it to town. We used it as a trade in on the new one. We were honest with them and told them it needs a new transmission. I'm so going to miss it. We've had so many fun family memories with that vehicle....sigh. We have worked with Frank (car salesman) for quite a few years now because we know he doesn't give us the run around. Buying cars have always been one of my least favorite thing to do, because you walk onto the lot and you are attacked by all the shark salesmen. I usually walk around the lot making the sound effects to the movie Jaws and I get faster as they approach and finish off with a scream. It seems to fit. I sure hope that doesn't offend any of you who may have car salesmen husbands. This has just been my experience. I appreciate that they work on commission and that's what puts the bread and butter on the table. I just don't want them eating steak and lobster while I'm eating mac and cheese. Is that wrong?
It's late...I'm off to bed. I hope you all have a great evening or day, depending on when you read this. :o)