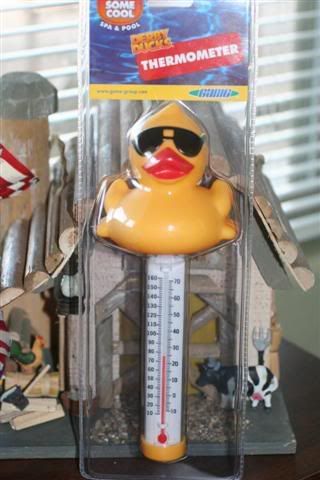 My brother in law Steven gave some advise to Chad. It was a simple little reminder about the game of duck duck goose. He told him he wants Chad to be a duck...not the goose that gets up and runs around like an idiot so that bad guys can have a clear shot at it. Since I want my boy to come home without any holes in him I'm thinking that being a duck is a pretty good idea. While I was at the grocery store today I picked up this duck thermometer to send to him. This is 2 fold....so that he can see how hot it really is there and to remind him to be a duck. I thought it would be a cute idea if any of you would be interested in sending him a cheap little bathtub rubber ducky. You could even write your name, state, country on the bottom of it. I just think it would be funny for him to have a little collection that he can line up on top of his locker to remind him that so many people are thinking about him and want him to come home safely. What do you think? Anyone game? If so mail them to...
Chad George
PRT - FARAH
APO AE 09354
I thought I'd share a few photo's that Chad gave me from Afghanistan. He said it hotter than Arizona, but they have to be in full gear so it's way stinking hot.
I know you are probably wondering why they never made it home for our last family dinner and I realized that not saying anything would make you think of all kinds of bad things, so the reason is that they were both getting more DUMB tattoos! I know some of you have tattoo's and I surely wouldn't judge you, but they are so young and I honestly think they will regret doing permanent damage to their bodies. It makes me crazy that I have no control. What's a mother to do? Still have to love them even when they don't use their brains.