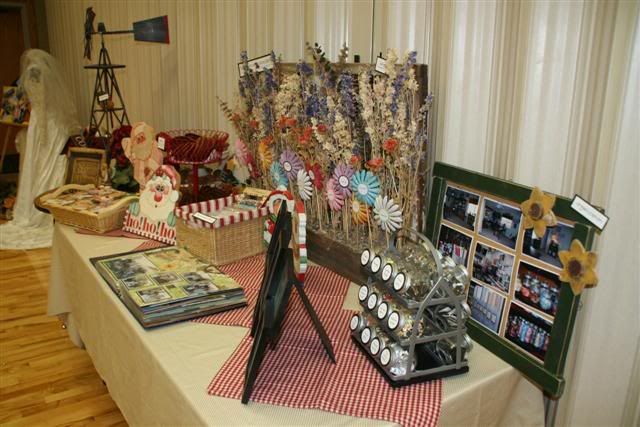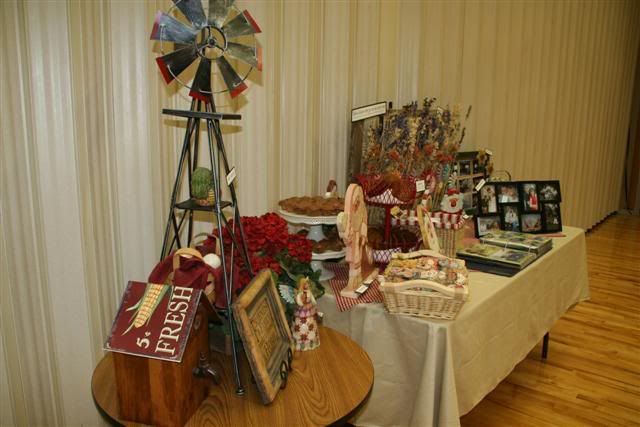 Well tonight was the night to share our talents. After I got in there and set up my display I felt really odd because I did highlight several (not all) of my "talents". Although I was really happy with how it turned out I couldn't help but be a little insecure. Most everyone brought a couple of things. They had all theirs displayed on two long tables combined. I had a long and a small round table all to myself. That's kind of a large display in comparison. I thought to myself "they are either going to like me or think I'm a freak" I hope that they like me. The odds are that one or two people think I'm a freak, but they seemed to really enjoy my display. Plus my cookies and cupcakes provided them all dessert after dinner. Maybe now they will know who I am. Who knows?!
Here are some of the other displays. Ardith made her wedding dress some 24 years ago. She also did a collage of different things she's done. She is talented in many areas.


Another girl showed the dressed she has made for her daughters. They were very pretty.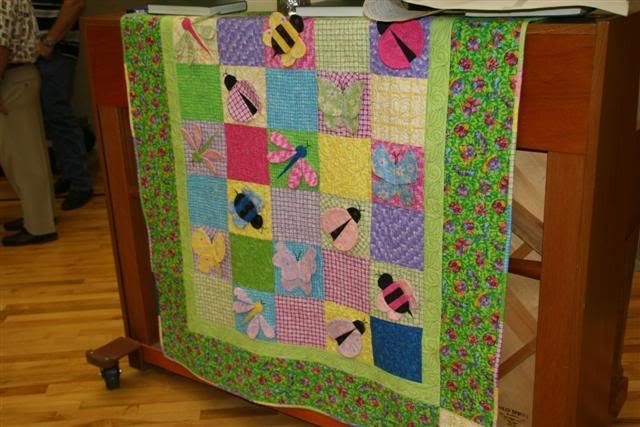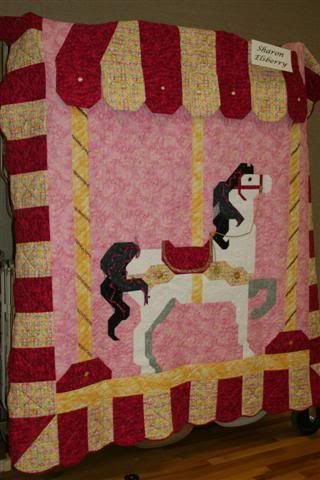 Brenda brought in 4 gorgeous quilts. Sure makes me want to learn to quilt. I can tie a quilt, but nothing like these. BEAUTIFUL!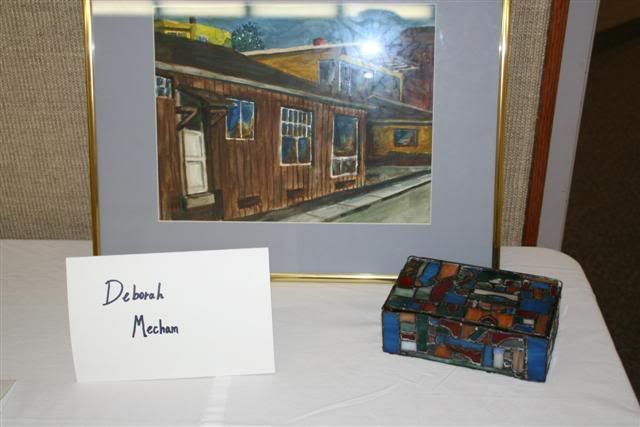 Another girl showed her watercolor painting and mosaic tile box.

Can't remember her name either, but look at what a wonderful drawing...simply amazing talent!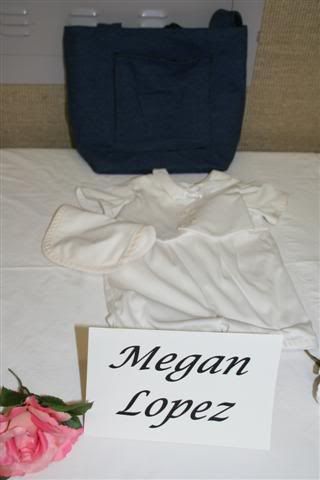 Megan with her handbag and her son's handmade blessing outfit. I could never do this. I sew paper and costumes...that's it.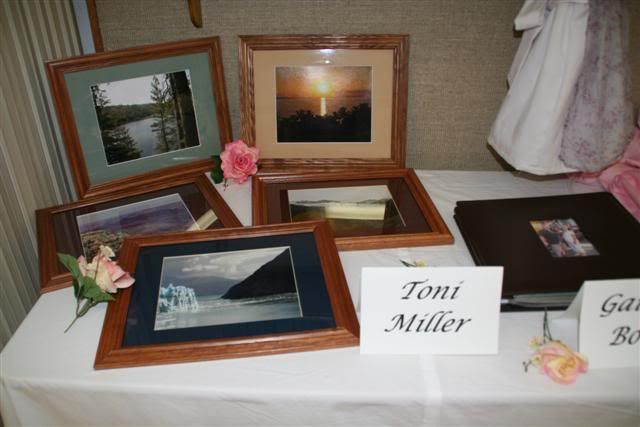 Toni has some beautiful scenery photos that she took and framed to hang in her house. I love photos like these because they make me feel peace.
Ardith is a black belt and gave us a demonstration. It was amazing! I sure wouldn't want to meet her in a dark alley. She could kick every square inch of my butt...and then some! It's a good thing she's my friend. If I have to go to the store at night, I'll giver her a call to tag along. :o)
There were others that performed musical talents like singing and playing the piano. I did take their pictures, but I don't know them well enough to put their faces on my blog without their knowledge. All in all it was a fun night....until I came home and burned my left pointer finger from the first knuckle to the cuticle. It's taking me forever to type this post, because I type a sentence or two, them stick it back in the ice. Last time I got burned it wasn't this painful! Not sure how I can sleep with this dumb finger.
Still driving smelly carpet cleaning van. The transmission has finally croaked on the suburban and I don't have $2,000 to fix it. Sheesh! I can only take one person safely in a seat belt in the van. We have to load the boys in the back with the machine and hose reel to go to church and stuff. How ghetto is that?!
I did talk to Chad this morning on IM for the first time. He is doing good and drives a different humv now...one with AC...thank heavens! Kit left me a comment that I need to be careful with what I write about him, for the safety of him and the soldiers he works with. Even though I know nothing about the missions he goes on, I completely understand. I wouldn't want to endanger any of our soldiers, so I will be more careful with what I post.

Here is the picture that a few of you requested to see up close. It's not me and Mark, It's Brek and Brittany. I took this one after we were done with the big photo session. They were having a little conversation with the flower girl and never knew I took the picture. It turned out to be my favorite picture from their wedding. I wish I knew why when you click on some pictures they will show a large version, then click on others and get nothing....hmmmm. A question for another day. My ice has melted so I need to go refill my baggie and try to go to sleep....not sure that's possible since my finger is on fire. I plan to try to catch up on blog reading in the morning.
P.S. Could you also put my cousin Mindy in your prayers. She is having eye surgery Friday afternoon. It's a pretty serious and scary thing. I'm worried about her and love her dearly.
Thanks so much!