This is going to be long....so sorry!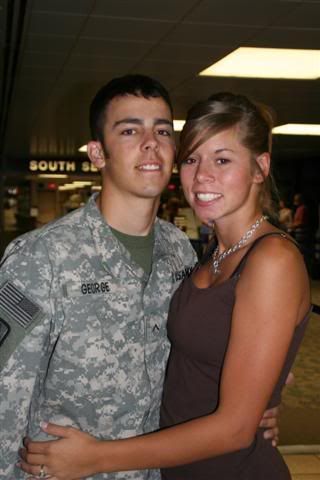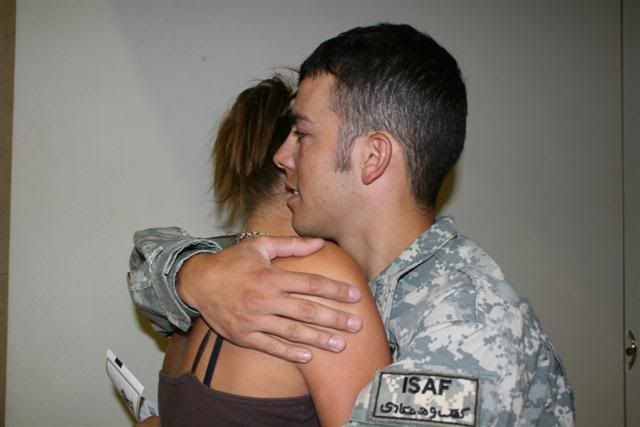 It's hard for me to believe that today is actually here. The day I had to say good-bye to Chad again. This time for longer than the others. He still has anywhere between 9-12 months left to serve in Afghanistan. We woke up at 3:00 a.m. so Sandy and I could get him to the airport on time. We both cried as we said our good-byes to him and watched him walk away. My heart is so heavy and sad. It has been this way for the past few days. Yesterday was an especially hard day full of tears. Everything went wrong...from money not coming in that was expected to my suburban losing all gears. It just quit shifting...so there I was, trying to push it around a corner in 105 degree heat to get it off the road so that I wouldn't get hit. Thank heavens there was a long train that came just in the nick of time to stop traffic long enough to get it moved. A very nice man finally stopped and helped me and gave me a ride home. By the time I got home I was in tears. I was already in a bad mood knowing it was Chad's last day. Mark came to pick me up and took me to town to get the other work van so I could finish my errands. Chad and Sandy were already in town running their own errands. I came home and made Chad's special request dinner, but they never made it home until 11:30 last night for reasons I don't want to get into, but my heart aches so much knowing that the family didn't get to spend the last day with him and the boys had fallen asleep without getting a chance to say good-bye at all. I know it's not his fault, but it doesn't change the pain in my heart. Maybe I'll feel better after a good cry and a nap.
Here's a bit of this and that of stuff going on around here since my last post.
***Friday night....graduation party!***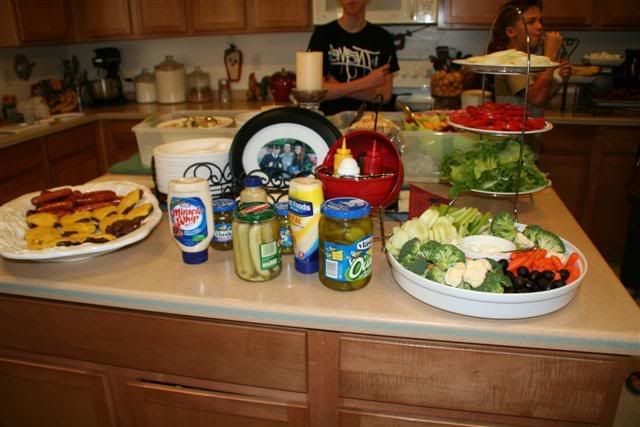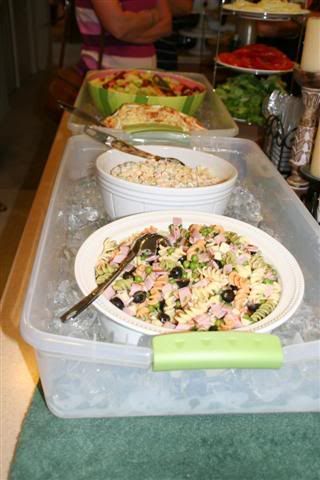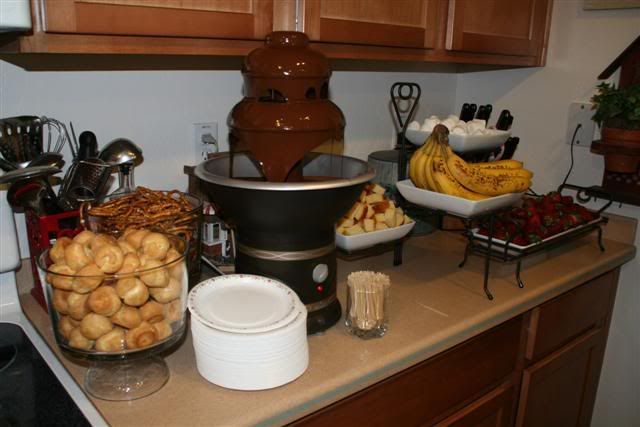 I fed over 60 people hamburgers, hot dogs with all the fixin's, 2 kinds of pasta salad, potato salad, veggie tray, fresh fruit, baked beans, chips, dip, salsa, and of course chocolate fountain with all kinds of yummy things to dip in it. All the kids LOVED the chocolate fountain. I'm pretty sure they all left on a sugar high. I'm still cleaning up chocolate drips here and there. Mark was late from work, so 2 of my brother in laws, David and Fred volunteered to man the grill. I worked for 2 days on food and stuff. The party was a huge success. I'm so glad they decided to make the drive out here. We enjoyed all the company and everyone left with full tummies. Can't beat that! By the time the night was over I could barely move. Bed was a wonderful thing!
***Saturday-bowling***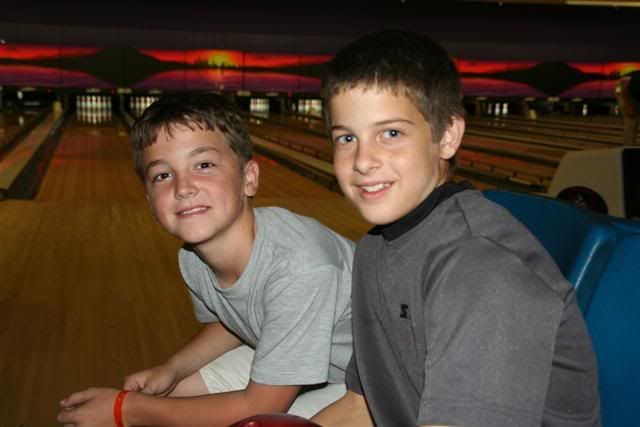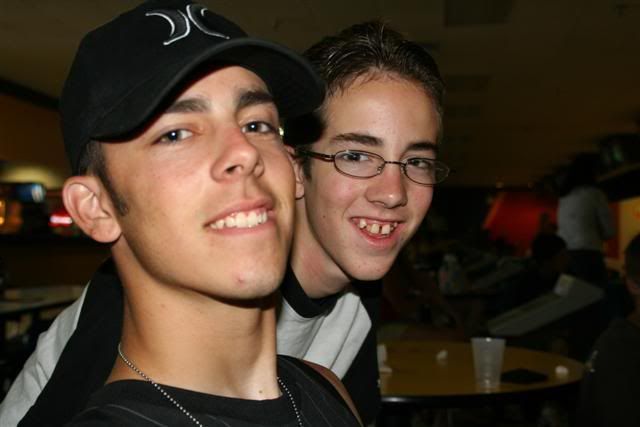 Chad, me, Cody, Cole and Jeremy (nephew) went to lunch and bowling. We had a pretty good time together. Chad won...I stunk...little boys did pretty good.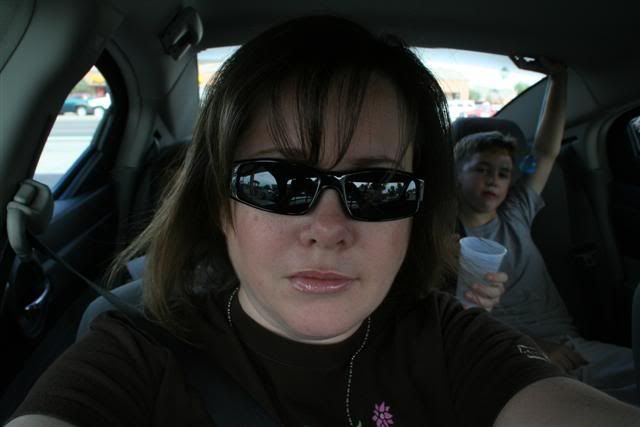 Chad loaned me a pair of his "way cool" sunglasses while we were driving around town. He has 3 pairs of these. So what do you think? Cool or old woman grasping at straws?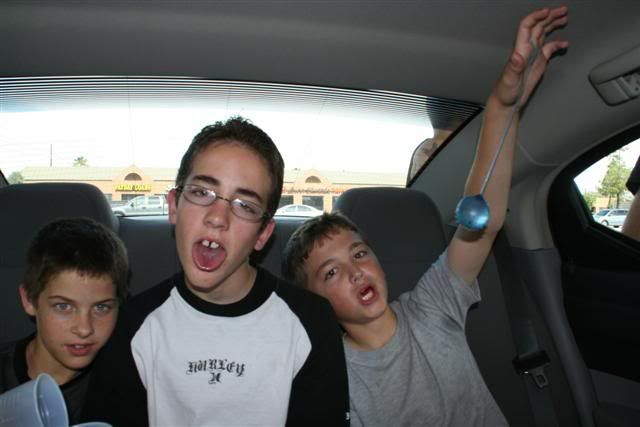 Goofy boys in the back seat.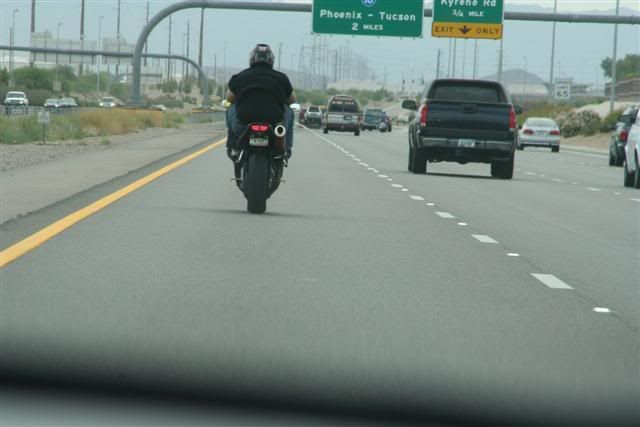 While we were driving home, Chad's friend Chris was riding his motorcycle next to us. I can't believe he was doing this. That is so dangerous! I still couldn't help but take pictures. Dumb boy!
***Sunday in Prescott Valley***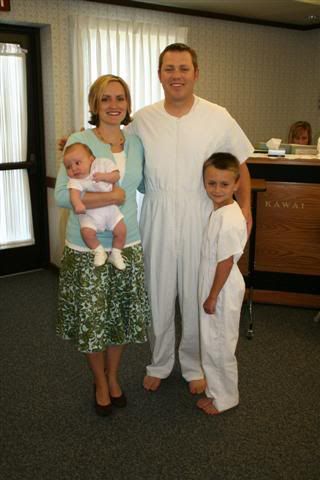 Mark's sister MaryAnn, husband David and their 4 children live in Prescott Valley. They had their baby Owen blessed and their son Jaron baptized, so we woke up at 3:30 in the morning so we could make it to their church by 8:00. The have 2 adorable girls, Adrienne and Katelyn who are in between the boys, but not in this picture. It was a great day to spend with the family. Not to mention about 20 degrees cooler....love that!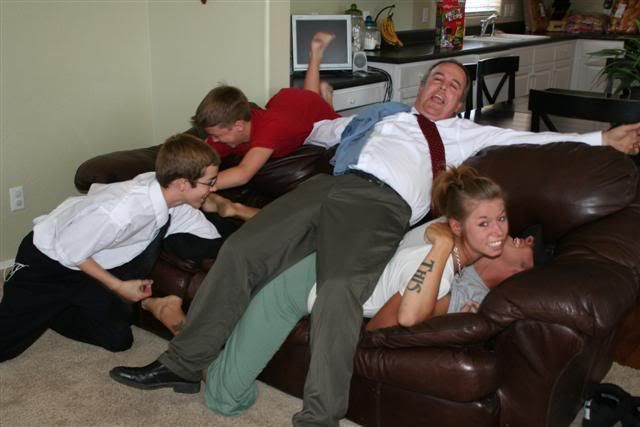 I really have no control over my families behavior.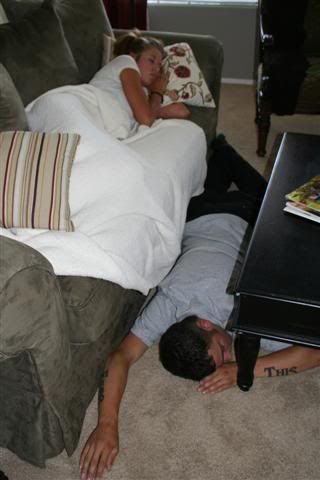 Sandy and Chad slept a good chunk of the day.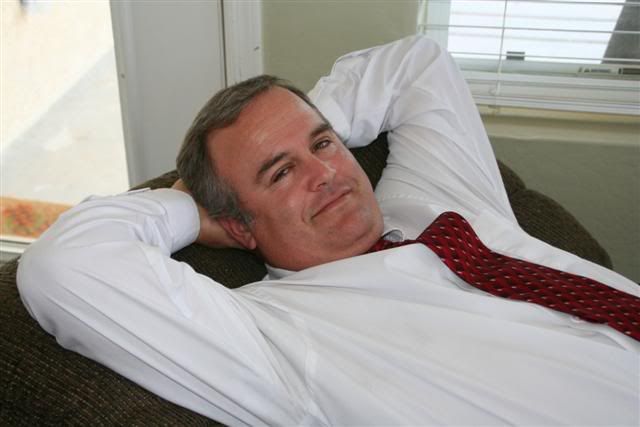 My handsome Mark tried to get a nap in, but wasn't very successful.



Mark's only sister MaryAnn survived growing up with 6 older brothers. She is one of the best people I know. She is sweet and talented and I love her to pieces. She has decorated her home so beautifully and she was a great hostess that fed all of us lunch and dinner. There is such a great spirit being there. I want to go back just to feel that again.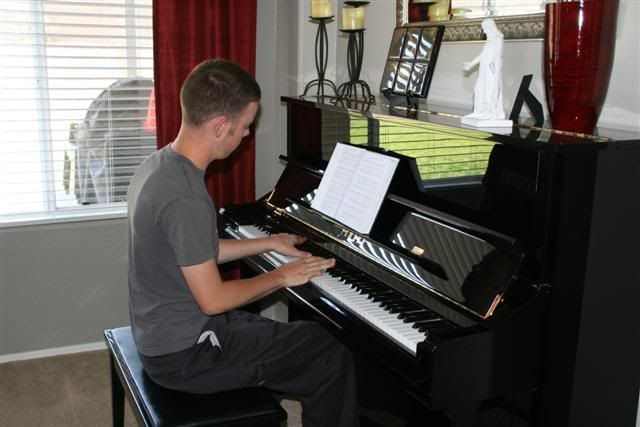 Kyle surprised me with a song he learned to play. The boys really seemed interested in the piano. Mark knows how to play too. If we had a piano I would let the boys take lessons. Music is such an important thing and developing talents is too.
So now you can see why I am so sleep deprived and emotionally drained. I really need my 8 hours to function properly. I plan to sleep for an hour then head to town to run errands and drop off the rental car. I hope to beg a family member to pick me up and give me a ride back home. If I had extra money sitting around I'd surely rent it longer since the suburban is out of commission, but at least I have a smelly carpet cleaning van to drive for now. :o)
oooohhh....Chad just called. He got to Dallas safely and is waiting for his next flight. It's unreal how much I already miss him. I just really don't know how I can make it a year. The constant worry is hard on my stomach and my heart. Please keep him and all the troops in your thoughts and prayers.
If you made it all the way to the end of this very long post, I'm proud of you and appreciate you willingness to "listen".
Have a wonderful day!