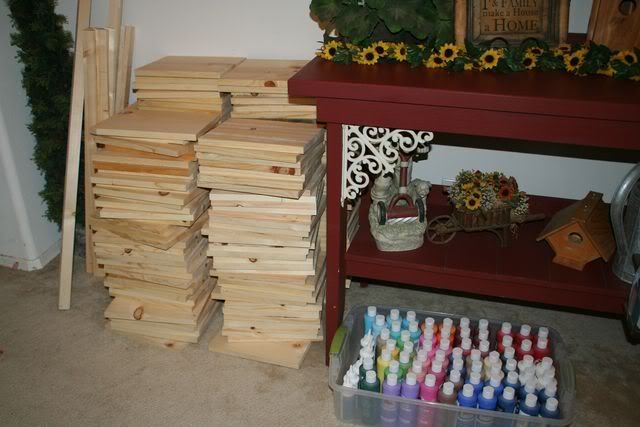 I hope everyone had a nice long weekend. I stayed home Monday and cleaned house. I didn't get it all done, but I made a dent....in my house making a dent feels good. Mark went for a memorial ride, but cleaned a bathroom before he left so he wouldn't feel as bad for leaving. Plus he had some work that day. We also got Frankie back last night. He has lost so much weight and looks bad from being sick. I'm glad he's home and so is Scardy Butt. They've been playing together a lot.
Today I spent all day shopping for girls camp stuff. I got all my wood and paint for the main craft. The very nice dude at home depot didn't even charge me the .25 cents for each rip cut. That would have eaten into my craft budget. I really appreciated that. I have to drill holes and sand all those piles of wood. That will take me a few days. I can't start on that until Will and Chris get their dogs out of my back yard. It WILL be tomorrow. Then they have to clean up all the brand new messes the dogs have created. Plus we had lots of rain the other day, so they got good and muddy. Everything is so gross out there. All the back windows are covered with muddy paw prints too so you can bet those boys will be washing windows.
I have also spent loads of time ordering craft and decor stuff online. As soon as everything comes in I will make a sample of each project and take pictures to share. Camp is a month away and there is SO MUCH to do. I do feel much better because I can see that things are coming together, but my stomach hurts just thinking about the nights up at camp. I don't know how I'll make it through. So scared!
Bathroom question...while in a public restroom today they had those stupid toilets that flush automatically. What exactly is the purpose of those? It certainly isn't water conservation. They always spontaneously flush 4-6 times while sitting. Then you get up and nothing, so you have to push the button anyways. So dumb! I hate that and it wastes so much water. Such a terrible idea. I'd much rather push the lever ones with my foot. One flush saves water.