First off I want to thank you all for being so sweet and supportive with all the stress in my life currently. I really appreciate it. I keep saying...this too shall pass. Of course there is a whole lot that has to pass so I'll need to have patience. I just finished cleaning the kitchen. It's 11:00 on Friday night. This morning we went and set up the church then Me, Mark and Will worked ALL day cooking food for the honors dinner. We made 25 stuffed pork chops, 25 chicken cordon

bleu

, 30 pounds of garlic mashed potatoes, huge batches of mixed veggies, green beans and corn. Loaded the car, went to the church, unloaded, served dinner, enjoyed the program, tore down and cleaned up there, loaded my again car, then home to unload again and clean up more. I would have taken pictures but there was no room in my car to even fit my camera. It was packed full, but trust me, it looked really nice. It's been one really long day and I'm exhausted and very glad to be done. That's one more thing checked off my to-do list. Mark is taking me out to breakfast to Bill Johnson's Big Apple in the morning so I'm happy about that. It's my favorite place for breakfast. For dinner...not so much.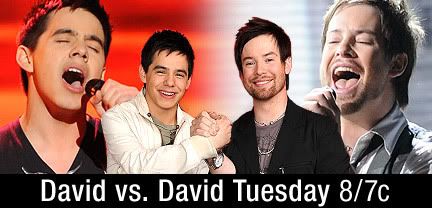 I love both David's and I'm really looking forward to seeing who wins American Idol.

Fantasia's performance truly puzzled me. I'm sorry if you like her and this offends you, but she was just terrible! (in my opinion) We fast forwarded through the last half because it was painful to watch and hear. I really think

Syesha

has so much more talent.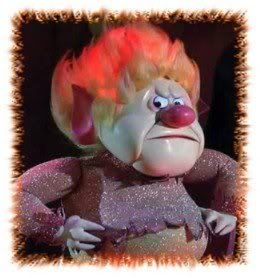 Really trying not to be mean here, but the whole time she was on stage this is who I was thinking of. Good old Mr. Heat Miser. LOL! Do you see the resemblance?
I'm just saying! :o)
If you don't remember who he is check out this little
video
and it will refresh your memory of him and his brother Mr. Snow Miser....well unless your too young to even have a clue who they are.They even have their own back up singers/dancers. :o)
Have a great weekend whether you're

relaxing

or out having fun. Just enjoy yourselves!