Like my blog title states...Jolene's family life journal of living in her very own nut house.
The good...the bad...and the ugly!
We've got it all here folks!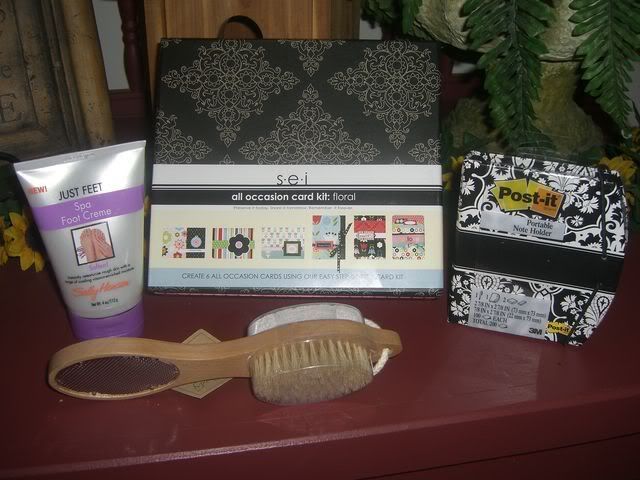 We will start out with the good. I know I was suppose to do the getting to know you card prize drawing on Mothers day but lets face it. I haven't really had a good mother's day for many many years and I was far too grouchy to blog. Wait...we're suppose to be talking about good right now. Crud!I had no boys around to pick a winner so I did it the only fair way that came to mind and laid out all the cards I've received on my desk and did the very mature, eanie meanie miney mo. Catch a tiger by the toe. If he hollers make him pay fifty dollars everyday. My mother told me to pick the very best one and YOU are it! That IT being Amy Gresens. I have no idea if those are even the correct words, but that's the version I remember from my childhood. Congratulations Amy! I will be sending you a very cute box kit of SEI cards. Those will be fun to make. A purse sized post it note book with a pen and a pedicure brush/sander/buffer thing with foot cream. I hope you enjoy! Thanks so much to everyone who sent me a card. I love them.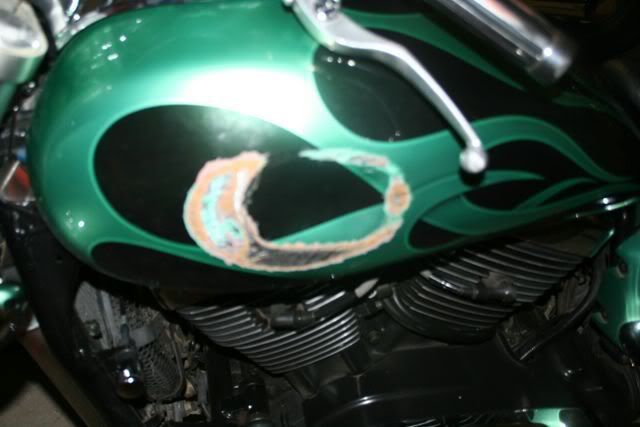 The bad....Chad and his two friends (who are brothers) Will and Chris went to town today on the motorcycles. Someone cut in between them on the freeway and hit their brakes causing Will who was in he back to crash the bike. He was riding Chad's green machine. Most of the damage was done to the tank. The center of the ring is dented in, but you can't tell in the picture. There is also damage to the foot peg, blinker and head light chrome hoodie. The stupid driver took off. I love that bike...so sad!
The ugly...here is the damage to poor Will. He is pretty scraped up and in pain, but it could have been much worse. I'm counting our blessings. See...even the ugly has some good in it. (Yes, this is the same Will who was almost arrested for the blind incident.) Also if I forgot to mention before, Chris and Will have been living here for a couple of weeks. Pretty much since Chad got home. My household grew from 5 to 8 instantly.
In other news and reasons why I haven't blogged in a week.
I made 2 more arrow of light awards for pack meeting. They turned out really nice, but I'm glad to be done with them.

Saturday we went on a long motorcycle ride to Tucson with 14 other bikes to the Star Touring and Riding headquarters. The put on a BBQ for all the local chapters. It was VERY hot that day and my body hurt so bad. By the time we finally got home I had about 20 minutes to lay down and try to cool off before we headed to North Phoenix to do a photo shoot of 5 sisters with their parents. They were all in town having a sisters weekend at a resort. So much fun! I'll share a couple of the 109 pictures I took later. It was a long day!

My mouth has been in major pain since last Thursday. Were talking the whole thing. tongue, gums, roof, underneath. Yet I could see no sores. Eating and drinking were a nightmare. Today is the first day it didn't hurt to eat.

I got a very spontaneous urinary tract infection in the middle of the night and had to send Mark to town for medicine at 3:30 in the morning because nothing stays open 24 hours in Maricopa. I have been miserable. It is such a horrible feeling to think you have to pee worse than anything and nothing comes out. Were talking like if we were on a long road trip with no rest stops in site, I would beg Mark to pull over and let me pee on the side of the road with no care for who saw me kind of urgency. Picture that kind of pain, but it NEVER goes away. Now try to sleep with that. Nice, huh?! You never know when it's the real thing or not. Lots of time spent trying.

I have 5 children plus the 2 temps totaling 7 who are all making poor choices and for some odd reason decide to do it all at once just to torture me. The stress associated with all of those things would add up to at least a dozen of these bullet points if I listed them individually. I will spare you the details. Trust when when I say that it's enough to make you want to curl up in a ball and stay in bed for days wondering why you signed up for this whole parenthood thing.

My cat Frankie has a major ear infection and as hard as I've tried I haven't been able to get his medicine down him. He is one stubborn strong cat. We had to take him back to his previous owner so she can medicate him. Apparently she has the ability to let him know who's boss. Me and Scardey butt sure miss him and can't wait until he retuns.

Chris and Will brought their dogs over here a few days ago and they have been residing in my back yard. I had to pull out the doggy door to keep them out of the house, but now Pappi isn't happy because he can't come and go as he pleases to do his business. The new dogs like to chew up everything and made a disaster of the back yard to which I honestly didn't think could get worse. I was wrong. I made them go clean it up today.

FLIES!!! I don't know if it is a coincidence but the very day the dogs arrived so did the largest population of flies that I have ever seen in my life. They are now in my back yard. It totally creeps me out. I hate flies! Every time I let Pappi in or out, I do it as fast as I can but little buggers keep getting in my house. I walk around with one of the paper chinet dinner plates constantly. My arm is getting sore from swinging at flies. I have a plate here on my desk because 2 flies are in here right now tormenting me. There were three. I got one of them. They give me such anxiety.
Tomorrow I have to buy groceries because I'm cooking a big fancy dinner for 45 people on Friday night. It's for the seminary honors students, their parents, the seminary teachers and the stake presidency. I'm making stuffed pork chops, chicken cordon bleu, garlic mashed potatoes, steamed mixed veggies, corn, green beans and punch. I did delegate out the salad, rolls and dessert. (that is progress in my book)
Saturday I have penciled in a small emotional break down because I don't have time before then....although I have cried numerous time over the past week. I have to keep sucking it up and trucking along. Too much to do.
Please don't think I'm looking for a pity party. I just need to vent sometimes and I do want a record of things in my life that are not always sunshine and smiles. It will make me appreciate the good things that much more and also when I look back and remember how cruddy things were, I'll be proud of the things I've survived. For now I've earned the right to be a bit grouchy.
Ooh! I'm down to one fly in my office. These flies are picking on the wrong woman. I go for the kill.
P.S. I do honestly love my boys and we pray everyday that they will make good choices. I can't help but want to run their lives when I see them make mistakes. If it weren't for that darn agency! I do tell them it's not "free agency" because while good choices bring blessings, bad choices have consequences. There's nothing free about it. When they make it hard on themselves it makes it extra hard on me. I hate that.
Well, it's officially 12:57 a.m. Happy Thursday!