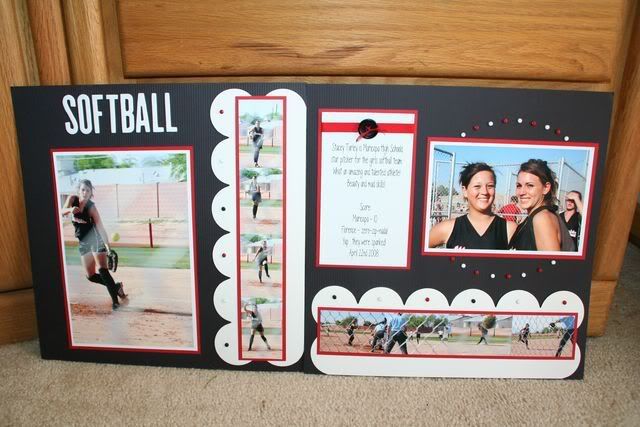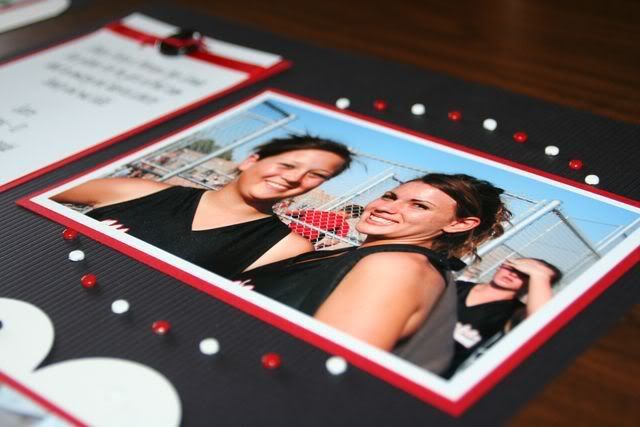 Saturday was national scrapbook day and for the first time in months I actually scrapbooked. I had my friend Stacie over with me. I loved having her over. It was so much fun! A couple of others were planning on coming, but things came up. I only got 2 -2 page payouts done because it takes time and effort trying to find your long lost creative mojo again. I'm surprised I ever found it because I had next to no sleep Friday night. This first layout I did for Stacey (one of the young women) I know how important sports are to her so I wanted her to see how amazing she is while doing what she loves. I gave it to her on Sunday and she was beaming with happiness. I'm so glad I did that for her. Since I have no daughters of my own, it has been really special gaining a relationship with all the girls on our ward. They are such terrific girls.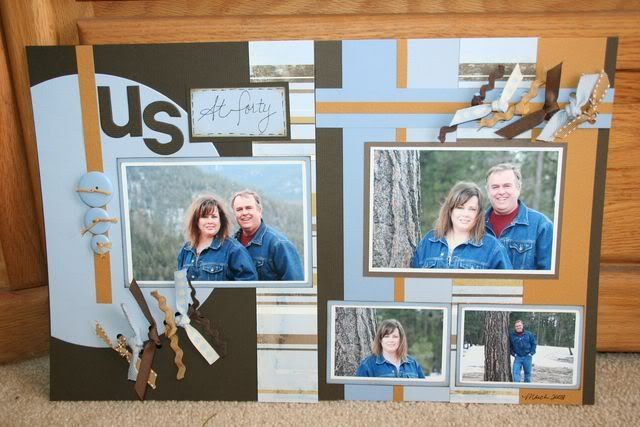 This layout is "US at forty" with the pictures from my 40th birthday in the mountains. The layout is a 1 page 12X12 kit from scrapbooks etc that I turned into a 2 page 8 1/2 X 11 layout using extra supplies.
Thursday we are getting together again and I'm working on pages for my boys.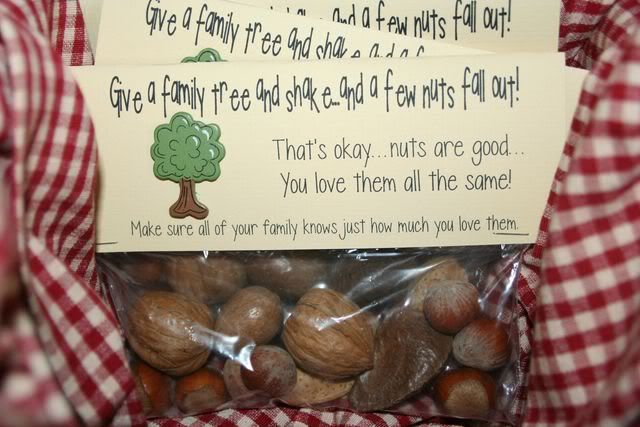 I forgot to share my handouts from when I taught my lesson last week. It was on "extended family relationships" It went pretty well even though I still really hate teaching. I just don't think it's good that my stomach hurts that much from stress and worry. Then come Sunday morning, I am beyond grumpy so my family suffers as well. In my lesson we discussed the relationships of families in the scriptures as well as what we can do to strengthen the relationships of our own families. I gave them each packets of papers that gave suggestions as well as a cute pedigree chart to fill out. I had a jar of black jelly beans and discussed how boring it would be if we were all the same and had a jar full of colorful jelly beans to represent how wonderful it is that people are different and how they each bring something special. They passed the jars around and snacked during the lesson. I wasn't sure what to do for a handout. I was sitting here looking at my blog and realized I could use my blog title. It says..
"Give a family tree a shake and a few nuts fall out!
That's okay...nuts are good...
You love them all the same!
Make sure all of your family knows how much you love them."
I glued on a cute little wood tree and filled bags with nuts. Folded and stapled to the bags. I know every family isn't perfect and there are a few "nuts", but it is our responsibility to love EVERYONE in the family no matter what. It's not always easy to do, but a sincere effort needs to be made.
Monday is weigh in day on Angie's in shape blog. I've lost 2 pounds this week and 3 last week, so 5 pounds total. It's not enough to "see" yet, but it is enough to keep me motivated to get rid of more. I also realized I've been drinking way more water that I thought. My cup that I drink out of is semi big. Without ice it holds 4 cups, with ice it's 3 cups. (and you know I have to have it with my teeny sonic ice) I usually drink about 4 of those a day. I am LOVING water!!! who knew?! My kids have been drinking my pepsi that's in my mini fridge...which would normally make me mad, but I totally don't care. I don't need it anymore. I NEVER thought that would happen.
Mark called and said I have 4 more getting to know you cards in the mail. I can't wait to see them. I'll share them on my next post! So fun!
Lastly...to clear things up. No I'm not mad at ANYONE. I honestly don't try to offend people by not visiting their blogs. Please don't take it personally. I just don't have time to read and comment on 125ish blogs everyday. I wish that I could, but there are not enough hours in the day and I'm sleep deprived as it is. It's not that I don't care because I truly do care about all of you and what's going on in your lives. I do my best to get to several each day when I have spare minutes here and there. I am so grateful for every single comment left on my blog so I completely understand how you all feel. There is a lot going on in my life right now with family, obligations, and numerous other things that I don't bother people with, but trust me when I say it's not a stress free life. My plate runneth over. The other day I was listening to the radio and that song by Trace Adkins - "You're gonna miss this" was playing. It totally made me cry. Not just tears. We're talking full on sobbing. All I could think about was everything I'm missing out on. My family is growing up. My grand kids are growing up. I'm missing it! Service IS important to me and I will always serve, but after girls camp is over I'm re-evaluating just how much I can do. I don't want to be sitting alone in my house years from now as an empty nester with a heavy heart full of regret for all I missed with my family. It's okay to just say NO sometimes.