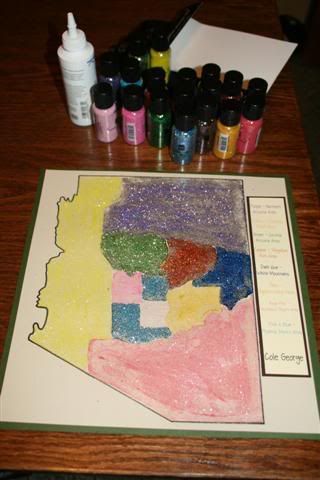 I know what you're thinking....where in the world has Jolene gone, right??? I haven't fallen off the face of the earth. I'm still here, just no time to even think clearly. I've been incredibly busy. We've had people look at the house everyday but Sunday, but no offers yet. I hope soon! There is so much to do around here and I haven't even begun to pack. Cody and Cole packed up several boxes from there room. I'm starting to panic a bit. I really want to be moved out before I go see Chad on March 14th, but we have ALOT of CRAP... ummmm.... stuff. It's not just the work that scares me, it's the thought of driving away from my house for the last time that makes my stomach hurt and sends me into an emotional break down. I pray for strength to be able to handle everything that's coming....both physically and emotionally.
Got a call from Cole tonight while we were at the movies celebrating my mom's birthday "reminding" me that his Arizona project was due in the MORNING! HELLO! Makes me crazy...as if my life isn't busy enough. Anyways....when I got home to work on the project I was trying to figure out what we could use to section off the regions, so I got out my
Making Memories shimmer glitters
for a colorful and sparkly map of Arizona. I'm thinking that we should be able to write off scrapbook supplies when they are used to help with your children's education. Since I'm not an accountant I don't know all the legalities, but it's worth checking into if I could make myself feel a little less guilty about all my purchases.
Speaking of scrapbook supplies...I would love any storage advise from those of you that own
acrylic stamps
. I have tons of wood mounted stamps, but only have a few sets of the acrylic ones...which by the way, I LOVE! I'm just unsure of a good way to store and organize them. I really like my scrapbook supplies to be organized, so it's bugging me that they are just in a little pile on my desk. I'm also looking for a large/long acrylic block. I only have a small one, so I haven't been able to use all of my stamps yet. I've been able to read a few of your blogs each day. Trying really hard to catch up with all of you. Don't give up on me. :o)
Blogger MADE me upgrade to the new version. What's up with that?!