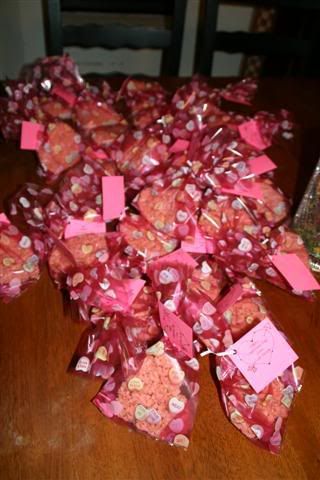 These past few days have been a blur...so busy and so tired! My sister Julie moved back to Arizona, which makes me happy beyond words. She has been over here helping me get this house in better shape to show to prospective buyers. We are no where near done, but making huge progress. We had 3 people look at it on Monday and someone is coming tomorrow. Surely someone will want to buy my sweet house that I love so dearly.
I made heart shaped rice krispy treats for Cole's school class and also for my primary class for Valentine's day, but Cole woke up sick and couldn't go to school. Poor kid REALLY wanted to go, but his body disagreed. I ended up taking his valentines to school and dropping them off, so that he could be included in the exchange. He has slept most of the day and is sleeping now. I'm betting he will be home again tomorrow. (thursday) I still haven't delivered the ones to my class. They will have to get them a day late. I'm only one woman and discovered that I can't do it all...even though I try.
I do have more to talk about, but my brain and my fingers are not working as a team, so I hope to catch up when I am more refreshed. I promise to be a better blogging buddy when this house mess is taken care of. I feel guilty, but can't do anything about it...still love ya'll though. Feel free to talk amongst yourselves. :o)
P.S. I think I may have found a house that is a strong contender!...details to come.