(Brek had taken off his nice Sunday shirt)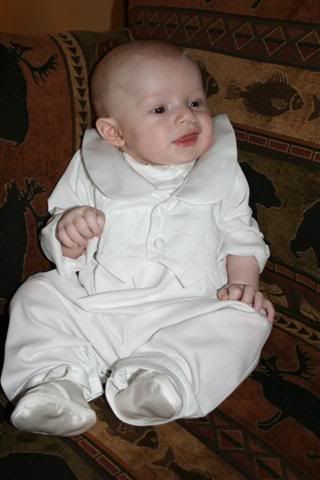 Mark...5 months old already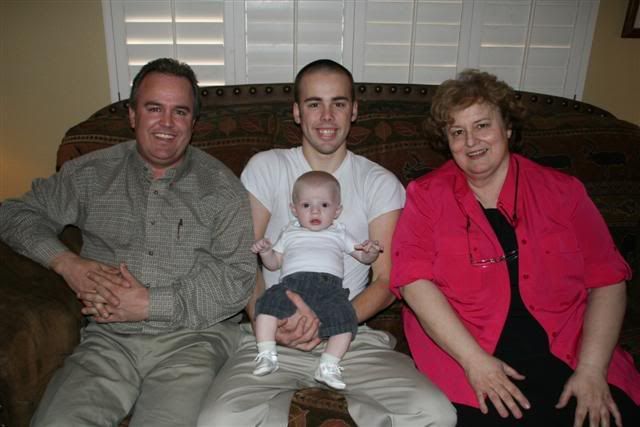 Mark, Brek, baby Mark and Marks mom, Sharon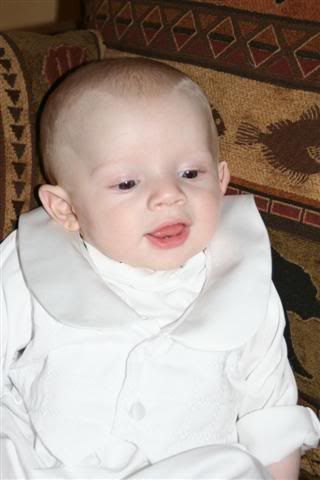 Today is one of those days that you hope you always remember, because it's one of the significant events that you celebrate with family. We blessed baby Mark today. For those of you wondering what that means, in my faith...
The Church of Jesus Christ of Latter-Day Saints aka Mormons
, baptism happens when one turns eight years old so as infants, we give them a special blessing at church. Most of the time they are younger than 5 months. It's a very special occasion for families, and a time that we all get together and celebrate the birth of the child. Today in church baby Mark was given a blessing by his Grandpa Mark. Usually it's done by the father if he holds the Melchizedek Priesthood. Brek does not have that yet, so Mark did it. Hopefully when the next baby comes, Brek will be able to bless him or her. It was a lovely blessing. Later, Brek did get up and share his testimony. The spirit was here today. After church everyone came over and I fed them a huge feast like I always do. I would love to share pictures of my beautiful delicious spread, but they ate it before I could get a picture. I did take some other pictures today, but I had Coleen's camera in hand, so I don't have them. It really was a special day.
After eating and visiting with everyone we had the excitement of an upstairs toilet overflowing and having water pouring out of two light fixture into the family room and the store room. Good thing we have a carpet cleaning truck outside. The hooked it up and dragged the hoses in to suck up the water and put fans in to dry it out. Then the superbowl started. I watched the first hour (loved the blockbuster commercial with the

rabbit,guinea

pig and the mouse...totally laughed out loud!) After that I went to bed and slept for 3 hours. My whole body hurts. You know when you get that feeling that you know you're not well. Well that's me. I'm really achey and don't feel good, but I wanted to share my day before I headed back to bed! Congratulations to the Colts on their big superbowl win!