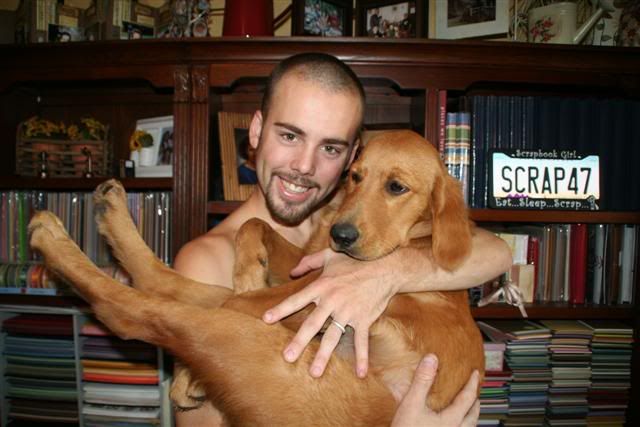 Look how big Pumpkin has gotten!!! She's HUGE! She out grew her collar and she found out the hard way that she can't fit through the pool fence anymore. Brek loves this dog, but then Brek is at work all day and doesn't have to deal with her naughty behavior. She is definitely trainable and smart, but very much a mischievous puppy.

I had all my buttons in one large jar, but I hated digging for the colors I needed, so when Kyle asked if I'd take him to Wal-Mart to get a few things I said yes, because I wanted to pick up some small jars so that I could sort my buttons. I got these cute little jars for $1.96 each (so cheap!) and spent MANY hours separating thousands of buttons. Big pain in the rear, but well worth it because now I can find the color I want much easier. I put my spools of thread in the big jar the buttons were in.

Doctor's appointment updates....I'm finally healing up, not bleeding and not bruised. I still don't lift heavy things, because I'm afraid to hurt myself. Brittany went to her ultrasound while I was at my appointment. It was the first one without me. There is a reason why I like to be there...I get details!!! I asked her how it went and...
she said..."fine...no new damage to his intestines and that she is dilated to a 1"
I said.."oh my gosh! Are you effaced?"
She said..."I don't know"
I said..."that's kind of important information"
she said..."Oh, they might have said something, but I don't remember"
I said.."did they measure him?"
she said..."yes...he's over 5 pounds"
I said..."5.what? how many ounces?"
She said..."don't know"
okay...I will be at next weeks appointment.

The good wife that I am made a sacrifice tonight. I told Mark I would go with him to his biker group dinner get together. It's HOT outside, so I was more than nice to do this for him. The hot wind in my face felt like someone was trying to smother me. I don't like that feeling, but I'm his biker babe, so I made the best of it. :o) The group he's with are real nice people, so it was fun to visit with them.