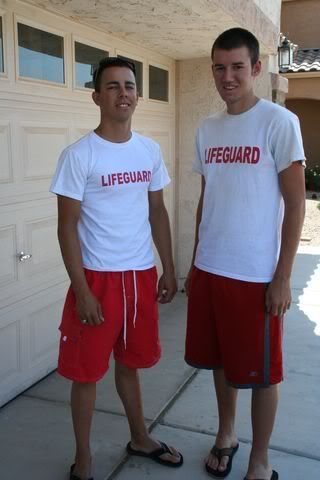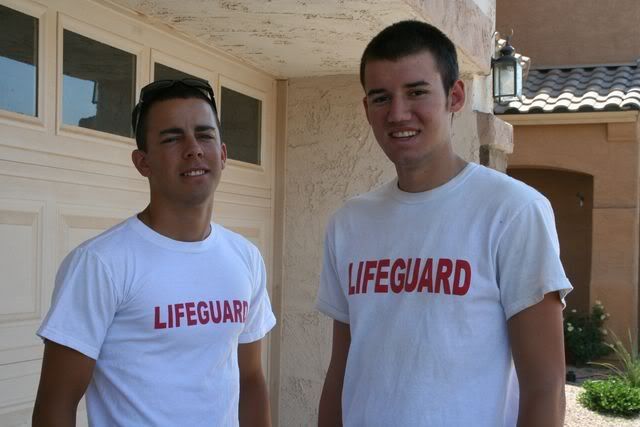 Chad and his friend Hunter are lifeguards at golfland sunsplash for summer jobs. Hunter has been staying here and they just drive into work together. After they get real jobs when summer is over, they plan to roommate together in a house out here. For now they are enjoying the "fun" job. I'm sure all the girls that frequent the water park are sure glad these two cute guys are on watch. I wouldn't doubt a fake near drowning just to get their attention. Save me! Save me! LOL!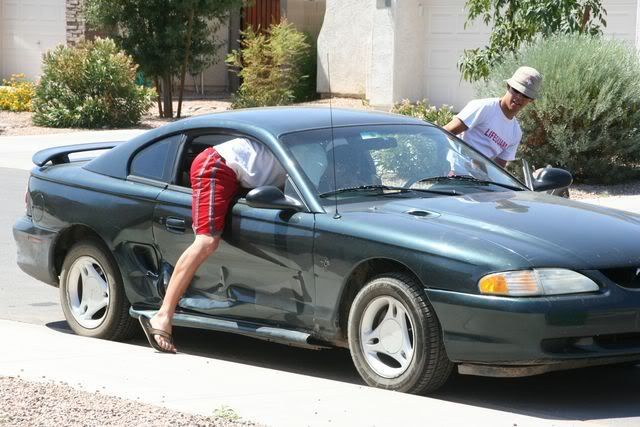 Notice the lovely smushing in the passenger door of Chad car? Him and Hunter went to town to pick up Kyle Saturday night so he'd be home for church Sunday morning. Just after picking him up, two cars drove up on each side of him boxing him in. The car on the drivers side gave him a little bump leaving a scratch, the other car however rammed into his side. All the guys in the cars were laughing and cussing at them, then they drove off. A witness chased after one of the cars and got the plate number. Chad filed a police report and and they got the statements of 3 witnesses that saw it happen. The cop ran the plates, but were unable to track down who it belongs too. My guess is the cars were stolen and the ones who stole them were driving all over town messing with people while trashing the stolen cars. Makes me so mad! Chad door doesn't open and the glass is broken inside the door so he can't cool down the car with the AC. Not a good thing in the Arizona heat.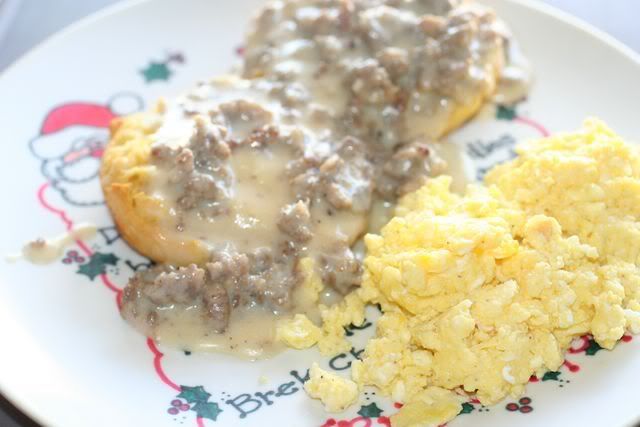 Mark is on a ride with a few of his friends, so I opted for an early dinner. I haven't been to the grocery store so decided what the heck, breakfast for dinner sounds good to me. I made biscuits and sausage gravy with scrambled eggs that had a little cheddar cheese and a touch of sour cream. So good! And while were eating abnormal why not eat dinner on Santa's Christmas cookie plate? Nice touch, huh?!
Okay, I have to go change into real clothes. Cole has basketball practice soon. I'm wearing really ugly stretchy cleaning clothes that I should never be seen in public in. I'm all about stretchy when I'm cleaning. Most every day I wear makeup. Not today. and I have no intentions of putting any on just to go sit in a sweaty stinky gym at the end of the day. Not that I'm a fancy girl or anything, but my kids appreciate it when I keep the embarrassing moments to a minimum and how I look right now would most definitely embarrass them. But then again when I took the pictures of Chad and Hunter in their lifeguard uniforms Chad said "these better not end up on the blog" So apparently I like to pick my battles. :o)