Does this bedding look too juvenile for an adult room? I like this quilt set. My bedding is getting tired, old and ugly so I've been looking online for different Americana style quilts. Most of them are way too expensive. (for me) I found ones that I really loved, but I just can't afford them. This one is on the lower end so it's in my thinking about it list.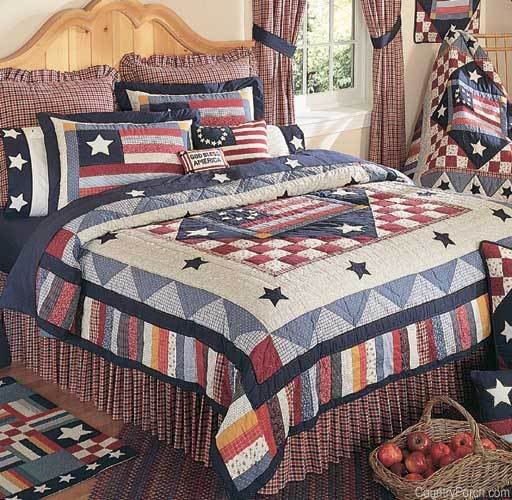 This is one that I really love!

So sorry I haven't blogged since last week. I planned to blog about Father's and sons camp out but apparently they never took the camera out of the truck. Mark and the boys had a great time with lots of other fathers and sons from the ward. They said the camp spot was perfect and they ate really well. (Thanks to me...hee..hee) Mark was in charge of breakfast for everyone so I cut up a huge amount of fruit salad and Mark and I made the fixins for breakfast burritos so all they had to do was fill the tortilla's and grill them. Of course I made tons of salsa for them too. I also made tin foil dinners for my guys to eat for dinner up there. I hope to get pictures for one of the dad's that actually used his camera.
In other news Mark traded his motorcycle in and got another Royal Star like his old one that he has dearly missed since the very minute he sold it. The only difference is this one is black cherry, not black. It's gorgeous! I'll take pictures of it to share when the windshield isn't covered with bug guts. Bigger news is Mark FINALLY has his motorcycle license. He's been riding motorcycles his whole life, but now he's finally legal! Yippee!
Happy Birthday to my awesome sister in law Chris. I hope you had a wonderful day. I love you and I miss you tons!
5 Things about me....
5 things on my to do list:
1. Laundry
2. Dishes...lets face it...the whole house needs cleaning.
3. LOTS of camp stuff
4. cook dinner
5. Take Cole to basketball practice
5 places I've worked:
1. Burger King (as a teenager)
2. House keeper-but I was pregnant with my first baby and puking all the time so that didn't last. Apparently home owners don't like that.
3. Full time mom and Mark's errand girl
4. Still doing the mom/errand girl thing
5. Yep, still doing the mom/errand girl thing and busier than ever.
5 favorite foods:
1. Tacos - I love them!
2. Steak and potatoes
3. Chicken cordon bleu lasagna casserole
4. Breads and desserts
5. Good old home cooking - nothing fancy
5 things you may not know about me:

This one is hard because I tell everything on here.
1. I am completely addicted to drinking water, but only with teeny sonic ice and only in my big scrapaholic cup.
2. I feel TERRIBLE that I don't get to be with my cute grandsons enough. I miss them! I need to plan some outings with them.
3. Mark spoke in our ward a few weeks ago. He said things that totally embarrassed me. I cried most of the day. He tends to speak before he thinks. He will never do that to me again. Really bad day! The rest of his talk was great.
4. I'm really struggling with my kids growing up. It's all happening so fast. I don't want to be alone and I wish I could remember more of the past. Why didn't I take more pictures? I need to scrapbook more. I thnk I will feel better about things if I get the memories I do have preserved.
5. I'd really like to get a spray on tan, but I don't think I could hold my breath for 30 seconds-twice! I could see myself freaking out in the booth while choking on that stuff. I would love to have a little glowing color without the risk of cancer.
5 things I'd do if I were a billionaire:
1. Pay off our debts.
2. Build a custom home with a basement -a white picked fence and a wrap around porch goes with out saying. Of course there will be a cute red barn in the back yard with big beautiful shade trees all around.
3. Have a 2 year supply of food, water, fuel, and necessities for my family.
4. Help others in need- especially extended family and friends.
5. Do things with my family to create memories that we can't afford to do now.