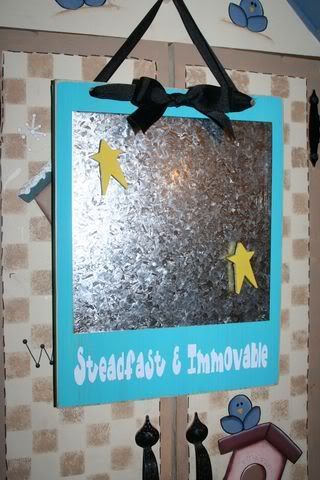 Here is a picture of the main craft we are making at girls camp. I will share pictures of all the smaller crafts once I have samples made. As I mentioned before the theme is "Like the Stars". "Steadfast and Immovable" is also part of our theme. It's a 12X10 piece of pine that I painted and sanded the edges. I glued an 8X8 piece of sheet metal to make it a magnet board. I painted wood stars and glued round magnets to the back. I had Kim cut vinyl with the words "Steadfast & Immovable" I drilled holes and hung it with ribbon. I will have lots of colors to choose from for the girls to paint their boards to match their rooms or taste and the ribbon and vinyl will be available in black and white. The vinyl will also be in several different fonts to choose from. I think the girls and leaders will all like this craft. It's such a good reminder for them to remember who they are and to be true to their values while striving to be the best that they can be.
Tonight we took the young women to the Emma Smith My Story movie. While we are up at girls camp each ward has to do a devotional on someone. We drew Emma Smith's name so I was thrilled when I heard this movie was here. She was the wife of our first prophet, Joseph Smith. This was such a powerful and emotional movie. I cried quite a bit during it. The trials Emma and Joseph went through were unimaginable. My chest was heavy and my heart ached. She was such a strong amazing woman. I think the girls have a whole new appreciation for Emma Smith and their devotional at camp will have so much more meaning to them. I know it deeply impacted me. Here is a clip of the trailer to the movie. For you local Arizona readers It is showing at the Cinemark in Mesa on Dobson and the 202 until June 12th. It really is a must see. I'm taking Mark there to see it again before it's gone. I found a listing online of where it's showing around the country for those of you who are interested. It seems that the theaters that get it are only showing it for a week or 2 so you have to jump on it if you want to see it.
Movie Theater Locations and Movie Time Listings for Emma Smith - My Story:
The new updated theatrical showings as of 5/30 -
"Touching, insightful--provides a perspective that is long overdue!" - Doug Wright, KSL Radio
Thanks to your requests and help, we have set up the following showings of Emma Smith: My Story.
Anchorage, AK (May 30-June 5)
Theater Location: Regal Dimond Center 9, 800 E Dimond Blvd, Suite 210, Anchorage, AK 99515
Boise, ID (May 30-June 5)
Theater Location: Edwards Boise Stadium 22 & Imax, 7709 Overland Rd., Boise, ID 83709
California (Bay area--coming soon)
Idaho Falls, ID (starting May 23)
Theater Locations: Center Theater, 361 Park Ave, Idaho Falls, ID
Kansas City, MO (May 29 & June 9)
Theater Location: Glenwood Arts, 9575 Metcalf Ave., Overland Park, KS 66212
Showtimes: May 29 at 7:30 pm, and June 9 at 7:30 pm only.
Laie, HI: Coming soon.
Las Vegas, NV (May 30-June 5)
Theater Location: Regal Village Square Stadium 18, 9400 W Sahara Ave., Las Vegas, NV
Mesa/Tempe, AZ (May 30-June 12)
Theater Location: Cinemark 16, 1051 N. Dobson Rd., Mesa, AZ 85201
Nauvoo, IL (June 12 - October 2008)
Showing at: Nauvoo Adventure Zone, 885 East Highway 96, Nauvoo, IL 62354.
Showtimes: Monday-Saturday 3 pm and 7 pm.
Orlando, FL: Coming soon.
Portland, OR (May 30-June 5)
Theater Location: Regal Movies on TV Stadium 16, 2929 SW 234, Hillsboro, OR 97123
Richmond, VA: Coming soon.
Sacramento, CA (June 6-12)
Theater Location: UA Olympus Pointe 12, 520 N. Sunrise Ave., Roseville, CA 95661
San Diego, CA (May 30-June 5)
Theater Location: Regal Edwards San Marcos 18, 1180 West San Marcos Blvd., San Marcos, CA 92069
Seattle, WA (May 30-June 5)
Theater Location: Regal Alderwood Stadium 7, 3501 184th Street SW, Lynnwood, WA 98037
Tennessee (coming soon)
Texas (coming soon)
Thatcher/Safford, AZ (May 30 & 31, June 2 only)
Theater Location: 1014 N. College Ave., Eastern AZ College Activity Center, Thatcher, AZ.
Showtimes: May 30 at 7 & 9 pm; May 31 at 5, 7 & 9 pm; June 2 at 5, 7 & 9 pm.
Tucson, AZ (Aug. 29-Sept. 4)
Theater Location: Century El Con 20, 3601 E Broadway, Tucson, AZ 85716
Washington, DC: Coming Soon.
Now in Utah Theaters (check listings for specific times):
Century 16 Union Heights
Tinseltown 17 in Layton
Gateway 8 in Bountiful
Capitol Theater in Brigham City
St. George Pineview Stadium 10
Please check listings in your area for the specific times, but note that the theater may not post them until closer to the theatrical dates scheduled. Check these emails and the website www.emmasmithmovie.com for updates.