Actually there are 2 kitties. They look almost identical and they are huge! I only have a picture of one who is currently named Franky. The other one, Sunny has been residing under my bed since Sunday night. He comes out at night or when nobody is around. As soon as I open my door he's right back under the bed speedy quick. Poor thing is

traumatized

. Franky is very lovey and will lay on his back and let you rub his tummy. He likes me the most so far because I

give

him the most attention. His eyes are not that icky red color. They are a beautiful blue. Why are pet eyes all creepy in pictures? Anyways...we have yet to come up with names for the new additions to the family, so I'm open to suggestions if you have any ideas.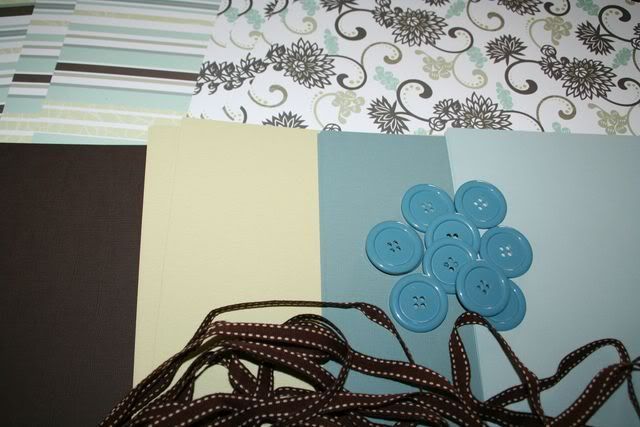 I went to the scrapbook store while I was in town yesterday to get stuff to make binder covers for each of the young women. I love the spa colors mixed with chocolate brown, so even though I had no design plan I

couldn't

go wrong with those colors. The pattern paper is Autumn Leaves and the

cardstock

is

bazzill,

of course. For you local girls...Scrapbooks Etc is expanding their store AGAIN! So exciting! It was under construction while I was there. So neat to see it in progress. Such an awesome place!
Here is the design I came up with. Simple clean lines. I hope the girls will like them. Going to finish them up and give them to them on Sunday.
Off to bed...my night with the clicker (remote). I like to watch a show in it's

entirety

. Mark on the other hand likes to watch bits and pieces of 3 shows at the same time to avoid seeing any commercials. Makes me nuts! Love him to pieces, but seriously crazy!