***Edited at bottom-progress update***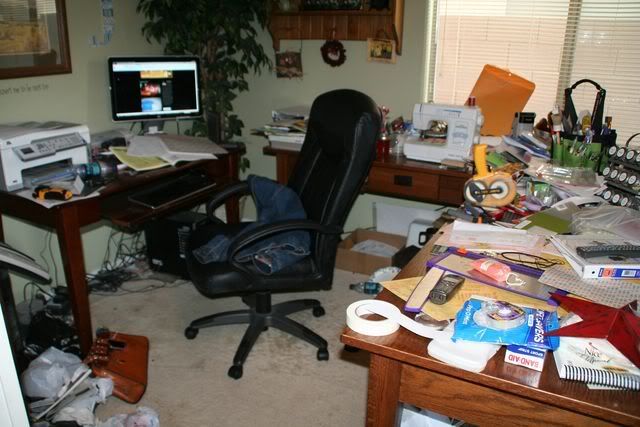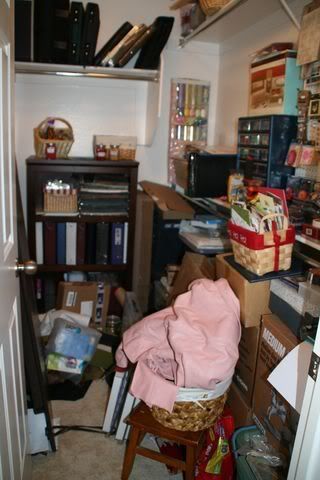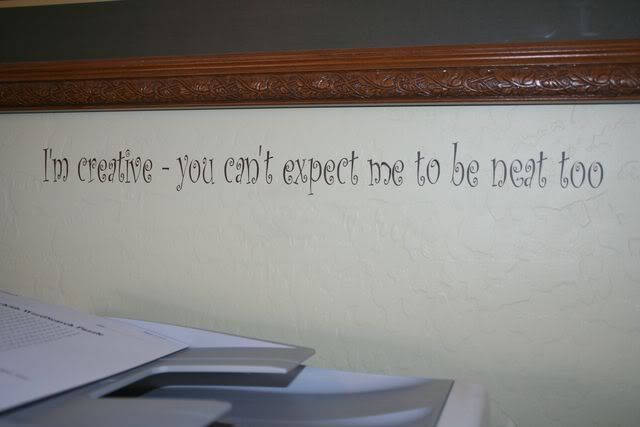 My friend Amy has been working very hard on her scraproom for the past several days now, so it motivated me to want to work on my pig sty. I don't know how it got to be this bad, but I'm embarrassed and ashamed. It's never looked this bad. I'd like to blame it all on my family, but they are only responsible for a portion of the mess. Most of it is mine. Lots of projects in progress at the same time, mail everywhere, packages that are incoming and outgoing, valentine stuff, lots of shoes, socks, clothes (those are not mine) and lets face it...just a bunch of crap that needs to be thrown away or put away. Paper is my enemy! Not the pretty stuff...it's the mail, school papers, church papers, scout papers, receipt's, banking papers, business papers, etc that consume me. I need to come up with a good organizational solution for all of that crud so I can have some peace of mind. My bookcases are all still organized, but I do need to take everything out and dust it all. Dust is enemy number two! I have a couple of the young women coming over in 5 hours and counting to work on invitations, so my goal is to make a dent in this mess before then. When I'm done, I plan to post new pictures of a much less stressful environment. The clock is ticking...gotta fly!
Note my disclaimer in the last picture. This quote is on the wall in here. It says...
I'm creative-you can't expect me to be neat too.
clicking publish.....now! (shudder)
Progress update as of Thursday morning....Yes, I am a real girl, with real messes...big ones too! It's still a disaster in here. I did finish up 3 of the projects in progress that had to be done by last night for the young women. I work in here in between distractions....you know what I mean by distractions. Getting your kids to do their homework, laundry so Mark has clean work clothes, run up stairs to put something away and for some reason decide that your bathroom MUST be cleaned right now, Are you making dinner?, Hey mom...we need milk, Jolene...can you bake cookies for cub scout pack meeting tonight, stain and seal the cub scout tree and make a word search about recycling...yada yada yada. You get the picture. So this room WILL get done, but it will take a little longer than I'd like with all of my lovely distractions. Believe me...there's nothing I'd like more that to redeem myself with some clean room pictures.