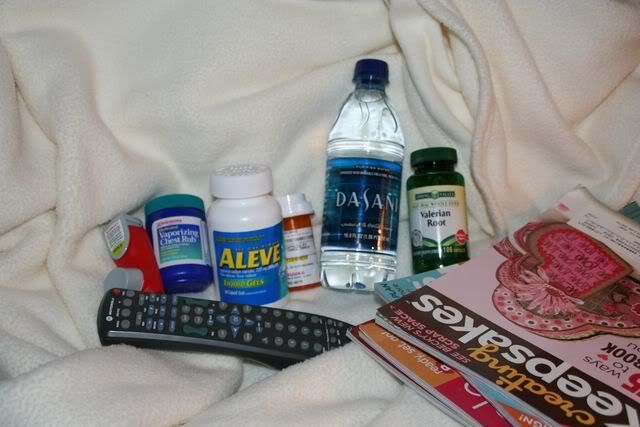 I decided I needed to check in since some of you were worried about me. This has been my life for way longer than I thought it would be. Medication, inhaler, bed rest, the remote control, magazines, vicks vapor rub, Valerian root, water and lots of sonic ice. The coughing continues to beat me down. I cough all through the night too, so sleep is minimal at best. Poor Mark has to listen to it. He's a better sleeper than I am though. I've actually coughed a rib out of place. Sometimes I think my head will explode. I am doing a little better, but still have a difficult time catching my breath after I've walked upstairs or done anything remotely physical. It takes a lot out of me, then I go into a long coughing spree. My friend Carol said that everything around me would make me crazy and she's right. I hate that I haven't been able to clean my house. Every bit of filth makes me nuts, but I physically can't do it yet. Kyle is staying home from work tomorrow to help clean around here. I'm so happy about that. We need to get Christmas decorations taken down. They have never stayed up this long. I hate that I've missed the whole first week of the new year. Here are a few things I've missed while being sick...


New years eve


New years day charity ride with Mark


Church


Mutual


Kindra and Cisco's birthday party


My presidency meeting


George family dinner


Lunch with Carol


Lunch with Paula


Haven't got to exercise yet because I can't breathe


Grocery shopping -boy do we need groceries!


Haven't seen my grand babies
I honestly thought I'd be down for a couple of days, then I'd be back to my normal routine. I'd tell people "sure, I can do that"...then my body would say "no you cant" so I've have to cancel. I did have some very sweet friends bring in dinner a couple of nights. That was very helpful and appreciated.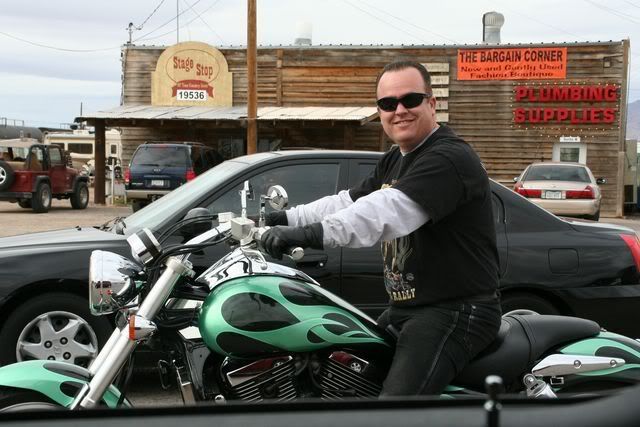 This is a glimpse of Chad's new bike. Mark was taking it for a little ride up to the school. Yes, I did yell at him for not wearing a helmet. Chad calls it the green machine. I think it's funny that he bought a motorcycle while being in Afghanistan and has only seen pictures of it. Him and Mark have been looking online for months trying to find the perfect one. He is so excited to get home and go for a ride.
Here is Mark on his and Kyle on Chad's. Actually Kyle was feeling the need for his own bike, so he went out and bought himself one tonight. I don't have a picture of it yet. since it's dark outside. It's an older bike, but he loves it and it will be a good one for him to learn on for his first bike. The guy was shocked he paid for it with his own money. He had to go show his boys who have never bough anything on their own ever. He was very impressed. :o)

The only girl in the picture is my beautiful niece Kindra who was in town from Tennessee for a few days. I only got to see her once, then I got sick. I miss that girl so much. I'm going to have to go shopping for a fabulous birthday present and get it in the mail to her.
So sorry I haven't really been able to blog visit. I truly have spent 95% of my time in bed. Hope to kick this nasty bug outta here soon!