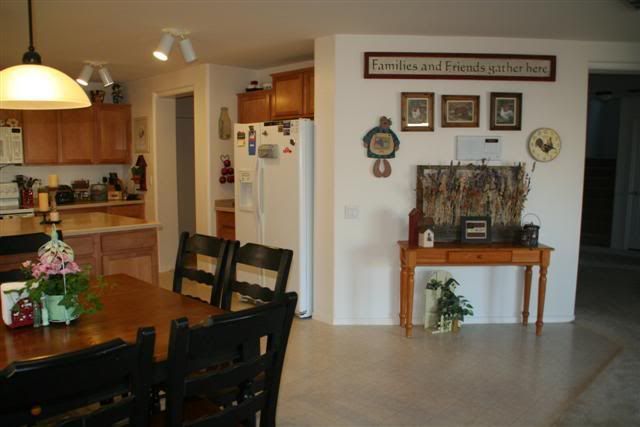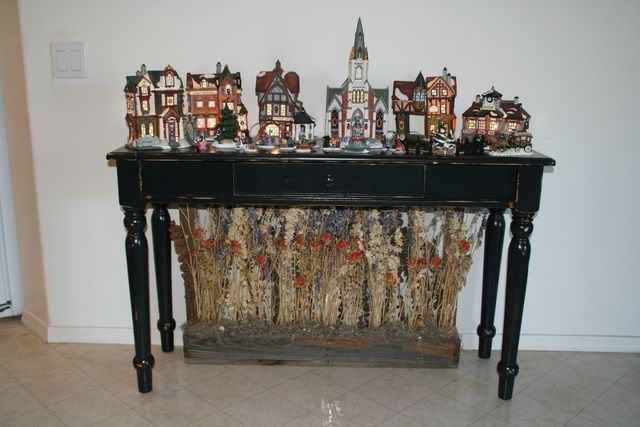 As if I don't have enough to do right now I decided to paint the sofa table that's in my kitchen dining room. It was the honey pine, but we've had it for MANY years and it was looking REALLY beat up...as you can imagine with raising 5 boys. Seriously BAD! I already had a quart of paint in the cupboard so I figured, what the heck. I'm doing it! The color said black ink, but it looks more charcoal. I painted it, then sanded the edges to give it more of a rustic look. (You know...beat up on purpose) Then I sealed it. I LOVE it! For now the holiday village will reside there. Come January it will be something else.
I'm outta here. Need to clean my house and prepare for the young women who are coming here tomorrow night to make holiday treats. We are sending them to Chad and his roommate as well as all the houses on my street. Cole counted and said there are 27 houses but 4 are vacant. Just doing our part to get these people to come out of their shells around here. I'm so use to knowing all my neighbors. We will again if I have anything to say about it. :o)
oh! I made the gumdrop ornament by hot gluing a ribbon all the way around a 2 1/2 inch styrofoam ball leaving a loop at the top for hanging. I did it that way because the gumdrops make it a heavy ornament. Then I just hot glued on the gum drops...cute and easy!