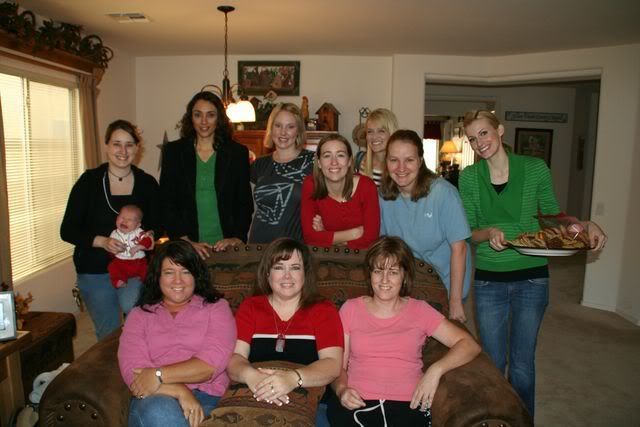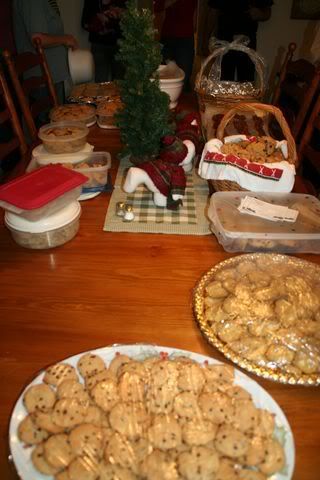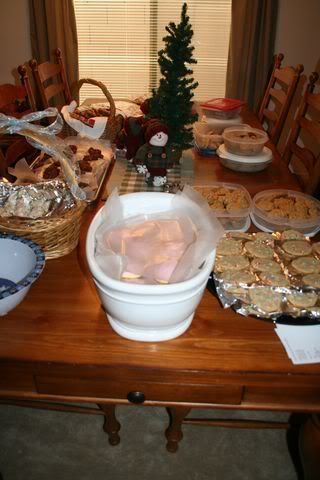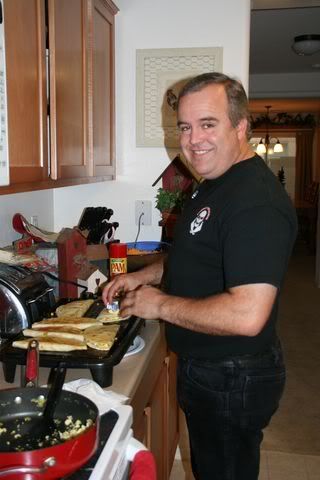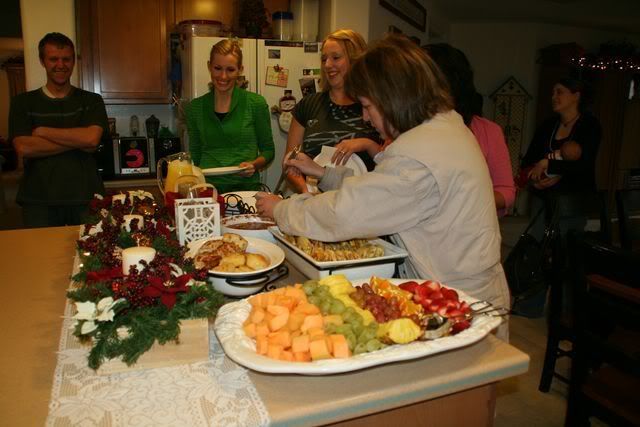 The Christmas cookie exchange was this morning. There were 10 women, 3 husbands, and 2 cute babies who came. Several women couldn't make it for one reason or another. I'm sad they couldn't make up but appreciate the ones who did and enjoyed their company and their yummy cookies. I stayed up til 1:00 frosting pink cookies (Grandma George's recipe) and cutting up fruit for the fruit tray. (Note to self...Tripling the batch makes 10 dozen) Got up early this morning, showered and got busy making salsa and cinnamon rolls while Mark made breakfast quesedillas with sausage, eggs and cheese. Everything was really good. Now don't be thinking I'm all that. Although I do know how to make awesome cinnamon rolls from scratch, this mornings rolls were courtesy of the Pillsbury dough boy and that wonderful little pop can.
So you all want Christmas treat recipes...okay...here goes. They are so simple...honest! In fact I'm sure you all have some of these already. The cracker toffee recipe I got off the making memories blog. I've made it before but used this recipe....but then again we did have the oven fire while cooking this. :o) **Disclaimer** I am not responsible for oven fire in your home if you choose to make this. :o) Truth be know, the fire was my fault from not cleaning up drippings on the bottom of the oven first.
Homemade Reese's
1 1/2 cup crushed graham crackers - 1 sleeve
2 3/4 cup powdered sugar
1 cup melted margarine 2 cups creamy peanut butter.
Mix together the above ingredients and spread into a jelly roll pan. In microwave melt 1/2 cup margarine and 12 oz. chocolate chips pour over peanut butter mixture. Chill and cut into desired size squares.
English toffee
2 cups sugar 1 pound butter 2 Tbsp. water
Cook sugar, butter and water in a saucepan over medium heat until it turns "paper bag brown" Pour into a lightly greased jelly roll pan. Sprinkle with milk chocolate chips immediately, spread then top with chopped nuts of your choice. Break when cool.
Holiday pretzel bark
Melt 2 pounds premium white chocolate Fold in pretzels and M&M's. Pour onto a wax paper lined jelly roll pan. Cool and break into pieces.
Peppermint bark
Melt 2 pounds premium white chocolate add 12 candy canes - crushed
1 tsp. peppermint extract or 1/2 if using peppermint oil.
mix together then pour onto a wax paper lined jelly roll pan. Cool and break into pieces.
People chow aka reindeer poop
2 cups semi sweet chocolate chips 1/2 cup margarine
1 1/2 cups peanut butter
Melt together and pour over a box of Crispix cereal. Mix well the pour into a brown paper bag and shake with 2 cups of powdered sugar, added a little at a time.
Fudge
1 (7 ounce) jar marshmallow cream 1/4 teaspoon salt
1 1/2 cups sugar 2/3 cup evaporated milk 1/4 cup butter 1 teaspoon vanilla
2 cups milk chocolate chips 6 ounces semisweet chocolate morsels
In a heavy sauce pan, combine marshmallow creme, sugar, milk, butter and salt. Bring to a full rolling boil over medium heat, stirring constantly. Boil 5 minutes remove from heat. Add both kinds of morsels, stir until they are melted and mixture is smooth. Stir in vanilla. Pour into foil lined 8 inch square pan, chill 2 hours until firm.

Candied Pecans
1 pound pecan halves 1 Tbsp. water 1 cup sugar
1 egg white 1 tsp. Salt 2 tsp. Cinnamon
Put egg white and water in bowl and beat until frothy, but not stiff. In second bowl sift salt, sugar and cinnamon. Pour nuts into liquid and stir until well coated. Pour sugar mixture over nuts and stir again. Spread on greased cookie sheet and bake at 300 for 20-25 min. Stir every 10 min.
Mint Crisps
Melt chocolate mint wafers. Dip Ritz crackers in melted chocolate and cool on a rack
Cracker toffee
1+ sleeves of saltine crackers (also known as soda crackers)1 cup brown sugar1 cup (2 cubes) butter (or margarine)12 oz package of chocolate chips, Chopped nuts (walnuts, pecans, or almonds all work wonderfully)*For best results follow the directions exactly*Pre-heat oven to 400 degrees. Prepare a 10"x15" cookie sheet or jelly roll pan by lining it with foil and spraying it with cooking spray. Line the cookie sheet with a single layer of saltine crackers (you may need to break a few in half so the entire bottom is covered).Bring brown sugar and butter to a boil in a saucepan. Boil for 2 minutes. Pour hot mixture over crackers and spread until crackers are covered. Bake for 5 minutes in a pre-heated oven (400 degrees F.). Remove from oven and carefully press down any crackers that have bubbled up. Sprinkle chocolate chips on top and let pan sit until chocolate has mostly melted. Use knife to spread chocolate around. Sprinkle with chopped nuts. Cool in fridge. When completely cool, break into pieces and store in air-tight container.
Grandma George's frosted pink cookies
1 1/3 cup sugar 1 cup shortening 3 eggs
3/4 cup buttermilk 1 tsp vanilla
1/2 tsp baking soda 3 1/2 cup flour
1 tsp baking powder 1 tsp salt
Frosting:
8 oz cream cheese 2 Tbsp margarine
2 tsp. vanilla 1/2 bag or more of powdered sugar
(I added a teeny bit of milk too) food coloring
Cream sugar, shortening, eggs, and vanilla. Add buttermilk and baking soda; Cream. Add flour, baking powder and salt. Mix well. spoon onto cookies sheet and bake at 375 for 8 to 10 minutes. My oven is 8 minutes.
Frosting: Mix together cream cheese, margarine and vanilla then add powdered sugar and food coloring. (hers were always pink) Frost cooled cookies and store in a container with waxed paper in between the layers. They are awesome and remind me of Kanosh Utah every time I eat them....good times there!
I'm off to work on Christmas cards that should have been mailed off weeks ago. I'm so far behind. I've had several of you email me asking for my new address. I thought I responded to everyone, but I could have missed someone accidentally. Please don't think I'm rude. Shoot me another email and I'll get that information to you. My email address is in my profile information on the side bar.