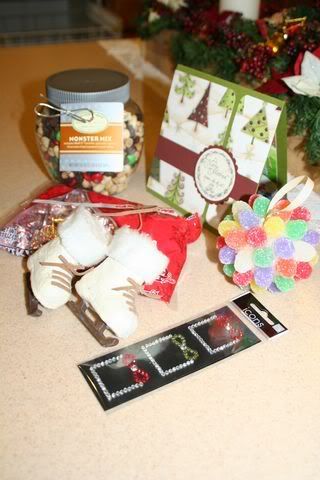 Holy Crud! Never in a million years did I think I'd ever get 96 comments. I was just really hoping for over 50. I'm overwhelmed with gratitude to see so many people that read my blog. So fun to see the lurkers come out. I truly appreciate each and every comment I get. They ALWAYS make me smile and cheer me up when I'm feeling cruddy. I bet you didn't realize how much power a simple sweet comment has, huh?! I was trying to figure out how to pick a winner this time. I usually print the comments, cut them into strips and pick one out. Since there are so many, I decided to save a tree and ask one of my boys to pick any number between 1 and 96 and that would be the winner. I didn't tell him why....and I'm not telling you which boy I asked so that the other 95 girls wont know who to be mad at for not choosing them. :o) The prize package includes a big jar of monster trail mix, my MOST favorite candy in the world-(candy cane kisses), ice skates ornament, gum drop ornament (I made it), sparkly present stickers, and our family Christmas card.
...and the winner is....
.
.
.
.
.
.
#6- Velvet Brick...AKA Carol!!!!
Congratulations Carol...I hope you like your prize. Email me your address so I can get this off to you. :o)
Be sure to

congratulate

her. She is truly deserving.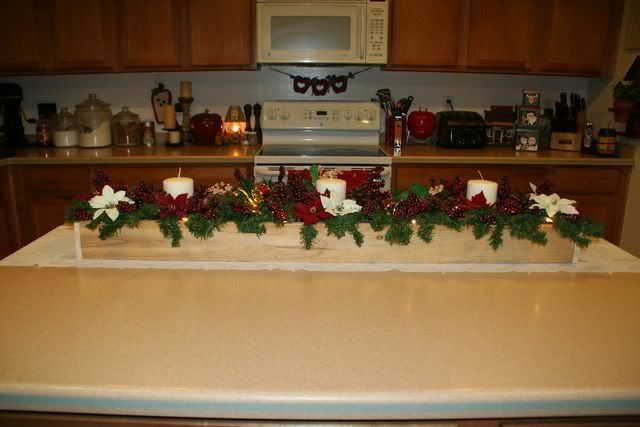 This weekend I made a centerpiece for my kitchen island. I wanted something long. I bought 4 pieces of cheap wood fencing from home depot, cut them down to about 3 1/2 feet, cut the ends and nail gunned them together to create a long box. I left it natural, because I like that look. I filled it with a lighted pine garland that I already had, pine cones, candles, poinsettias, and berries. Simple, cheap, easy and CUTE!
I LOVE LOVE LOVE it!!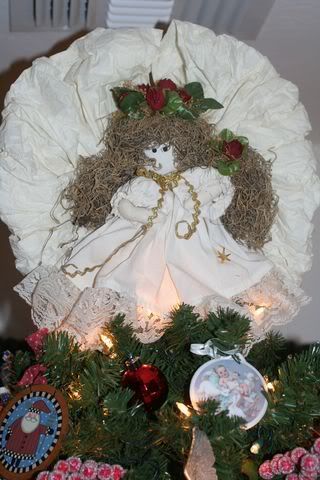 One of you asked to see my tree toppers. On the main tree I have a country angel. I got her at the barn boutique years ago from a fellow

crafter

. I still love her after all these years. She is made using a 1 liter 7 up bottle with the bottom cut off so she sits on the tree really well. The other one is a rusty star with a cute snowman painted on it. I got that one at another boutique. Every boutique I ever participated in, I always bought a few things from other

crafter

friends. Had to do my part to support them. ;o)


Today was a big day for little John. He was blessed in church today. He was so good through the whole thing. Brittany's dad is the one who blessed him. It was so nice. He was named after him and Marks dad. I need to go take some better pictures of him this week, but here is one of their family at lunch afterwards.
I hope you all had a wonderful weekend. I appreciate ALL of you...honest!
I leave you with some silly holiday cheer Staring me, Mark, his brother Rodney and wife Cam. Click

here

. We can shake it with the best of them. hee..hee!!!