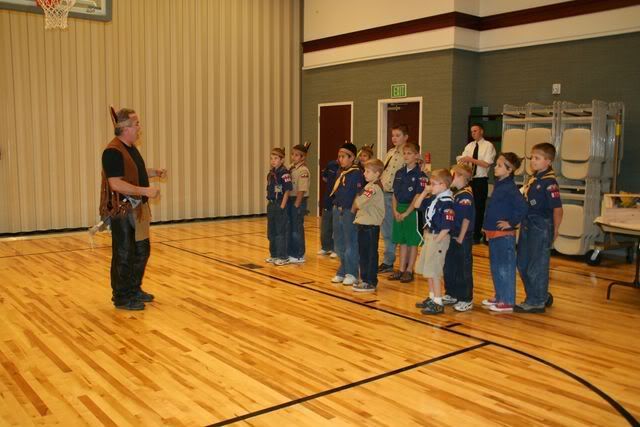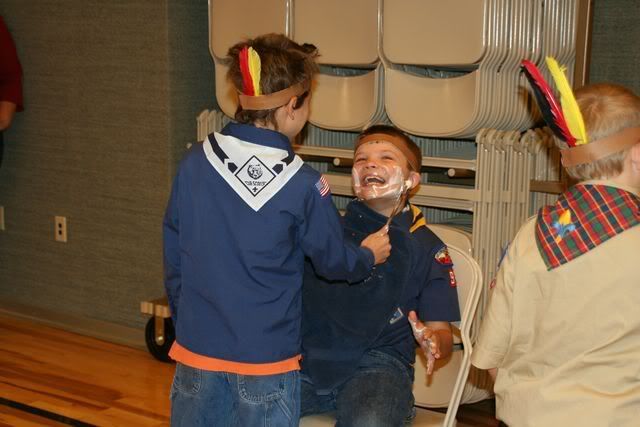 We had our first pack meeting with Mark as the new cub master. I forgot to share pictures, so here they are. It was an Indian theme this time, so I made headbands for all the cub scouts. One feather for the wolves, 2 feathers for the bears and 3 for the webelos. I put a bunch in Marks because he was the Chief. We did a modern day "scalping" by having a relay race where teams had to run down, sit, put a towel around his neck while another boy slathered him with shaving cream and shaved him with a butter knife. The boys had a blast and it was hysterical to watch.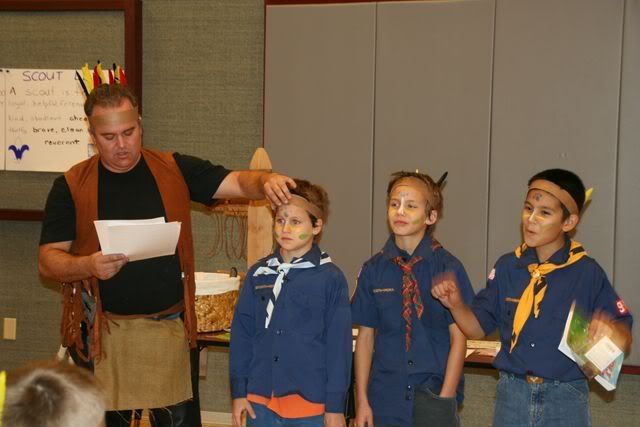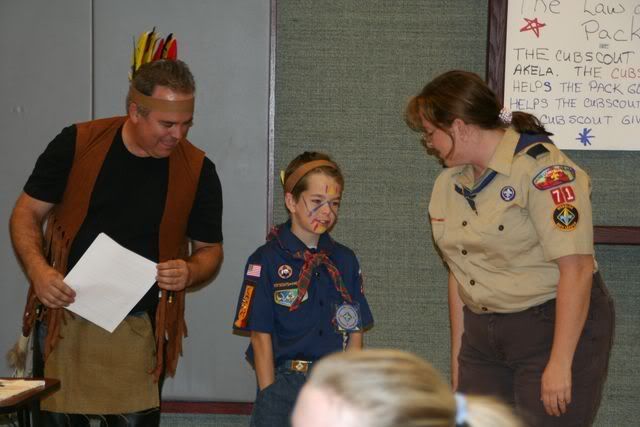 Several boys had rank advancements so we did a face painting ceremony for them. They loved that too. We did a tug of war for boys who were moving up to the next den. Mark told some true Indian stories from his hometown. Plus no pack meeting would be complete without all the silly cheers. Mark is so loud and goofy. I think the cub scouts are pretty happy to have him as their new cub master.

I made fry bread as treats with butter, honey, powdered sugar, and cinnamon sugar. Cody helped me fry them up, but he forgot to turn the stove off when he was done, so you guessed it...a fire...this time on top of the stove instead of in the oven! Smoke, flames, fire alarms, the works. LOL!


We also made this for the boys. We made leather name tags that loop over the dowels. They have leather strips that hang down so we can put beads on them when they come to scouts, wear their uniform, and bring their book. The boys will like earning the beads. At the end of the year we will let them buy things with the beads they've earned. The holes were punched using my eyelet hole smacker. Surely scrapbook suplies should be a tax write off. I still need to get the right size knobs for the ends of the dowels, then I will paint the whole thing. I need to make the pack spirit stick too for January's pack meeting as well as an arrow of light award for a boy who has earned that.
I've been working on Christmas cards while doing laundry. Not even half way done. Next year I'm starting on them in September. I've never been this late on getting them out. I just keep telling myself. It's okay Jolene.
Is it normal to talk to yourself? I did plenty of it this weekend, and some things were not so nice. It was a rough weekend. Perhaps I'm losing it. Still haven't bought any Christmas presents. Who knows when I'll be able to. How many more days do we have? Wait...don't tell me. It will be fine...I have faith. :o)