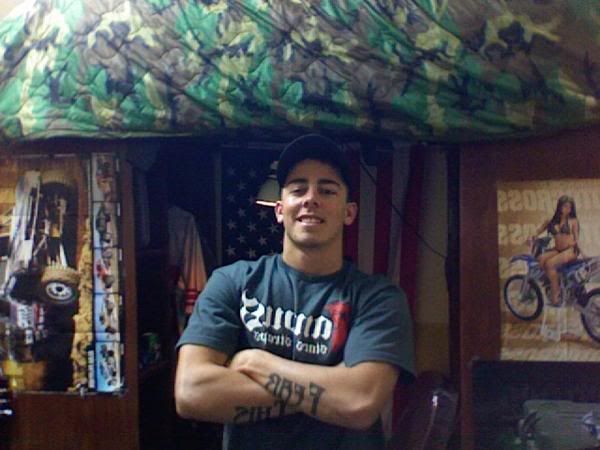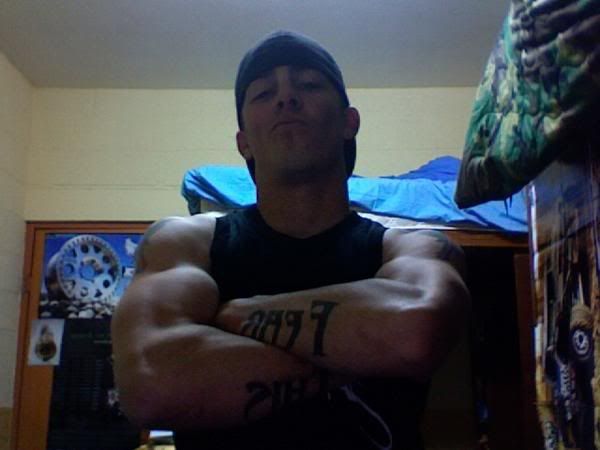 Well I survived the week from heck...I won't say I got through it with sanity in tact because I didn't. It's been a really rough week for me all together. My emotions are running extra high lately. I swiped these pictures off of Chad's myspace page. I miss him so much. It was so hard to not have him home for Christmas and I don't want to ever do that again. Him and a couple other soldiers exchanged presents and he got our gifts on Christmas eve. They all loved the treats we sent. We also got to talk to him on the phone on Christmas eve and day. That was really nice to hear his voice. Look at the guns on that boy. He's been working out A LOT! :o)
Here are a few snipits of random stuff
2 days before Christmas all 3 boys were puking.

Christmas eve Mark felt icky

I wrapped all the presents by myself just under the wire

For the church party I made garlic mashed potatoes that consisted of 20 pounds of potatoes, 2 heads of garlic, 2 pounds of sour cream, 1 1/2 pounds of butter, salt, pepper and sugar...yum!!!!

I also helped Mark make 3 pies...yum again!

Really enjoyed all the talents shared at the ward party. Very entertaining.

for our family party we made 20 more pounds of garlic mashed potatoes, stuffed pork chops and sweet potatoes. My family brought the rest.

The wedding I catered was outside...just so you know, a chocolate fountain will freeze up in cold weather. It flowed for about a minute then it was more like magic shell.

I got up in the middle of the night to start making food for the wedding. I discovered the freezer was unplugged yet again. Some of the food for the wedding was in there. I broke down in tears because I was so tired and had no time to go to town to replace the items. My sisters came to my rescue and bought the stuff and came out to my house to help. I love those girls!

I still have a stack of Christmas cards that have yet to be mailed out. I ran out of time and $$ to get them off in time. I still plan to send them. Hopefully they will still be appreciated after Christmas.

Went to the dentist to have my new crown put on. It didnt fit right so without warning he used the thumper to break it out of my mouth after it was cemented in. Scared me to death. I nearly leaped out of the chair.

The family party was really fun and I'm happy with what we won in the white elephant game. Next year the men will not shop for that. We had an abundance of tools in it this year. It was pretty funny.

Christmas morning the boys woke us up early to open presents. As soon as they were done and happily playing I went back to bed and slept for a good 3 hours. My body just shut down for over exhaustion.

Went to a Christmas brunch in Casa Grande. It was really nice and we had a good visit with some of Mark's family.

Still haven't uploaded any pictures. I will soon.

I'm going to work on not spreading myself so thin. I'm also taking a little me time. :o)

I sure hope you all had a very Merry Christmas!