I finally ordered my Christmas Card photo's from winkflash last night. My cards are 6X6 so I'm printing these 5X5. I had no control of which square each picture was located . I would click, then it would shuffle. It never shuffled in the order I wanted them in so I settled on this. They are pretty fast at shipping so things are going good on that front.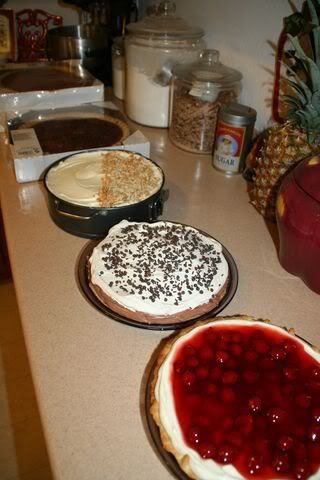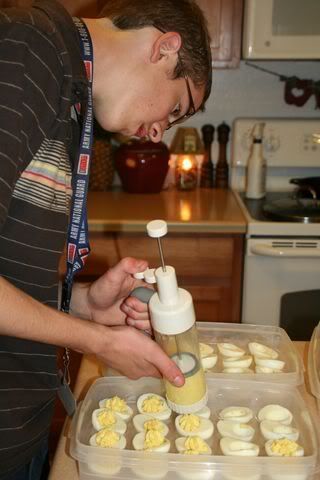 For Thanksgiving we always get together with the George side and everyone has their food assignments to bring. I brought dessert and 80 deviled eggs. Cody helped fill those, because that's the fun part. When I was at Sam's Club I saw their big pies and they were so cheap so I decided to buy 2 pumpkin and 1 pecan instead of making them. I did make the cherry cream, chocolate cream and the banana cream. (half without nuts since Rodney is allergic.) We loaded up the ice chest and headed to the in-laws. When we got there my cherry pie had slid over and landed in the chocolate cream pie. There was chocolate everywhere! Made me so mad. We were the last ones there and they were ready to eat. In all the mess I totally forgot to set out the deviled eggs until after dinner...so dumb! usually we eat nearly all of them. This year I have lots of eggs left over and I mean LOTS! I didn't take one picture the whole day. I can hardly believe it. My head just wasn't in it. I did however cut up more paper for my Christmas cards while we watched the new die hard movie. It was good being together with everyone. The dinner and the company was really nice.
In case you noticed who was missing from the picture, It's Sandy. Chad broke off the engagement with her a couple of days ago. She has been pretty ugly about the whole thing and it's taken everything in me to be the bigger person and not chew her out for being so awful. He gave it lots of thought. He had talked to her about her behavior and how much she's changed. He noticed in all of her pictures on myspace that she was less than modest and it made him very uncomfortable with the types of pictures she was posting for the world to see. He didn't tell her what to do. Only how it made him feel. She told him she will dress however she wants to and she's not changing for anyone. We all noticed her behavior had changed drastically when Chad was home on 2 week leave this summer and it wasn't a good change. She was continually having Chad buy her things, she monopolized all of his time and she was rude and self absorbed. Not at all the sweet Sandy we knew and loved. She has been pushing for him to move to Tennessee when he gets home, but he wants to live in Arizona, because all of his family is here and he loves it here. The discussion escalated to topics of religion and raising a family. They didn't agree on any of it. She said he doesn't compromise in their relationship and it should be give and take. She wants him to give up his family, his values and his religious beliefs. I'm sorry, but those things are not to be compromised. He told her he wouldn't give up those things for her or anyone and he should never be asked to, so he broke it off. I guess her idea of give and take is him give up everything and her take him for everything she can. Now the problem is she has been horribly mean to me, Chad and Mark. It was shocking since we've never been anything but nice and supportive to her, even when she didn't deserve it. She is refusing to give back things that belong to Chad...thousands of dollars worth of stuff. Chad didn't ask for things that he bought her like clothes, jewelry, expensive purses, etc. There are only a few things he wants and she's being very greedy about the whole thing. Of course she's getting encouragement from her less than upstanding dad to stick it to Chad. He's also offered lovely pieces of counsel to her like, there's millions of guys out there who will treat you like a queen and do anything for you and you won't have to change a da* thing. ...Obviously the pillar of intelligent advise. There are so many things I'd like to share that are completely factual, but Chad and Mark insist I be the bigger person. So hard! They probably won't be happy I shared this much, but a girl has to vent..if even just a little bit. I'm just so mad and disappointed in her. I have a copy of all the conversations so there is no he said/she said. I know the truth. My Christmas card inside message included stuff with Sandy so I had to print a little addendum for her departure from our family. We are all so proud of how Chad handled this whole thing. He was mature and polite to her the whole time...even with her being beyond snotty. Marriage for him is a one time thing and he thought ahead to his future and made the best decision. He will be blessed in the future with a lovely wife who will have the same values and love him and his family. We are all counting our blessings that this happened before they got married.

Chad said their Thanksgiving dinner wasn't half bad. The soldiers all applauded the Afghan cooks. They got all choked up to be appreciated by the soldiers. He said it was pretty cool! :o)