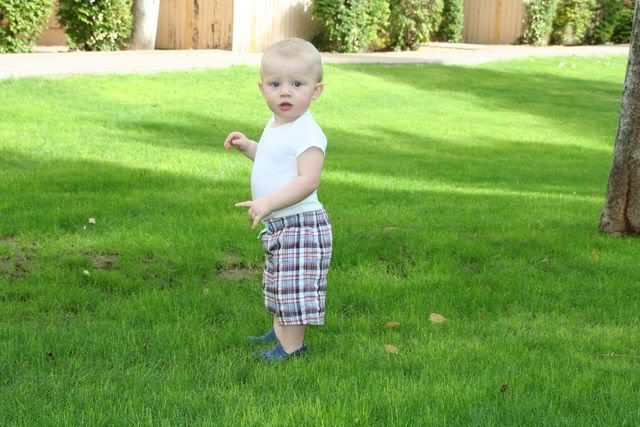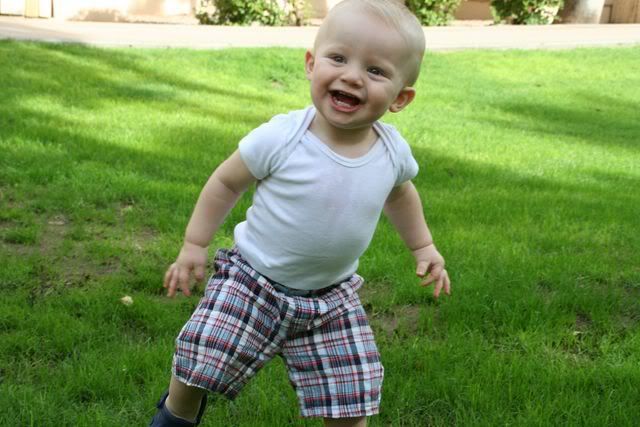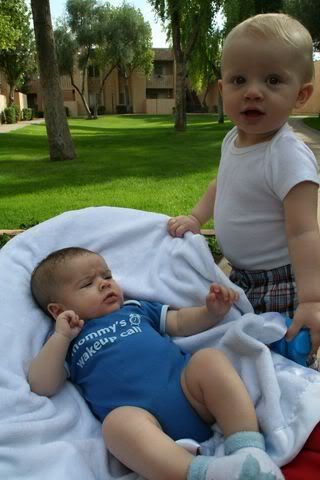 I went to visit the cutest little grand babies ever. Now that Mark is mobile, he wont sit still for pictures. As soon as we got outside, he ran all over the place. At least John can't run from me...yet. I sure love these sweet boys. I don't get to see them nearly enough.




We also had our young women's in excellence night...and well...it was excellent! This night was so the girls could display one of their 10 hour value project. These girls amazed me with their projects. The only bad part was that we were missing 3 of the girls. Two couldn't come and one went home early with an eye infection. She was so excited about being there. It broke my heart to see her leave. I served the same food that I did at the baby shower since it fit the theme of "Grow to the Son". We decorated with sunflowers. Tara's mom made beautiful centerpieces. We gave one to each girl at the end of the night. Overall a huge success.
We tend to fall asleep with the TV on. It helps Mark fall asleep. It makes me not get restful sleep. If he goes to bed first I turn it off. If I fall asleep first, it stays on and I dream about whatever is on. Mark likes the history channel and the news so I dream a lot about war. Makes me nuts! The other night in my sleep I heard that 6 soldiers were killed in Afghanistan. I shot out of bed like a rocket with fear in my heart. When I found out if was on the other side of the country from Chad I was relieved. Then it sank in that 6 soldiers families were not getting their boy home. I couldn't help but cry thinking of the tremendous loss and heartache they are going through. That is my biggest fear. I count my blessings that Chad is okay.
I won't be having anymore TV induced bad dreams, since my TV got fried the very next night. Sure is quiet in there!
This next week is crazy busy. How are those Christmas cards coming along Jolene, you ask? Not very well. So far behind, it not even funny! I'm usually so far ahead of the game by now. It will take a small miracle to get the out by Thanksgiving weekend. I'm not even going to stress about my normal deadline. Now my goal is anytime before Christmas. When they get done they get done.