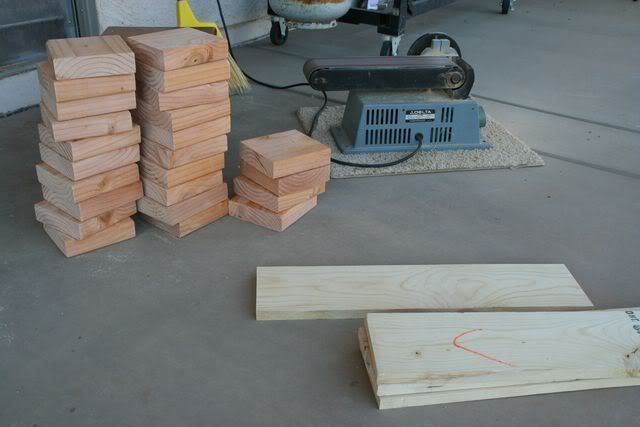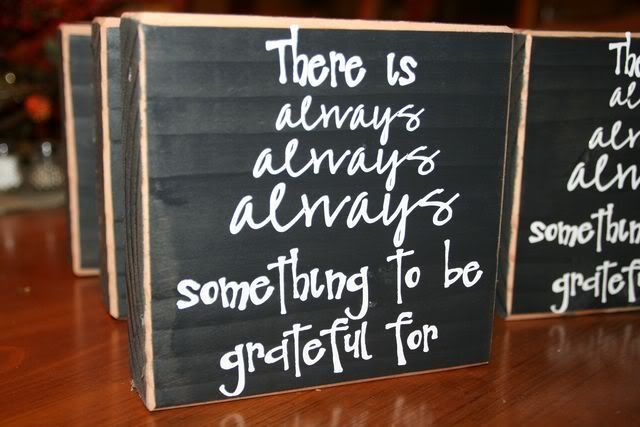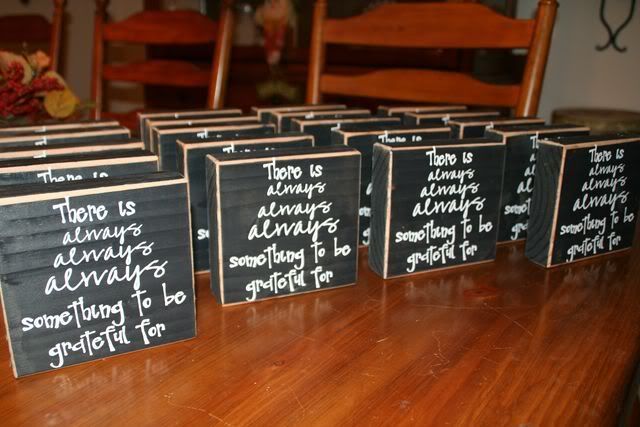 Today was my young women lesson on Gratitude. (One of my absolute favorite topics) For the past few weeks I've been preparing for it. I got this block idea from my friend

Heather

that she had on her blog several months ago. I had a sweet lady named Kim in my ward (church) cut the vinyl for me. I so appreciate her doing that for me. I bought, sanded, painted, sanded the edges and applied the vinyl to them as handouts for the girls. I love how they turned out.
These are Hershey bars with almonds that I covered. They say thank you on the front and the back says "The two most important words in the English language are these: "thank you" "
You can't go wrong with chocolate, so of course I love these too.


I also made each girl a card for them to write a thank you note to someone in their life who they appreciate. It's kind of a blurry picture, It says "When I count my blessings, I count you twice." Very simple, yet cute. (I'm only one woman, ya know)

hee

...

hee

:o) I did go overboard on the handouts, but it's the holidays, so I felt it was okay to do so.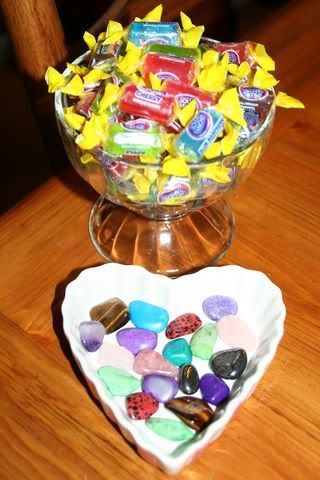 In the beginning of the lesson I used this little object lesson. I gave each girl a jolly rancher candy to suck on, then I gave them a pebble to put in their shoe. (cute ones, of course) and had them walk around the room for a minute. After they sat down I asked them how their walk was. They all had complaints about the pain in their foot, but not one comment about the sweet treat in their mouth. This was just to demonstrate how often times in our trials, we only focus on the bad things, and over look the blessings.
Today I thought I was so prepared to teach, but instead I let my fear of teaching overcome me and I fumbled over my own words, cried over dumb things, forgot to say some things that were important to my lesson. Heck, I didn't even tell the girls how much I love and appreciate them...and I REALLY do! I'm so disappointed in myself. I have a genuine desire to be a good teacher. I have great intentions, I study, I prepare, I make things for the girls that I think are memorable and appreciated, then I choke in the classroom. I pray that it gets better the more I do it.
I did have to laugh today because while I was teaching my lesson, Mark was teaching the men. I had to make 3 trips from the car to bring all my stuff in to set up for my lesson. You know...women have to make it pretty too....table cloth, pictures, treats, handouts, manual, scriptures etc. When men teach, all they need is their manual and scriptures.

LOL

! Not saying their way is bad...just different. :o)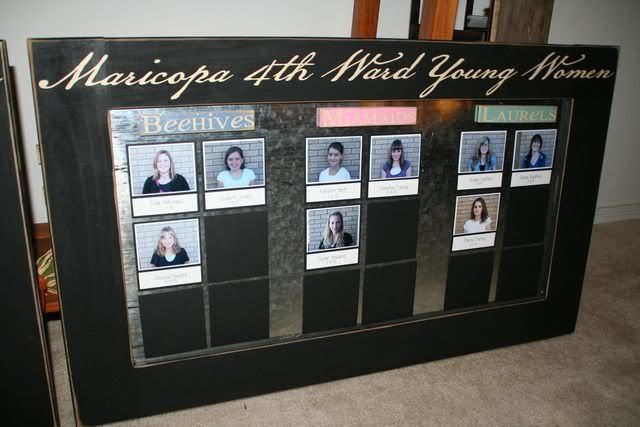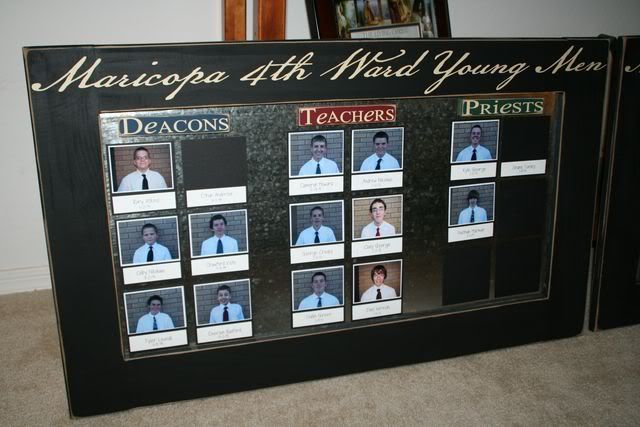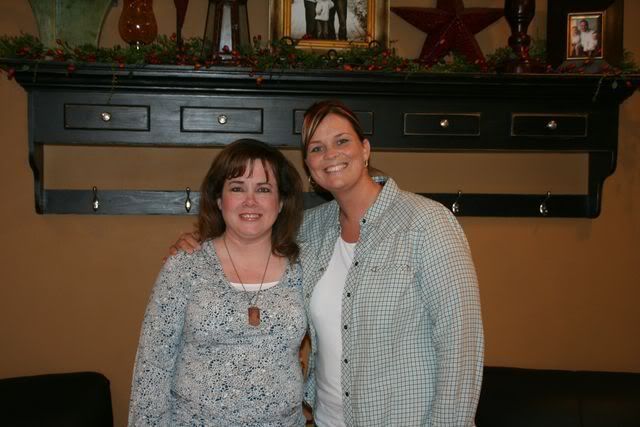 At the end of my lesson we all walked down to the bishops office to give him these beautiful magnet boards. I custom ordered them from the ever adorable and bubbly Heather D White and I picked them up in Utah on our trip. I can cut wood, but I don't router, so I really appreciate her doing that for me, especially during her busiest time of the year. If you haven't visited her blog, you must. She has the energy of 3 of me....I'm honest! I just love her! I wasn't sure if I was going to share this picture, because it's not very flattering of me. I look a bit on the "fluffy" side. Heather looks too cute not to share it. I have lost a couple of pounds since then. Slowly but surely, I'll get where I want to be again.
The magnet boards have the young men on one and the young women on the other with their birthdays and what group their are in. I took pictures of almost all of the youth (still have a few I have yet to catch) I printed them wallet sized and matted them on black cardstock with their info on white cardstock. Then I put magnets on the back so they can slide over as their birthday's come around. I can update their pictures as they grow and change. We just wanted to let our bishop know how much we love and appreciate him and all he does for so many. I SO LOVE the way these came out! At some point I would like to take a big group picture of all the primary kids together and frame that for his office as well.
I've gotten to talk to Chad several times in the past 2 weeks on instant messenger. The first time, I sat here and bawled like a baby, because it was just so amazing that we were talking back and forth instantaneously. (hence instant messenger...LOL!) Totally different than email. We talked for over 3 hours. The lack of sleep was well worth it. I'm trying to think of what to send him for the holidays to make it more enjoyable for him. Christmas in Afghanistan with bunch of soldiers doesn't sound so great to me. He's never been away at Christmas before and I want him to have a piece of home, so he's not so lonely.
Sigh.....I miss my sweet boy!

My big plans of staying in bed all day Monday have been replaced with me having to clean this messy house that has been terribly neglected during this busy time. That's okay too because a clean house makes me happy and gives me the peace I so desire. I don't know about you, but when my house is a wreck, I'm really grouchy and stressed out. The whole family suffers then, so a clean house really benefits the whole family. :o) My life is full of so many blessings...trials too, but always blessings!